NH Banking Commissioner Jerry Little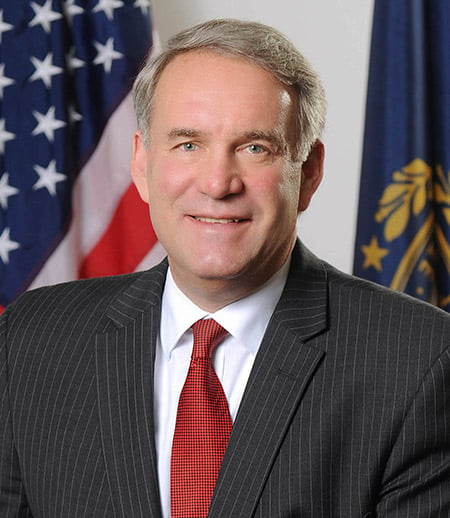 On June 6, after a tough confirmation battle because of his previous role as president of the NH Bankers Association, Gerald H. "Jerry" Little left his seat in the NH Senate to become the state's new banking commissioner. NH Business Review caught up to him after a week on his new job.
Q. You started out as a radio and TV journalist.
A. I started interning at NH Public Radio, went to a number of local stations and became a news director. This was when every town had a couple of radio stations and every radio station had a two- to five-person news department. It was actually a career track, and then consolidation started happening, and it was clear that I was not going to be able to build a career in radio, which is what I've wanted to do since I was a kid, and stay in Concord, which was a goal of mine.
I tried to make the jump to television. I didn't enjoy TV. It feels more to me to be an entertainment business. The opportunity came along to go to work for Governor Sununu. He didn't stick around nearly as long as my career would have liked – obviously his call, not mine.
Q. He went to the White House.
A. And I went to the Bankers Association in 1989 to be director of public relations and member services. I was upfront with them and said, "Look. I've never worked in a bank. I don't know the banking industry." And they said, "We'll give you some time to become familiar."
They gave me a year to essentially do self-study. There were other chores. One thing was to put together statistical reports for the industry. I could see there was a statistical increase in non-performing loans and I went and talked to a few people about that. It pretty much got shot down.
My predecessor at the Bankers Association resigned just before that crisis, and the board asked me if I thought I could manage until they were able to bring in a replacement. A few months later – October 1991 – the FDIC marched in and closed five of the seven largest banks in the state.
Q. What was the association's role during that crisis?
A. I was asked to go to a great number of meetings where folks from the public would come in and talk with legislators and members of Congress, representatives of the FDIC, and to figure out what we could do to minimize the impact of failed institutions. We could see that there was a need to do something to help people that fell into the pool. If they let the chips fall where they may, we would have been hurt a lot more.
Instead, they created a good bank-bad bank situation where they resolved the failing institutions, stripped out the good performing assets, wove them into New Dartmouth, and then took the bad assets out and moved them into BONHAM (Bank 1 New Hampshire Asset Management) and hit the reset button.
It was unfortunate that we went through it, but I feel as though, to some extent through the association, I was allowed to participate in trying to minimize – and I think we did – the bank failures in the state of New Hampshire.
Q. What made you want to run for Senate after all those years?
A. With the Bankers Association, I retired at the end of 2011. I went home and focused on our little hobby farm and did partial renovation on our circa 1800 farmhouse, but was not fulfilled. I was too young to retire. I was job-seeking when I heard that Bob Odell had decided that he was not going to run for re-election.
I spent 30 years in and around the State House. My life experience and job skills are my toolbox and are perfect in running for State Senate. And so I did.
When I was a reporter at WKXL in Concord, they used to run the live city council meetings. I asked the then0mayor, "If there's something I can do without compromising my independence, I'd be glad to do it." They needed somebody to go sit on the Everett Arena advisory committee back in 1980s. It was an opportunity to get involved, and it felt good. So I kept doing it, and I eventually ended up on the Concord Zoning Board of Adjustment. When I moved out to Weare, within a month to six weeks I was asked, "Would you like to serve on a couple of committees?" and I said sure. It gets into your bloodstream to be involved at the community level.
Q. What was your biggest issue in the Senate?
A. I ended up with in my first year working with Senator Forrester and Senator Morse to drive the state budget. It's a ton of work. I think Senator Forrester did a phenomenal job. I was surprised with the governor's veto, but we worked past that too.
Q. Was there anything specific that you got your teeth into?
A. Net metering. I felt absolutely that it was really important that we quickly lifted the cap and allowed the solar energy industry to move forward, but I said to the PUC you need to adjust the tariff, the payment back to the solar producers, so that it eliminates the subsidy by those who either can't or choose not to generate solar energy. I felt that was the right thing to do. Frankly, it's one of the most important economic issues the state of New Hampshire has to face.
Q. I do want to touch on the conflict-of-interest controversy. How do did you feel about that?
A. When I decided to run for Senate, I sat myself down and said, "You were president of the NH Bankers Association. Are people are going to say, because of that, you are unable to be fair-minded and treat everybody equally?" I don't believe that's the case.
I'm convinced that I have the ability to step out of that former role and into what I'm doing now. There was an allegation that I had sided with the banking industry and killed a bill relative to mortgage foreclosures and notification requirements – 180 degrees wrong. What I said on the floor is, I can't vote for a piece of legislation that we all here standing today know is unconstitutional. But I can go over to the House and I can work on an amendment. Before I was even off the floor, the state Democratic Party had tweeted out a press release that said that I had chosen to stand with my former employers. Absolutely wrong.
I then brought forward an amendment in the House that made the bill constitutional. Doing the same that it had initially intended to do – provide more notice, more time for people facing foreclosure. Passed the House, came back to the Senate, stood on the Senate floor, spoke for the bill and passed it. The fact that I worked for the Bankers Association for all of those years, does not mean that for the rest of my life I am beholden to them or in their pocket.
Because of that, it gave the governor a level of comfort in nominating me. A number of my colleagues in the Senate on both sides of the aisle have volunteered to step forward and speak on my behalf.
Q. So you don't think that whole controversy is going to influence you one way or the other?
A. No I don't. The controversy is behind me.
Q. You've worked with various bank commissioners over the years. Any one in particular who you would say you really wanted to emulate?
A. Ron Wilbur was one of my predecessors at the Bankers Association. He was the president of NH Association of Savings Banks. He worked as president of the one of the banks that I worked for at NH Bankers Association. His bank was across the street from my office. When I had a problem, concern, or an issue, he was my mentor. I would go across the street and his door was always open. And then when they needed an interim bank commissioner, Ron worked in this office. We switched roles entirely, and he made it very clear to me – "Jerry, I'm the commissioner and you're the president of the Bankers Association. There needs to be separation between the two of us. We'll always be friends but understand that we now have different roles." That's extremely instructive to me. He did the same thing that I'm doing.
Q. What do you see are the major issues you're facing?
A. We have an ongoing level of consolidation within the financial services industry that has been a concern to me for some time. I think that community financial institutions are extremely important to healthy communities, that there's a symbiotic relationship. The federal regulatory scheme has gotten so difficult to deal with that the economies of running a community bank don't mesh well at all with the need to do compliance. I think there needs to be a right-sizing in Washington.
Community financial institutions are choking on regulation. There are things that Washington could look at regarding the amount of paper that banks have to shuffle. Unfortunately, I'm not holding out a lot of hope that they're going to do it.
Q. So what can be done on the state level? What could the Banking Department do?
A. Help the leadership of financial institutions communicate with Washington to cut them a little slack. But the reality is that they need to grow in size. You really need to have a plan to find yourself someplace north of half a billion dollars in assets simply to generate enough revenue to pay for compliance and to keep the lights on. That's not good.
Q. What do you see coming down the road in enforcement?
A. Technology is extremely expensive and, as regulators, we require the financial institutions that we oversee to have more than ample security and to be prepared for any risk, whether it's system risk or risk from a cyber attack. The real threat now comes through the Internet and to monitor that.
The industry is certainly shifting. The charted financial institutions are consolidating, and at the same time the number of licensees in the Consumer Credit Division is growing fairly steadily. Then in New Hampshire, we have a third area of growth, which is the non-depository trust accounts. It's all where you align and assign your assets.
The previous commissioners have recognized this also and have deployed more assets onto the consumer credit side. The allocation of resources is pretty proper at this point. The only concern I have at this time is that we may not have enough.
Q. Sometimes people come in with ideas on things to do differently. What are some of those ideas?
A. It is more internal than external. The people in this department have been through a lot. We had another commissioner resign, and they took it hard. I want to let them know that I'm here – not to have them work for me, but to work with them. It might appear to be a bit symbolic, but when I got here, that door was locked and you had to use your passkey to get into the commissioner's office if you were an employee at the Banking Department. That just feels wrong to me. I literally have an open-door policy.