Newmarket Dental's green options
Nate Swanson's practice follows a sustainable script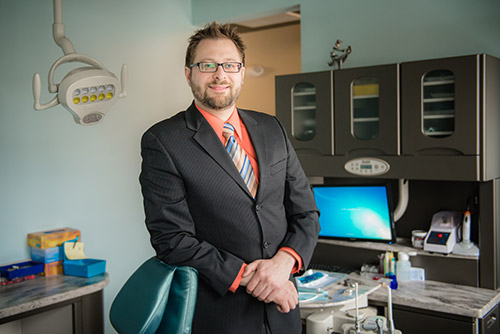 Nate Swanson was trained to be a dentist, but his green epiphany was prompted by a simple observation: It was all about the trash.
In Swanson's case, it was medical trash piled up in a back room of a dental practice he worked at years ago. He took a close look for the first time at what he was seeing and it reminded him of a movie scene. "The situation was reminiscent of the trash compactor in 'Star Wars'," Swanson said. "I thought of the other offices in the same complex, the number of complexes on that road, and so on. It was insane to think of the waste being generated. I thought there had to be a better way."
Almost a decade after he purchased an established practice in Newmarket, Swanson has scripted a green approach to dentistry. In the process, he has created a working homage to both sustainability and the bottom line.
"If there's a green option that's not ridiculously more expensive, I will take it," said Swanson, a dental school graduate of The Ohio State University who moved to New England from the Midwest in 2002. "We have proven that patients appreciate what we are doing and it typically improves the overall quality of their care."
Making a difference
It's no accident that Swanson has a reputation for being one of the greenest dentists in the state. He has taken so many green options that it could qualify as a step-by-step, "how-to" guide to dental sustainability.
Swanson explained that he exhaustively researched the products before incorporating them to ensure they met his high eco-friendly standards. In addition to aggressively transitioning to digital records to keep paper use at a minimum – he was an early advocate of having patients use iPads to fill out information forms – he made sustainability a priority by changing the tools of his trade.
He replaced traditional toothbrushes with 100 percent recyclable and biodegradable ones made from recycled Stonyfield yogurt cups. He ditched plastic seat covers in favor of corn-based slipcovers. His office converted from plastic cups to corn-based cups and he made sure his floss containers were recyclable. He also added motion-sensing LED lights, a recycled synthetic floor that looks like aged wooden boards and LEED-certified cabinetry in the examination rooms.
"We still use some paper but not as much as much since we've gone digital," said Swanson, who added to his green education by attending a conference of the Eco-Dentistry Association a few years ago. "I believe that every day our thriving practice proves these steps add up and do make a difference."
Swanson says he's seen his industry make significant green strides over the last few years, due to a combination of improved price parity and increased customer awareness. He said there is a growing general awareness in the industry and among patients that going green is an investment in the future on many levels.
"More sustainable options are still not always the cheapest route, but they've definitely gone from the fringes into the collective conscience," Swanson said.
NH Business Review's Sustainable Entrepreneurship series is run in partnership with the Green Alliance. To learn more about the alliance, visit greenalliance.biz.