Newington company develops indoor air and drinking water assessment kit
Live Pure's do-it-yourself kit provides lab results for a fraction of the cost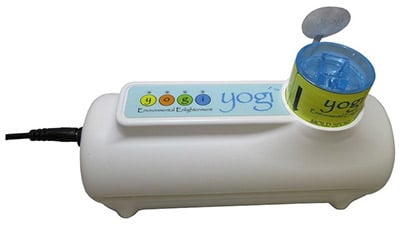 Live Pure Inc., a Newington-based manufacturer of products that help consumers assess quality, health and safety in their indoor environments, has released a new all-in-one, do-it-yourself indoor air and drinking water assessment kit.
The yogi indoor air quality test kit is the first home environmental test kit that enables consumers to get a complete snapshot of their indoor air quality from a certified laboratory, according to Live Pure.
yogi assess air contaminants including mold, allergens, asbestos, lead, volatile organic compounds, formaldehyde and radon using a color-coded system and an innovative sampling device. It also tests for lead and copper in drinking water.
After completing the sample collections, customers send their samples to Live Pure's certified lab, with all lab fees and shipping charges included, and receive an electronic full lab report and results summary within 10 business days.
yogi also provides is a complimentary 15-minute consultation with Live Pure's certified industrial hygienists should customers receive a report with high contaminant levels, providing them with additional information to address those challenges.
Traditionally, in order to get a robust indoor air quality assessment, consumers have had to utilize various off-the-shelf products that often test for one contaminant, or hire a team of professionals for triple the price of yogi, says Live Pure. The Live Pure brand was established to educate and empower people to be their own health advocates, says the company.
"The trend of consumers taking their health decisions into their own hands has been growing for the last two decades, and is underscored by what's been happening in the health insurance industry," notes Live Pure founder Greg Sancoff. "The yogi ultimately represents an important step in a consumer's journey to improved health. It delivers professional, reliable, actionable results at a do-it-yourself price, typically about one-third the cost of hiring a team of professionals."