New survey paints a more charitable view of Granite Staters
Gallup poll says N.H. among most charitable states in the U.S.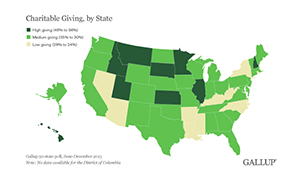 New Hampshire sometimes gets a bad rap as being an uncharitable state, but a new Gallup survey has found just the opposite – that residents of the Granite State are among the most charitable in the country when it comes to parting with their time and money.
According to a national Gallup survey – which polled at least 600 people in each state – New Hampshire is a "high giving" state, with 38 percent of residents reporting that they had both volunteered time and donated money to a charitable organization in the previous month.
The survey found that more than two-thirds of Granite Staters, or 70 percent, had donated money in the past month, and 49 percent said they had volunteered their time.
Utah led the pack with 48 percent of respondents saying they had donated both time and money in the previous month, followed by Minnesota (41 percent); Hawaii (39 percent); South Dakota (39 percent); and New Hampshire and Kansas, both at 38 percent.
States with the lowest combined charitable giving were Nevada and Kentucky, both at 24 percent; and New York, Mississippi and Arizona, each at 26 percent.
Gallup said that its research has shown that people with a higher well-being are more likely to give back to their communities, and that seems to bear out for New Hampshire, which on Gallup's Well-Being Index comes in 13th nationally for overall well-being.
The Gallup survey comes on the heels of a 2012 Chronicle of Philanthropy study, "How America Gives," which was based off Census data and ranked New Hampshire as being 50th nationally for its median charitable contributions. It determined that New Hampshire residents contributed a median of $1,497, or 2.5 percent of discretionary income, to charitable causes annually – the lowest share in the country.
Utah also ranked first in the Chronicle study, with 10.6 percent of residents contributing a median of $5,255.
New Hampshire's supposed stinginess when it comes to charitable giving is often explained by its low religious population, and therefore more limited donations to religious groups. According to Gallup, the Granite State is the second least-religious state in the country, with less than a quarter, or 24 percent, of residents identifying themselves as very religious.