New state study depicts a healthy biomanufacturing industry in NH
Newly formed NH Life Sciences association to help nourish growing industry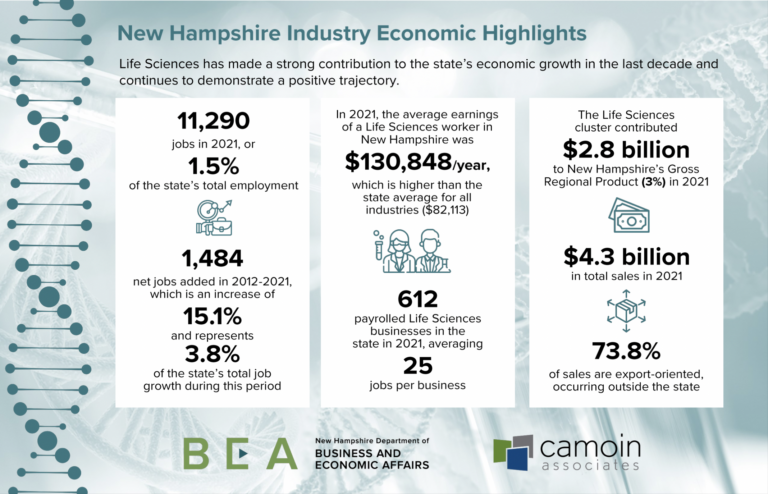 New Hampshire's life sciences workforce grew at a 15.1 percent clip between 2012 and 2021 – adding 1,484 jobs in that time and accounting for nearly 4 percent of the state's total job growth, according to a study released by the NH Department of Business and Economic Affairs.
The study, conducted by Camoin Associates of Saratoga Springs, NY, found that the state's life sciences industry reported $4.3 billion in sales in 2021 and had 11,290 employees who earn average salaries of $130,848 per year.
The sector leading the way was medical device manufacturing, responsible for 31 percent of all life science jobs in the state, followed by research and development services (26 percent), medical equipment and supplies manufacturing (23 percent), pharmaceutical and medicine manufacturing (16 percent) and medical and diagnostic laboratories (4 percent).
One of the engines of the state's life sciences industry is the Manchester-based Advanced Regenerative Manufacturing Institute, a nonprofit focused on the development of large-scale manufacturing of engineered tissues and tissue-related technology. Other notable life science players are Novocure, a global oncology and medical device company that has embarked on a $9.5 million expansion in downtown Portsmouth. Also undergoing expansions are Lonza Biologics, a global vaccine manufacturer with operations in Portsmouth; and PCI Pharma Services, a pharmaceutical outsourcing company with operations in Bedford.
Most recently, Detact Diagnostics, a Netherlands-based life sciences company that produces bacterial- and viral-detection solutions, established its U.S. headquarters and laboratories in Keene.
Business and Economic Affairs Commissioner Taylor Caswell said the report will serve as the basis for a new series of strategies to support the industry's growth. Among them are forging cross-industry workforce partnerships, establishing acceleration and incubator programs to address workforce gaps and expanding marketing communications to amplify the industry.
The new strategies "will help make our life sciences sector even more robust – allowing for workforce growth, strengthened partnerships and igniting fresh innovations within this thriving industry," he said.
One way of kindling cross-industry workforce partnerships will be through a newly formed trade association, New Hampshire Life Sciences, or NHLS. The organization has been established to support the work of the growing industry and its "innovative treatments" against cancer and other efforts that are "transforming patient care and vaccines that are preventing disease around the globe are being developed," said Andrea Hechavarria, the president and CEO of NHLS.
To read the full life science industry summary and strategy, visit nheconomy.com.