New medical device manufacturer to open Hudson plant
Granite Forge sees growing market for orthopedic implants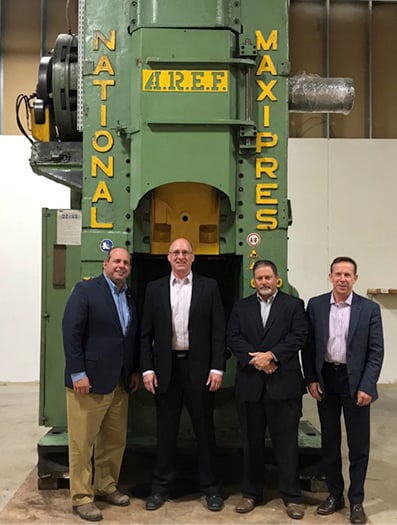 Granite Forge LLC, a newly established contract manufacturer of medical devices, will be opening its first operation, a 24,000-square-foot facility at 32 Executive Drive in Hudson where they will be hiring 25 employees.
Pat O'Neill, chief commercial officer of the company, said it will be a supplier to major orthopedic implant companies both in the U.S. and around the world. The firm forges and machines implants for total joint replacement (hips, knees, shoulders), trauma surgery and extremities, such as wrists and ankles.
"We have invested significantly in the latest technology in order to provide the highest-quality products and service to our customers," said O'Neill.
Gary Stavrum, a partner an investor in Granite Forge, said he sees growing global demand for forged orthopedic implants and there's a need for additional contract manufacturers to support the growth of the market.
According to Mel Speidel, chief operating officer and general manger of Granite Forge, Hudson was chosen as the site of the facility because its location near the Massachusetts border puts it near "the available talent in both states, the proximity to critical suppliers and contractors, and the financial freedom that low-tax New Hampshire offers."
Greg Davis, president and CEO of the firm, said the plant will "be equipped with the latest machining, finishing and inspection equipment" and said the company will be looking to hire experienced CNC machinists, metal finishers, quality inspectors and press operators. He added that they will be looking to partner with local schools, including Nashua Community College, "to help train and develop the next generation" of workers.
Production is scheduled to begin in early Fall.
Michael Bergeron, senior business development manager with the state Department of Business and Economic Affairs, provided Granite Forge assistance in finding its location.