New Manchester café hopes to aid nonprofits
'We first and foremost want to be a competitive business on Elm Street'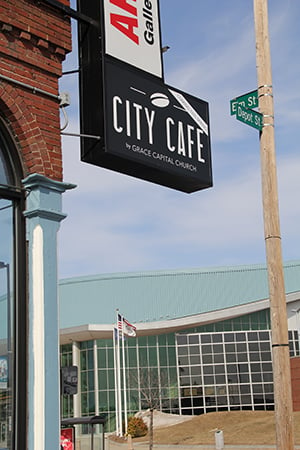 A New Hampshire church is getting entrepreneurial, opening a new nonprofit café in downtown Manchester that will plow its earnings into other nonprofits around the region.
City Café is being started up by Grace Capital Church, which has locations in Pembroke, Manchester and Laconia. Located at 542 Elm St., the café will have its grand opening on Monday, April 1. It will serve up organic, shade-grown coffee from A&E Custom Coffee Roastery in Amherst, and will sell sandwiches and pastries from Bread & Chocolate in Concord.
"Yes we are a nonprofit, but the more profits we make, more goes back into the city," said Elizabeth Leone, general manager of the new café, which will choose a new nonprofit or family in need to support each month. "We do want to make a good cup of coffee, and create a growing business."
Leone said that the church will not take any of the proceeds from the café, but that it is funding the café's startup operations and will have a say in which nonprofits the café will support. Organizations already identified for support include Roca Kidz Club, New Horizons for New Hampshire and Rise Again Outreach.
"It's not like we're just trying to build our church – we don't just want to be a religious café. We're not going to be throwing Bibles at people," said Leone. "We first and foremost want to be a competitive business on Elm Street."
City Café is far from the first business in the state founded to support the operations of a charitable organization. New Hampshire has numerous thrift stores in all pockets of the state that support nearby charitable organizations.
Families in Transition, the Manchester-based provider of services to the homeless, runs OutFITters Thrift Stores and a cleaning business, the proceeds of which support FIT's mission.
The proceeds from Little City Thrift Store in Littleton and Wonderland Thrift Shop in Stratham support local charities and people in need; Journey Home Thrift in North Hampton supports hospice care groups in New Hampshire; proceeds from 65 Roses Thrift Store in Grantham support the Cystic Fibrosis Foundation; and these represent just some of the many thrift stores founded with similar missions around New Hampshire.
Probably most similar to City Café in New Hampshire is The Freedom Café in Durham – a nonprofit café that serves up teas, espresso and coffee for free, but asks for a suggested donation based on the drinks' fair market value.
Fifty cents of each donation goes to buying coffee, tea, and other materials, and the rest is donated to organizations that are working to end human trafficking. It is staffed by volunteers – "Freedom Workers" – in a space donated by a ministry group near the UNH campus.
At City Café, Leone hopes that the business will expand into coffee delivery and coffee subscriptions for businesspeople around Manchester.
Once the café is established, Leone hopes it will generate between $3,000 and $5,000 a month for local charities and people in need. "We want to make a big impact, and that's a good gift for a small organization."
For more information on City Café, visit its Facebook page.