New London Hospital aims to meet emergency food needs with 'little free pantry'
Hospital takes on food insecurity with creative initiatives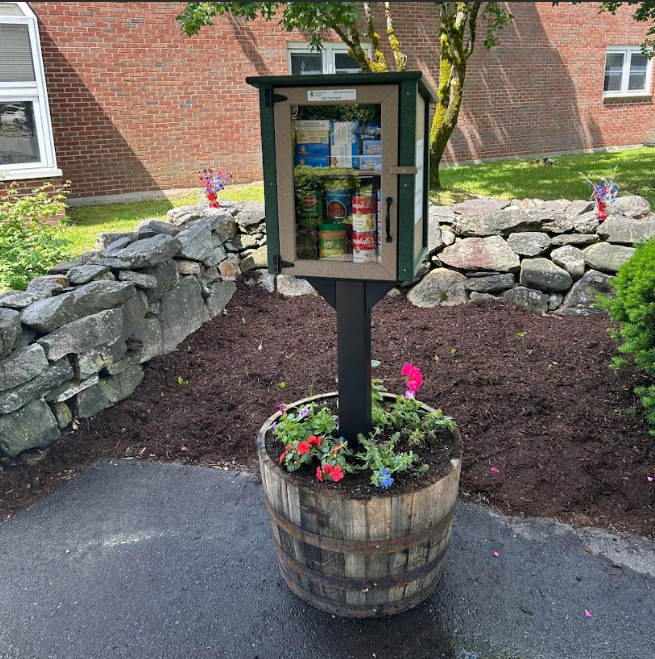 It looks like one of those take-a-book, leave-a-book lending libraries that you might see around town, but the "Little Free Pantry" outside New London Hospital is filled with canned goods, pasta and other food items.
It's part of an effort to address food insecurity in the area. People can stop by to take any food they need, or donate if they're able.
Kathleen Kennedy oversees community partnerships and engagement for New London Hospital. She said the idea grew out of the hospital's assessment of local health needs.
"One of the things that really rose to the top was local members in our community weren't able to access affordable, healthy food," she said.
The Little Free Pantry — essentially, a box on a stand with a couple shelves and a hinged door — went up in June. It's accessible 24/7, making it an option for people who need food immediately. Kennedy said the area's food pantry is open only twice a week.
"And because we live in such a rural community, you know, we want people to have access," she said.
It's one of several initiatives New London Hospital is taking to tackle food insecurity, she said. It's also giving emergency food cards to patients who can't afford groceries, and hosting weekly mobile farm stands where food insecure patients can get fresh produce.
Kennedy said the miniature food pantry has seen steady use since opening, and encouraged people to donate if they can to keep it going.
This article is being shared by partners in The Granite State News Collaborative. For more information, visit collaborativenh.org.