New Hampshire's personal income rose 3.5% in 2017
Growth rate ranks seventh in nation, third in New England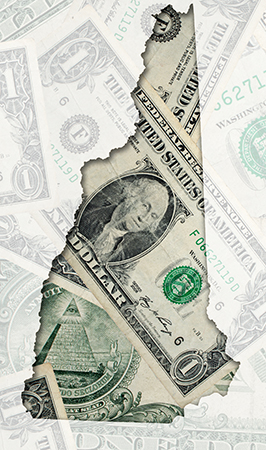 Personal income in New Hampshire grew by 3.5 percent in 2017, with a per capita income that ranks seventh in the nation.
According to recently released Bureau of Economic Analysis figures, personal income in the state rose from $74.7 billion in 2016 to $77.3 billion in 2017.
The 3.5 percent rate of growth in personal income was 13th highest in the nation and the fastest in New England, according to BEA statistics.
Personal income includes income, earnings from businesses and investments, and government transfers, such as Social Security and Medicaid.
The BEA measured New Hampshire's per capita personal income at $57,574, seventh highest in the U.S. and third highest in New England, behind Connecticut, at $70,121, and Massachusetts, at $65,890.
But New Hampshire's per capita income actually fell slightly in 2017. In 2016, New Hampshire's per capita personal income was $58,322, fifth highest in the country.
Earnings in New Hampshire were strongest in professional and technical services, which contributed 0.9 percentage points to the overall growth rate; health care, 0.39 percentage points; and construction, 0.32 points. The only decline was found in finance and insurance, where income fell by 0.28 points, the BEA reported.
Nationally, personal income grew by 3.1 percent in 2017. In 2017, personal income increased in all states and the District of Columbia except one, North Dakota.