New Hampshire's loggers try to cope with hard times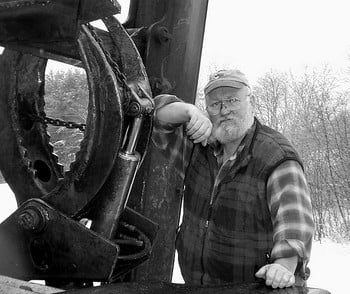 Independent logger Bud Foster remembers best the lessons learned in the woods.
Take one taught him by the late Lawrence Bean about yellow birch. Bean, a local mill owner, had bid a minimal amount for what looked like junk wood in the White Mountain National Forest.
"Some of these trees were four foot around, with holes in the trunks and tops. But Bean knew that in the middle of those logs was beautiful wood for veneer," Foster recalled.
The older man explained to Foster that yellow birch has a pink heart. If he kept boring at either end of the tree until he struck pink sawdust, that would be the place to saw. He might get 10 to 15 feet of good wood in the middle of the tree that otherwise wouldn't have been discovered.
"Bean forgot more about hardwood every night than most people will ever know," noted Foster. "I later used his techniques to good advantage."
In recent years, his business down 80 percent from what it was a decade ago, Foster's learning has been in the school of hard knocks. Recently, with the logging business generally in hard times, Foster has put some of his equipment up for sale. "It's hard to find anyone who wants to buy it though," he muttered.
Foster, 51, and brother John, 60, have been in the woods since they were kids, helping their dad, a farmer, who also hauled wood. He points to a number of factors that have reduced Foster Brothers Trucking and Logging's three crews, once totaling 25 men, to one crew of six, and caused other loggers to throw in the towel.
Rumors are circulating in the industry that as many as 40 to 50 percent of independent loggers in the state have left the business. Sarah Smith, a forest industry specialist for the University of New Hampshire Cooperative Extension Service in Durham, guesses that the actual percentage is about 25 percent.
"People in the North Country may feel a higher percentage have bailed out because the industry is more visible there," she explained. "The dynamic there is bigger contractors with employees." She observed that North Country attrition thus might appear higher than the actual state total. But Foster maintains that the 40 to 50 percent guesstimate is closer to reality.
Global competition
Forces ranging from mill closures and foreign competition to woodlands lost to development may make timber harvesting a vanishing way of life in the North Country.
Foster is critical of the mills. "Corporate America owns the mills now," he said. "Newman Lumber in Woodsville was the only mill I ever worked for that cared for its loggers. Walter Young, who ran it, was a self-made man. He knew that if he squeezed the loggers in hard times, there'd be no loggers left in good times to supply his business."
This code of behavior stands in marked contrast to how loggers were treated when the Berlin mills closed several years ago, claims Foster. (The former Pulp and Paper of America mills are now operating again under new management as Fraser N.H. LLC.) "The mills in Rumford and Jay, Maine," he explained, "dropped the price five dollars a ton. That's 13 bucks a cord right off the top. On a tractor-trailer load, $169 was gone. They had you over a barrel. The mills have twisted the loggers too hard. They're gone, and they ain't coming back."
Forester Hunter Carbee is program director for the New Hampshire Timberland Owners Association in Concord. He offers another perspective on the mills.
"When people are having tough times, you'll see finger-pointing. But it's a global market. Older paper companies in New England now face competition from technologically advanced mills in Malaysia and Brazil."
Ed Witt, fiber procurement manager for Fraser in Berlin, also views globalization as a possible "root cause" of the current situation, noting, "Those U.S. cutters are competing with loggers in Third World countries." He implied that it wasn't a fair contest, as such things as employee insurance and environmental regulations don't enter the mix in those countries the same way they do here.
Foster and Carbee each asserted that development is a serious concern to the logging industry.
"It's as if every three years we lose acreage the size of Littleton," said Foster. "Flatlanders come up here to live our lifestyle. Then they get here and live theirs. So they don't want to cut trees … I'd like to see those tree-huggers wipe their butts with plastic," he huffed.
"We're losing land at a rate that's of concern to the forest industry," said Carbee. "The timber base is shrinking. Some 12,000 acres a year are lost to development in New Hampshire, and it's pushed to the Canadian border."
Carbee also pointed out that the per capita consumption of wood products of the U.S. citizen is six times the world average. "We need to bring about an awareness of the value of forestry and support of it. The real question is, do you want the wood to come from Brazil or northern New England?" he said.
Who'll cut the wood?
Bob Bertie, who has run North Country Procurement Inc. in Rumney for 17 years, purchases chips for wood-fired energy facilities.
Bertie, in his 60s, has worked in the timber industry all his life. "What people don't understand," he pointed out, "is that Berlin had a wave effect. When you cut trees you always have low-grade wood. The loggers couldn't get rid of it. There was such a reduced price that you couldn't afford to cut logs." Bertie said that if the closure had only lasted three to six months loggers could have weathered the storm, but over a year was too much.
Ironically, the supply situation now has shifted drastically. Bertie described the current situation for mills as one of rising demand and limited supply. "I don't know of any pulp mill or wood-fired plant that is fat and comfortable." He observed that the loss of capacity to produce the wood, largely caused by loggers who have quit the business, and warm weather patterns detrimental to logging both contributed to shortages.
"Close to desperate" is how 44-year-old Ed Witt, who formerly worked for nine years for Mead-Westvaco in Rumford, Maine, before coming to the Fraser pulp mill in Berlin a year and a half ago, described the current supply situation. "It's the most difficult I've seen in 20 years." He said a number of loggers had left the business, and that those still working have scaled back both for financial reasons and competition for labor.
When Bud Foster talks about what's happened to loggers his remorse goes beyond their current plight to what he sees as the end of a way of life.
"I planned to keep doing it until I dropped. But I don't see myself staying in for a lifetime like I thought I would," he said.
Foster describes the men who felled timber as a breed apart. "Fifty years ago, loggers were rough tough people. Dangers didn't bother them. They thought they were tougher than the dangers. And they could make more money in two days in the woods than they could make all week at a factory job."
Some woodsmen were titans among the crews. Foster remembers loggers such as Walter Plante, who stood but five foot five inches tall and weighed in at 220 pounds. "He was a one-man army," Foster said. "I saw him notch three truckloads of wood in such a way that the trees all hit the ground at once … The breed of man is gone. They're hurt, retired, old," he continued. "Very few young ones are coming in. A young man is not going to spend one to two million dollars to start a mechanized operation. He'll invest in something more lucrative than logging."
Foster still hopes the industry can rebound. "I'm never going to start up hard again," he said, "but I hate to see the industry ruined. It's a good lifestyle. It's not for everybody, but it produces a product needed by everybody. I would like to see some young people getting into it. Just don't know how in the hell they can do it." nhbr
Sylvia Smith is a correspondent for the Littleton-based newspaper The Courier. This article appears by special arrangement with the paper.