New Hampshire's 2018 economic preview
Workforce needs continue to dampen a strong business climate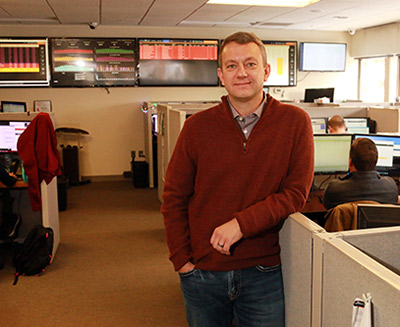 When Single Digits bought Airwave Networks, the Bedford-based high tech firm wasn't looking to acquire tangible assets. Airwave's headquarters is virtual, with 150 employees working out of their homes, doing what Single Digits mainly does, selling Wi-Fi services to owners of commercial and large residential buildings.
"It was bizarre," said Stephen Singlar, Single Digits' founder and president. "We couldn't figure out where to meet them."
Single Digits, which has been growing by double digits, wasn't just trying to expand its customer base with its purchase. It wants, and needs, skilled employees.
"In New Hampshire, the situation is ridiculous," said Singlar. "It is very difficult to get new talent. That's definitely part of the reason we did this."
The high-tech merger is one of many that have taken place in the Granite State in the last few years, as the industry and economy matures. New Hampshire no longer is recovering from the worst recession since the Great Depression. The economy's foundation, which seemed shaky after the first half of the decade, is now rock-solid. Companies feel secure enough to climb to the next level.
But to get there, they need people with skills and access to affordable housing. And that is hard to come by these days.
"The growth has slowed a little bit," said economist Russ Thibeault of Applied Economic Research in Laconia. "There are not enough people to fill the jobs that's out there. There is a lack of supply of both labor and housing."
With unemployment at a seasonally adjusted 2.7 percent in October — the lowest in the Northeast and the third-lowest in the nation (and hovering at that level for the last two years now) — you'd think that the number of people with jobs would be going up, as people came back to the job market.
It hasn't. Indeed, it has started to fall.
In October, there were 727,780 people employed in New Hampshire, a couple of thousand fewer than October 2016. That's because the available workforce has shrunk, and it will continue to shrink as our population ages.
When it comes to the unemployment rate, "we have hit the bottom," said Greg Bird, an economist at the NH Center for Public Policy Studies. "There is no way around the demographics."
New Hampshire's working-age population (from 25 to 64 years of age) will decline by roughly 50,000 in 2025 compared to its peak in 2011, according to a report the center released in November.
The decline can be offset by the ability and desire, and perhaps the necessity, of older workers to put off retirement. Perhaps it could be countered by attracting workers from other states, though in truth the migration flow has been going the other way.
New Hampshire has one of the lowest retention rates of college graduates in the country, for instance. Who can blame them, when the average annual pay for professional and technical services in Massachusetts' Suffolk County (which includes Boston) is about $40,000 more than in Hillsborough County in New Hampshire?
Export growth
You would think this shortage of labor would drive up wages, and they are starting to rise in some areas.
Manufacturing workers were being paid about $21.50 an hour through October 2017, nearly a dollar more than last year and three dollars more than in 2015.
But on the whole, wages still lag. That might have to do with demographics, speculated Annette Nielsen, an economist with the state Economic and Labor Market Information Bureau.
As older workers at the top of their earning power retire, they are often replaced by a younger employee being paid less, she said.
But even with higher wages, "New Hampshire employers will essentially run out of people to hire," writes Bird in his report. "Therefore, economic growth is anticipated to grind to a halt around 2019."
But the economy isn't at a standstill now. Far from it.
Job growth is up in two crucial sectors that have been lagging during the long climb out of the recession: manufacturing and construction. Business tax revenues year to date are 10 percent above last year and 6.6 percent higher than expected, according to the state's monthly revenue focus. Median home prices have reached pre-recession levels.
The evidence of expansion is everywhere.
Exports in 2017 are up a quarter over last year — the largest increase in the region and the third-highest on the U.S. mainland, with a good chunk of that growth coming from Asia. China and Japan are now New Hampshire's third and sixth largest trading partners, respectively.
Exports are one factor fueling the growth at Ferrite Microwave Technologies, a Nashua-based commercial microwave firm that has been making major gains in China and India, though a key contract for a particle accelerator project at Stanford University is helping matters as well.
The company has experienced a spurt in sales and is now pushing 50 workers, about 10 more than it had last year, according to Stephen M. King, director of sales.
There is also more defense work. Last Summer, BAE Systems won a $180 million contract to produce laser-guided rockets to be manufactured in Hudson. The company, which also has facilities in Nashua, Merrimack and Manchester, employs 5,400 people in New Hampshire, about 400 more than it did last year. Subcontractors are poised to grow too, once Congress, as expected, passes a budget to increase the defense budget.
But Timothy Grass, president of Manchester-based Marmon Aerospace and Defense, which employs 78 people manufacturing military-grade wire and cable connections for BAE and other prime contractors, needs more people now.
"I am recruiting on my walk to the Dunkin' Donuts," he said.
While some background in manufacturing or engineering is desirable for new employees, he said, the main ingredient for "raw material" is a strong work ethic.
"We have a great training program, but we are always looking for great people to train," he said.
Large developments
The hospitality sector is growing too.
State rooms and meals tax revenue is up 5 percent over the previous year, and the industry feels robust enough to open a number of new hotels and restaurants, such as a new Red Arrow Diner in Concord, a new 110 Grill in Stratham and a new Copper Door in Salem.
Great NH Restaurants, which also owns the Cooper Door brand, Cactus Jack's and T-Bones, replaced the old Weathervane in Salem with an 8,300-square-foot, 225-seat restaurant that will employ 150. That brings the chain's headcount to 675, said Tom Boucher, owner and CEO.
Boucher says the key to getting more workers is simple: increase wages. The chain is upping its minimum hourly pay by a dollar to $11 next year, but at Salem, "I don't think they hired anyone less than $13," because of higher wages across the Massachusetts border.
"It's not only the free market. It is also the right thing to do," he said.
Hotels are also springing up all over the state. Three are part of some major developments.
Ground was broken in the summer on the 600-acre Woodmont Commons in Londonderry, with plans for more than 500 hotel rooms, 800,000 square feet of retail, 700,000 square feet of office space, 1,400 units and perhaps 3,700 new jobs.
There's Tuscan Village, being built on the site of the Rockingham Park racetrack, a 170-acre retail residential and commercial project, that will include a 200-room hotel, hundreds of townhouses, dozens of storefronts and a small lake, among other amenities.
And there's the redevelopment of the old Macy's property in Bedford, which will feature a Trader Joe's, a cinema complex, hotel, medical office buildings and more restaurants.
"That's well over a billion dollars worth of development right there," said Thibeault.
Further north, there are the Balsams resort development in Dixville, not to mention a new hotel along the Cog Railway and another destined for Bethlehem.
Construction and real estate
But workers can't live in hotels, and while some of the developments promise new upscale housing, affordable housing is still scarce.
"I've been in the business for 23 years, and inventory is at an all-time low," said Diana Mancuso, president of Granite State South Board of Realtors and an agent with Keller Williams Realty in Londonderry. "If you have a properly priced property and you put it on the market, in the next few days you are dealing with an offer. The buyer jumps on it," she said.
This is particularly true in the "affordable" range, $200,000 to $400,000. Smaller townhouses and condos are fought over by both the first-time homebuyer and the last-time homebuyer, she said. Those retiring, however, often "have to step up" to downsize because those smaller homes come at a higher price.
Statistics back Mancuso up. An average home has taken 68 days to sell, year to date — an 18 percent drop from last year. New listings, already in short supply, have declined another 1.3 percent. Thus, despite strong demand, which has increased prices by about 6.2 percent year to date (to $265,000), there were virtually the same number of homes sold this year as last year.
You would think that would drive a lot of new construction. And it has.
The state has ranked fifth in the country in construction growth, said Gary Abbott, executive director of Associated General Contractors of New Hampshire. And there are some 2,500 more construction jobs compared to last year. Some of that is housing — there has been an average of 208 permits filed per month in 2017, slightly less than last year, but a good 40 per month more than in 2015.
And there is all that road construction along Interstate 93.
But there isn't an adequate workforce to build the buildings and highways, said Abbott.
"Everybody is struggling to keep up with a project," he said.
Mergers and acquisitions
Some employers are turning to technology to increase productivity, but technology can also create jobs.
Inventor Dean Kamen's ARMI (Advanced Regenerative Manufacturing Institute) initiative has put an exclamation point on Manchester becoming what Matt Cookson, executive director of the NH High Tech Council, calls a "tech hub."
While it's doubtful that Amazon will be opening up its second headquarters in New Hampshire, the tech and retail giant is influencing the state in another way. It has contributed to what John Dumas, president of the NH Grocers Association, calls a "seismic shift" in his industry with Amazon's buyout of the Whole Foods supermarket chain.
One response among New Hampshire grocers has been online grocery sales with either curbside pickup or delivery service. Hannaford's new Bedford facility is a pioneer in this. The store has 15 employees who shop, checkout or bring out the bags for customers to pick up their online orders. The store adds about 20 to 40 new customers a week, resulting in 420 weekly orders, according to store manager Gregg Stryer.
The technology is used in some 41 Hannaford stores, 14 in New Hampshire, where about 5 percent of the customers use it. All this requires tech jobs on the back end in Maine to devise and maintain the software that allows the customer not only to order an avocado but indicate how ripe it should be, said Mike Norton, a Hannaford spokesman.
But it's the tech industry that perhaps feels the worker shortage the most, and mergers and acquisitions "is one way to get talent," said Cookson, though there are other reasons for mergers, like expanding market and various synergies.
Nationally, mergers and acquisitions are on the rise. In New Hampshire, a Boston investment firm acquired building software firm Newforma in Manchester in August. HyTrust Inc., a Californian firm, acquired DataGravity, a data storage and security firm in Nashua. Just last month, Proto Labs paid $120 million to buy Nashua's Rapid Manufacturing Group, an advanced custom manufacturer.
Single Digits is one of the New Hampshire firms doing acquiring, about one a year since 2009. The latest, the Airwave Networks purchase announced on Nov. 16, grows the company to 430 employees.
Single Digits uses a variety of methods to attract and keep workers, via internships in high school and college "to find them young and show them there is an opportunity to stay in New Hampshire," said Singlar.
He also sells the state's cheaper cost of living compared to major cities. What he won't do is steal from other companies. "You won't find us dialing for employees," Singlar said.
Acquisitions, however, is another story. Most of the new former Airwave employees will still work out of their homes. But Singlar also switched 25 positions to the Granite State.
"That's the good thing about acquisitions," he said. "You can grow the company fairly quickly."