New Hampshire places top 10 in annual personal income growth
But state falls behind on most recent quarter-to-quarter comparison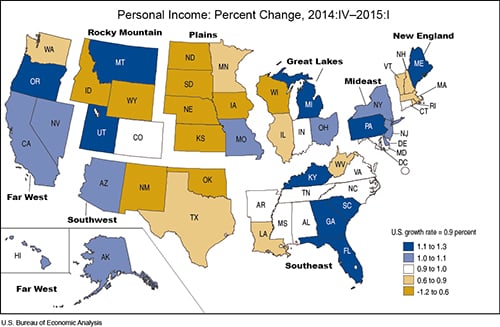 New Hampshire's personal income increased 5.1 percent in the first quarter of 2015, compared to a year ago – the fastest growth rate in New England and the ninth highest rate in the nation, according to statistics released Monday by the Bureau of Economic Analysis.
And that's an increase from the state's 2014 per capita personal income of $53,149, the eighth highest in the United States. The national average was $46,129.
The average state personal income grew 4.4 percent, year over year, with North Dakota leading the nation at 6.1 percent. New England was a bit behind the nation, at 4.2 percent. Maine followed New Hampshire at 4.9 percent, Vermont at 4.7 percent, Massachusetts, 4.3 percent, Rhode Island, 3.8 percent and Connecticut at 3.5 percent.
This is an improvement over the first quarter of 2014, when average growth nationally was only 3.6 percent, compared to the first quarter of 2013. New Hampshire's growth rate during the same period was 4.3 percent and ranked 11th nationwide.
But, when it comes to quarterly growth, the Granite State doesn't stand out. New Hampshire's personal income from the last quarter of 2014 to the first quarter of 2015 was 0.8 percent, just a tad shy of the national average of 0.9 percent.