New Hampshire evaluates FirstNet contract
Granite State could be first in the nation to opt out of planned federal public safety network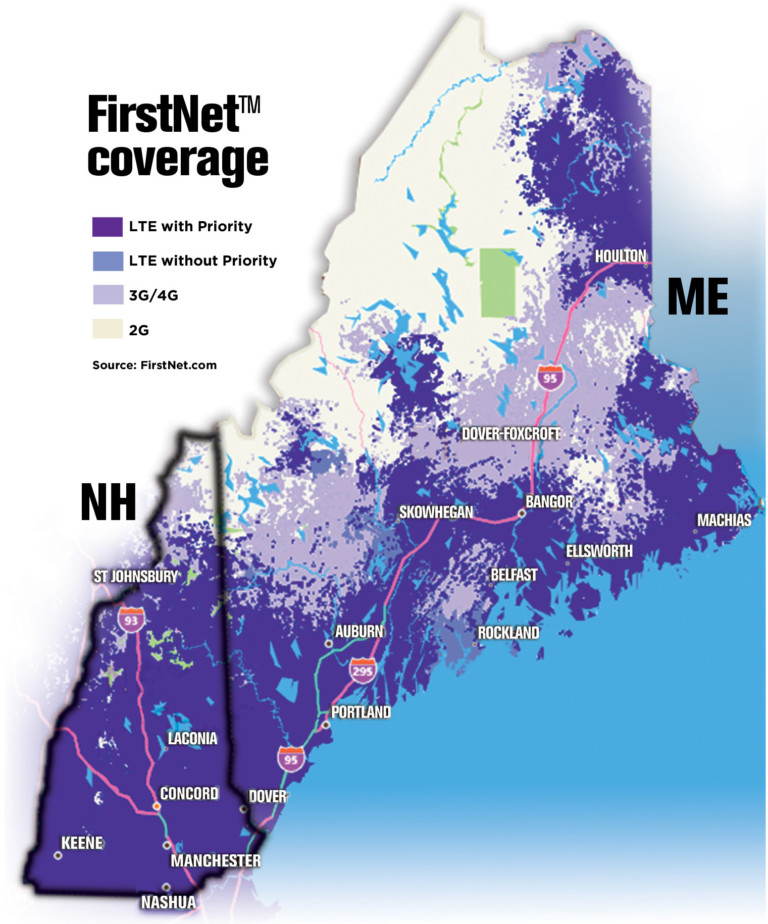 They're just starting to circulate. One ad in the Nov. 2 Concord Monitor states, "If New Hampshire opts-in to FirstNet, first responders will have the best possible communication system for the worst case scenario."
The ad is sponsored by an organization called Keeping New Hampshire Safe, a coalition of current and former public safety officials. But none of its members are from New Hampshire.
The geographically closest is former Boston Police Commissioner Ed Davis, followed by advisory board members who have had careers in Colorado, Oregon, Washington, Maryland, California, Pennsylvania, Illinois, Arizona and Washington, D.C.
And the ad is misleading.
While the intent of FirstNet was to create an interoperable public safety broadband network with the goal of allowing first responders to communicate across agencies and states, the result has been confusion and questions over the billions of dollars already spent on a system that is not yet in service and appears years from being so.
In fact, with a Dec. 28 deadline for states to decide whether they want to "opt in" on the network, only 29 states have done so.
One of the states that hasn't is New Hampshire. And Gov. Chris Sununu has been especially vocal in his criticism of FirstNet, even urging other governors to carefully consider not participating.
New Hampshire has not yet officially said it will opt out of FirstNet, essentially because there are potentially large financial penalties to be imposed on states that don't take part.
Perhaps the biggest issue New Hampshire officials have with FirstNet is that it is being built by AT&T. Just 4.8 percent of first responders in New Hampshire subscribe to AT&T's services, said John Stevens, statewide interoperability coordinator at the NH Department of Safety.
Stevens said a majority of first responders are Verizon Wireless subscribers. In fact, Verizon says it controls two-thirds of the national public safety market.
But AT&T spokesperson Kate MacKinnon said FirstNet will involve construction of additional towers and utilize some rural providers, resulting in a commercial network with a public safety core that covers 99 percent of the Granite State's population and 98 percent of the state's geography.
"There is no other provider that can bring this level of coverage to New Hampshire, including the North Country," said MacKinnon.
"The coverage that is being provided [by AT&T] does not compare to what we believe we have with the alternative plan."
But Stevens disagreed.
"We've met with FirstNet and AT&T probably close to a couple dozen times over the course of the last few months," Stevens told NH Business Review. "We expressed our need for additional towers because of the lack of coverage, and they have presented us with a plan that does provide additional coverage, however the coverage that is being provided does not compare to what we believe we have with the alternative plan."
That alternative plan, drawn up by a Statewide Interoperability Executive Committee, is the result of "two years evaluating our options from a technical standpoint," the governor said in a statement to NH Business Review. The committee "unanimously determined that the plan offered by Rivada Networks LLC will best serve the needs of our first responders."
Sununu added that "we … owe it to our first responders, and all citizens who will depend on the network, to undertake a full and comprehensive review of the viability of the opt-out path and Rivada's plan."
First in the nation?
That review of a FirstNet opt-out is why Keeping New Hampshire Safe is directing ads and a letter-writing campaign to the governor because, if New Hampshire does opt out, it would likely be the first state to do so.
So far, 29 states and two territories have chosen to opt in to FirstNet. The other 21 states, three territories and the District of Columbia have until Dec. 28 to make their decision whether to opt in to the FirstNet/AT&T system — with no liability to the state — or select a different vendor to build out a public safety network, accepting a federal grant and assuming financial risk should the network not be interoperable.
The First Responder Network Authority, or FirstNet, was created by Congress in 2012 in response to a 9/11 Commission recommendation resulting from infamous communications fiascos between police officers and firefighters in New York City and Washington D.C. in the immediate aftermath of the terrorist attacks. Within the bill is a measure that allows for state control in building and managing the network. However, as the first state to fully consider its alternatives, with a contract lined up should the state choose to opt out, New Hampshire officials are pointing to what they say are tactics by FirstNet to pressure states into selecting the federal option.
About a month ago, New Hampshire and several other states received a spectrum management lease agreement on FirstNet letterhead with some alarming figures.
Although states were told the figures were confidential, Stevens' written testimony on Nov. 1 to the U.S. House Subcommittee on Communications and Technology noted New Hampshire's spectrum management lease agreement included "a termination penalty" ranging from $10.6 million to $608.5 million.
The news site VTDigger reported Vermont was warned of penalties of up to $173 million. And at the Nov. 1 hearing, Rep. Anna Eshoo, D-Calif., pressed FirstNet CEO Michael Poth about the notification of a $15 billion early termination fee to her state, to which Poth said it was "absolutely not" a penalty for not opting in.
"We tried to share with the states — because of this very involved, complex project — if we had to reconstitute the network from zero, after a state's implementation didn't work, that it could be as high as that," said Poth. But Stevens is not satisfied with that response. "We would not go into this thinking the network would fail," said Stevens, in regard to the alternative plan. "All we were trying to do is make the point the law does make the option for a state to opt in or opt out. Our belief is the reason the numbers are so high is to discourage states from considering an opt-out option."
The early termination fee is certainly affecting New Hampshire's decision regarding whether to opt out, said Brian Carney, senior vice president at Rivada, the contractor that has spent the last 14 months constructing an alternative plan to FirstNet for New Hampshire.
The potential for termination penalties is one of the biggest financial considerations for the state, says Carney. "It's a big issue for the governor, any governor. Are they taking on some potential liability if they opt out? They don't want to do that to the taxpayer."
The opt-out option
In September 2016, the Executive Council (including then-Executive Councilor Chris Sununu) voted unanimously to sign a deal with Rivada for exclusive rights to build and maintain the radio access network, if officials decided to opt out of FirstNet.
The contract with Rivada allows New Hampshire to build its public safety network operations center in the state, as opposed to AT&T operating a distant, out-of-state center, and would allow for a neutral carrier, said Stevens. If New Hampshire opts out, it would receive a grant from the National Telecommunications and Information Administration ranging from $28 million to $36 million. NITA also must accept the alternative contract, which the agency said could take two years.
Nineteen other states have put out requests for proposals in the case they opt out, though New Hampshire is the only state to have publicly disclosed an alternative contract with a vendor.
Carney said Rivada is talking to several states and has bid on all RFPs from four other New England states (Maine has chosen to opt in).On Oct. 23, Sununu sent a letter to 49 governors and five territories urging them to "hold off on making a final decision while we seek further information from federal officials."
Stevens said he thinks Sununu sent the letter because New Hampshire is ahead of other states that have RFPs. "We may be able to provide them with information that may be of help to them," he said.
Verizon did not bid on creating FirstNet because the original proposal required the winner to commercialize the spectrum to fund the build-out of a network, said Don Brittingham, vice president of public policy at Verizon.
According to Carney, Congress did not want to continue allocating dollars to FirstNet, so it allowed the winning bidder to sell portions of the Band 14 spectrum to carrier networks to earn revenue to support the public safety network. Under FirstNet, AT&T receives the revenue on the excess spectrum sold to maintain FirstNet. If New Hampshire opts out, Rivada will return some of the revenue to the state to maintain its network.
"Extra money is kept at home rather than a national kitty," said Bill Wood, preparedness, special projects and automated external defibrillators coordinator at the Department of Safety and a member of the Statewide Interoperability Executive Committee.
If New Hampshire opts out, first responders can maintain their current subscriber contracts and access FirstNet for one penny. Whereas AT&T/FirstNet has told Stevens it won't release its pricing until New Hampshire agrees to opt in.
"We originally offered free service to all public safety users in New Hampshire. FirstNet told us that wasn't allowed, and we had to charge something, so we charged one cent," said Carney. "If people want access to the FirstNet network in New Hampshire, but want to stay with Verizon, it's not going to cost them anything to be on both networks." In September, Rivada announced it had teamed up with U.S. Cellular to assist in the development of the public safety network.
Interoperability
The question remains: How exactly will the network be interoperable with first responders using different providers? Although first responders are not required to use Band 14 — meaning even first responders in opt-in Maine could remain with Verizon — how will they be able to communicate with first responders not using Verizon?
Carney said Rivada can form roaming agreements with AT&T to ensure if a New Hampshire first responder using another provider roams onto Maine's FirstNet, his or her communication device would still work.
Verizon, which has expressed interest in bidding for California's RFP if it issues one, announced in August that it will be building a separate public safety core to enhance its ability to coordinate first responders' priority on its commercial network. The core, said Brittingham, will be complete sometime next year.
Brittingham acknowledged Verizon was motivated to build a public safety core after AT&T won the FirstNet bid. Brittingham thinks AT&T/FirstNet and Verizon first responder subscribers would have the ability to communicate with one another, as long as the application issue is addressed.
"That dedicated public safety core would be available to any public safety user that AT&T serves on any of the spectrum they have, whether it's Band 14 or any other spectrum they use commercially," said Brittingham. And AT&T spokesperson MacKinnon said FirstNet and AT&T will work with a state's radio access network provider "to provide interoperability and connectivity to the FirstNet/AT&T national core network."
When NH Business Review asked whether AT&T and Verizon were in talks or had reached an agreement regarding core-to-core communication, which would allow first responders to communicate seamlessly on Band 14, MacKinnon replied, "No."
Planning for the future
For the next 25 years after completion, FirstNet, or the alternative state network that will operate in coordination with FirstNet, will be how first responders will communicate through telemetry, telemedicine, body cams, mapping, GPS and the next generation of technology that must operate seamlessly and not in vendor silos, said Wood.
"The biggest need right now, in fact in all of New Hampshire, but particularly north of the notches, is more tower sites to put up the radio equipment communications, so the technology can work," said Wood. "It's not just the North Country, but you get down to Cheshire County, on Route 9 between Concord and Keene, there are different areas of the state where we don't have the sites, we don't have the towers to guarantee our emergency service providers the communication they need."
When AT&T presented to the interoperability committee, Wood said, it became clear that the company would have to build about 30 towers to guarantee coverage. Wood and others are concerned how New Hampshire could compete for attention from AT&T when there are other states that have cities the size of New Hampshire's population.
"We found there was the potential of an organization that would tailor a program to meet New Hampshire's needs, and at the same time guarantee and ensure a New Hampshire system would be operational with whatever nationwide system was developed," said Wood of the Rivada plan. "This is public safety communications for the next 25 years. How do you make a decision if you don't compare brands? We like to make an educated decision."