New Hampshire engineer seeks to change lives in Panama
Engineers Without Borders volunteer helps community build library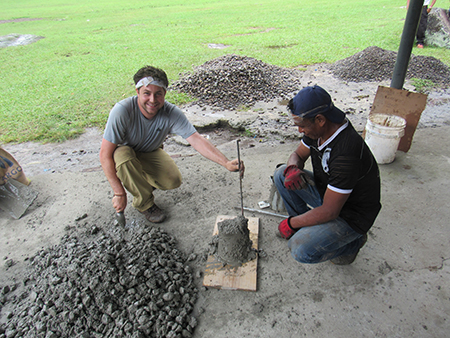 James Macpherson, a structural engineer with VHB's Bedford office, recently spent a week stationed in Hato Rincón, a remote mountain community in western Panama that is home to the indigenous Ngobe-Bugle people, as part of a program led by Engineers Without Borders, or EWB.
Under EWB, a nonprofit organization dedicated to improving the quality of life for impoverished, developing communities worldwide, Macpherson was responsible for beginning project construction for a computer center and library.
The community, which suffers from a lack of basic hygienic and infrastructure needs, including fresh water, sanitation and proper educational facilities, has been working toward developing a computer center and library with the goal of improving education opportunities and its standard of living.
Another goal of the project is to provide the Ngobe-Bugle access to technology to document their culture and language as well as gain better access to health care information and government services.
"It was absolutely incredible to be a part of this important project," said Macpherson. "The volunteers from the community and I only shared a few common words, but it was amazing how much could be accomplished with teamwork, dedication and a shared goal."
As part of EWB's initiative, engineers have helped local volunteers finish developmental phases of the project, completing initial assessment, feasibility and design for the new facilities. Macpherson's efforts on-site included digging trenches, gathering aggregate for concrete, laying rebar and pouring concrete. Specifically, he was responsible for helping manage construction tasks and organizing labor efforts.
"Being able to assist with, and teach the community how to properly construct the building was a humbling and rewarding experience," explained McPherson. "It was fun having to engineer 'primitive' solutions to various construction challenges with limited resources and no phone/Internet access — it was a very different world from what I'm used to at VHB."