New Hampshire bankruptcies fall slightly in May
174 individuals file for protection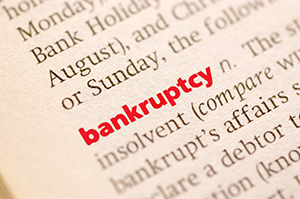 Has the sharp decline in New Hampshire bankruptcies since the recession reached a plateau? It may have, considering that the number of bankruptcy filings fell again in May, but only slightly compared to April and May 2015. And while no businesses filed for protection, there was a larger-than-usual number of individuals filing with business-related debt.
Some 174 individuals filed for bankruptcy in May, 14 fewer than April and six fewer than May of last year. That's the lowest number of filings in any May since 1989, except for a sharp drop in 2006, following the change in federal law that made it tougher to file. And January and February were also at record low levels.
But there was a sharp uptick in the number of filings in March and April, and May was only slightly below the pervious year.
New Hampshire bankruptcy filings have fallen by double digits starting in 2011, and in the last three years they have fallen by roughly 20 percent each year. But year to date, the numbers have been essentially unchanged.
Some 16 of the May filings were due to business-related debt, down from 23 in April, although for several months before that the number of business-related bankruptcies were in the single digits.