New green commuting effort launched in NH
CommuteSmart encourages employees to use alternative transportation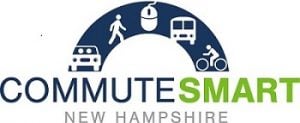 Whether people choose to drive or bike or walk to work is their own decision, but it also means something to the businesses they are getting to. At least that's what the people behind CommuteSmart NH would like you to think, or at least to think about.
The state-funded network of agencies, nonprofits and businesses, is an effort that originally was branded as GreenCommute. It includes a website where commuters can log in the miles they save by biking, walking, carpooling, using public transit, or even telecommuting in their pajamas.
There's a lot of convincing ahead, according to 2013 census data. Only 3.3 percent of New Hampshire commuters either walk or bicycle to work, the lowest such rate in the Northeast. New York leads the way regionally, with 7.1 percent, and Vermont, at 6.2 percent, is second.
CommuteSmart kicked off May 16-20. In that week, some 40 participants, most of them members of nine different teams (employees at McLean Communications, parent company of NH Business Review, among them) avoided some 186 car trips totaling 1,304 miles. 78 percent of those miles were by bicycle, with walkers coming in second.
Many of the participants are from state agencies, including the Department of Environmental Services.
There was some internal debate about whether the state Department of Transportation should be getting involved in trying to influence people's behavior, thus the previous lapse in funding for the GreenCommute effort, said Craig Tufts, principal GIS/transportation planner of the Central NH Regional Planning Commission. But, he said, the state DOT has recognized that the federal government is going to look to mitigation strategies like green commuting when dishing out future transportation dollars.
Reaching out
Businesses also have an interest, said Tufts.
"Some might want to boost how green they are, for recognition and marketing," he said. "For some, it's a health kind of thing; it increases productivity and lowers insurance costs. For those with parking issues, like a large hospital, or a small business downtown, it might mean less money going to that, or more flexibility."
The next step is to reach out to businesses, not through their employees, but the employers, to get them to participate, he said.
"We are still figuring out how to do that," admitted Tufts. "We are not naturally salespeople – we are planners. We are used to listening to people find out what they need, not to try to get them to do something."