New England welcomes MI-BOX portable storage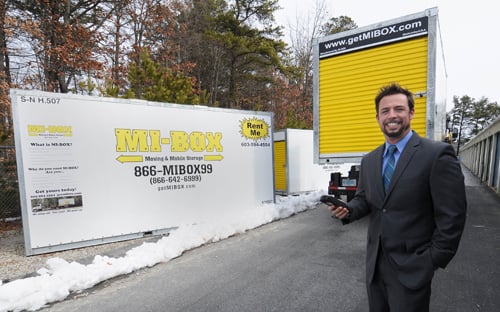 Homeowners and business professionals throughout New England have struggled with how to store their items, with limited options – they can carve out space in attics or basements, waste office space, rent a unit at a facility, or part with items before they're ready. MI-BOX Mobile Moving and Storage has moved to the region to add another – and better – option.
MI-BOX units are mobile storage containers that are delivered directly to the customer. The home or business user packs the items to be stored, either long or short term. The customer can then decide to leave it on site or have it stored at a MI-BOX facility. It can then be returned to the customer at his or her convenience.
"MI-BOX is really the future of portable self storage," said Edward Smith, president of MI-BOX New England, LLC. "The MI-BOX Portable Storage System is the most advanced of any of the options available today because of its delivery system, weather-tight exterior and flexible uses."
What sets MI-BOX apart is its revolutionary LeveLift Transportation system. The Mark 7 arms on the truck attach directly to the unit to ensure that the container remains level throughout transport, keeping the contents from shaking, shifting or tipping.
The MI-BOX units come in three sizes to fit the different needs of self-storage customers: 8' by 8', 16' by 8' and 20' by 8'. They have very versatile uses, including: moving locally or throughout New England; staging a home for sale; needing extra storage space in an office for business inventory or overstock items; planning an event and needing storage space prior to and during the event; remodeling a home; and storing worksite tools or equipment.
To schedule your MI-BOX delivery or get more information, call 603-594-4554 or e-mail miboxne@getmibox.com.
This business profile is part of a special advertising section.