New effort seeks to stem rise of C-sections in N.H.
Lowering the rate of medically unnecessary cesareans will reduce health care costs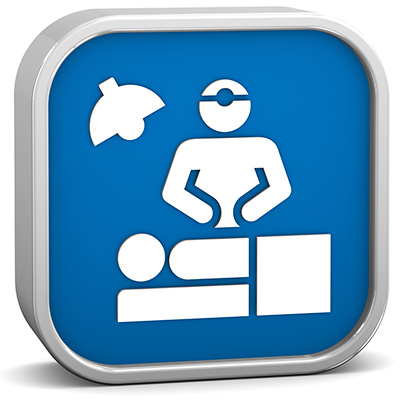 In 2011, one-third of women in the United States gave birth by Cesarean delivery – a 60 percent increase since 1996. The problem? In many cases, C-sections are medically unnecessary, which not only adds additional risk to childbirth, but also racks up huge costs.
Now, "Safe Prevention of the Primary Cesarean Delivery," a jointly-issued Obstetric Care Consensus guideline from the American College of Obstetricians and Gynecologists and the Society for Maternal-Fetal Medicine, is aiming to lower the C-section rate by encouraging doctors to be a little more patient in the delivery room.
Dartmouth-Hitchcock Medical Center is already among the leaders in New Hampshire in this area.
"We're well aware of these guidelines," says Dr. Michele R. Lauria, associate professor of obstetrics and gynecology, and of radiology, at the Geisel School of Medicine at Dartmouth. "Most of those have been in place here at Dartmouth-Hitchcock for quite a bit."
She says the new guidelines are based on research studies that physicians at Dartmouth-Hitchcock have already read, and in many cases, have begun to incorporate into their practice.
The guidelines include:
• Allowing prolonged early-phase labor
• Considering cervical dilation of 6 cm, instead of 4 cm, as the start of active phase labor
• Allowing more time for labor to progress in the active phase
• Allowing women to push for at least two hours if they have delivered before, three hours if it's their first delivery, and even longer in some situations, for example, with an epidural
• Using techniques to assist with vaginal delivery, such as the use of forceps
"We were already doing a lot of it based on the research studies," says Lauria, adding that now that the new consensus guidelines have been issued, "we can systematize them more universally, and more routinely use amnioinfusion or longer time limits on for waiting for a change the cervix," for instance.
Costlier delivery
Lauria says the efforts to reduce the C-section rates are good for the state and the nation, for a number of reasons.
First, a C-section is a major surgical procedure, and one that carries with it small but significant risks for mothers.
"It is a huge incision on the abdomen, and it's a prolonged recovery. You can't drive for two weeks after having a C-section, there can be some significant rates of chronic pain from the incisions from C-sections," Lauria says. "In addition, once you cut muscle, it never really heals to what it was like before."
Although all surgeries carry risks, childbirth itself can be risky too, and Dr. Marc Leclair, chief of obstetrics at the Elliot Hospital and an OB/GYN with Bedford Commons OB/GYN, suggests the risks from C-sections can be overstated.
"Sometimes it's dramatically posed as being the difference between a normal process and a very risky C-section, and that's not true," he says. "C-sections are very safe, and for the mother, they're not very different for the risks of a vaginal delivery. For the baby, in general, C-sections tend to be safer."
There's one thing that's not up for debate, though: C-sections are much costlier than vaginal deliveries, and lowering the rate of medically unnecessary C-sections will, without a doubt, reduce health care costs, too.
"I don't think patient safety drives this nearly as strongly as the finances," Leclair says. "I think there is a significant amount of pressure to reduce health care costs, and I'm certain that, in part, that's what gives these guidelines a lot of steam."
In fact, a 2011 commercial insurance study by the New Hampshire Insurance Department showed that "the amount paid for C-sections in New Hampshire is 64 percent higher than for vaginal deliveries." The study also showed that the New Hampshire C-section rate grew from 28 percent in 2005 to 32.5 percent in 2008, and that the statewide rise is consistent with national trends.
Another finding from that 2011 study is that the hospitals caring for the most complex patients aren't necessarily the ones with the highest C-section rates.
For instance, Dartmouth-Hitchcock Medical Center had the highest proportion of high-risk, prematurely delivered newborns, but its C-section rate is average for the state and below that of Elliot Hospital, which had the highest number of C-sections in the state.
"Health status did not seem to explain the finding in terms of higher C-section rates or even the costs associated with it," says Tyler Brannen, the department's health policy analyst and author of the study. "It does raise the question about whether C-section rates are driven by health status."
Lauria says she's not surprised by the findings because often the lowest C-section rates are at academic institutions, such as Dartmouth-Hitchcock.
"It's kind of the opposite of what the public might think," she says. "Because we are a training program, we are constantly evaluating what the newest research shows, what they newest effectiveness studies show."
Patients' expectations
So what has been driving the rising C-section rate, if it's not health status? Leclair believes it has to do, at least in part, with patient expectations.
Sometimes, for instance, women expect to have a baby when they've been contracting all night and are in intense pain, but they're not even in active labor yet.
"That's a big challenge, and I think there's been an evolution in patients' expectations over the 28 years I've been practicing," he says. "Patients absolutely have become much less willing to allow the course of labor to occur naturally. They have a lot greater expectations about progress and outcomes."
Leclair also believes that physicians' malpractice worries have contributed to the rise in C-section rates, and research backs him up.
In fact, the newly issued Obstetric Care Consensus cites studies showing "associations between cesarean delivery rates and malpractice premiums and state-level tort regulations, such as caps on damages."
Leclair says he doesn't want to create the impression that he's blaming patients for the increased C-section rate, emphasizing that "patients' expectations are absolutely their right. Balancing those expectations and taking those into consideration … is what we do today."
He adds that 30 years ago, medicine was much more paternalistic; doctors would make a decision, and patients would never question it.
"Patients have become part of the discussion in their own health care," he says. "Patients are part of the discussion 1,000 times more than they ever used to be, and absolutely that is part of the C-section rates."
But women wanting the so-called "convenience" of a C-section often don't realize what they're in for.
"There are a lot of misconceptions that it is easier to have a C-section," says Lisa Smith, Hillsborough County Chapter co-leader of the Holistic Moms Network.
Lauria agrees, saying that women might think, "'We'll just schedule a C-section. That's what all the movie stars do.' Really, they're taking on a lot of extra risks for their health when they do that."
But for all the expectations about having an easy labor –and in some cases, wanting a C-section when they might not medically need one — Smith believes that many women will be grateful for the new guidelines.
"I was really happy to see these guidelines extend the length of time to allow a mom to labor," Smith says. "I think it really depends on the mom and her medical history. If it's considered low risk, then yes, there's definitely a benefit to laboring longer and letting things progress at their natural pace."
Doing so will also likely help the state's bottom line. Lauria says patients who've had C-sections are in the hospital longer, and consume more resources.
"It's more cost to the entire system," she says. "It uses more of our health care dollars."