New collaboration says 'bienvenue' to French-Canadian visitors, companies
N.H. business community, Plymouth State effort reaches out to Francophone tourists and businesses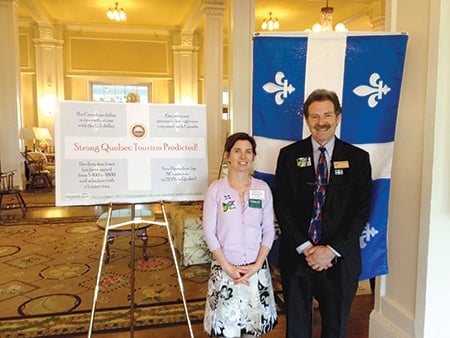 Pablo Picasso once said, "You have to have an idea of what you are going to do, but it should be a vague idea." Picasso could well have been whispering in Katharine Harrington's ear.
As an incoming assistant professor of French at Plymouth State University, Harrington knew that she wanted to give her advanced French language students a project that would provide real-world experience as well as an opportunity to give back to the community. Having previously lived in a bilingual border town in Maine, Harrington realized that although a significant number of French Canadians were crossing the border to work, shop and play in New Hampshire, the state's northernmost communities weren't doing as much as they could to help these visitors feel comfortable and welcome.
So she approached the Pemi Valley Chamber of Commerce with the idea of having her students translate a brochure into French for the organization. Little did Harrington realize that her overture would not only engage her students, but also reveal a larger undercurrent of need.
Harrington's successful translation project incited a clamor for more language support among members of the region's business community, and she and other members of the Plymouth State community gladly responded.
"The smallest gesture can often have the greatest impact," Harrington observes. "If business owners can say a few things in French, it lets our Canadian visitors know that we're glad they're here."
These Canadian tourists have a tremendous impact on the New Hampshire economy. According to the Institute for New Hampshire Studies at Plymouth State University, in 2010 — the most recent year for which figures were available — nearly half a million (472,100) Canadians visited the state, and more than half of them hailed from Québec, making Canada the top international visitor market for New Hampshire. For overnight visitors, the average per-person expenditure in the state was $257, totaling $123.5 million spent by Canadians in New Hampshire in 2010.
Although this focus on French-Canadian tourism has roots on the campus of Plymouth State, it has rapidly expanded to encompass a diverse coalition of stakeholders both on- and off-campus and is now referred to collectively as "Bienvenue New Hampshire."
Over the course of the past two years, the program has evolved in response to community needs. Initially, in 2012, Plymouth State joined forces with the state's Division of Travel and Tourism to develop "The PSU Institute for New Hampshire Studies Toolkit Series," workshops that offer hands-on training for members of the retail and tourism community.
The first, a workshop on developing travel itineraries, was offered last October. Following the success of her brochure translation project, Harrington joined the team for the second workshop, held in April, which focused on French language development for tourism providers and offered participants business strategies for targeting and engaging French visitors.
A third workshop took place in September and addressed the French-Canadian audience's impact on state tourism. It also provided an opportunity for area businesses to connect Plymouth State staff and students who can help them translate menus, websites, brochures and related materials into French.
A fourth 'Toolkit' workshop on agritourism is currently being planned for some time in the spring.
'Good customer service'
"These workshops have been extremely well received," says Ben Amsden, interim director of the Center for Rural Partnerships at the university. "We've gotten a great deal of anecdotal feedback from our chamber of commerce partners indicating that the offerings are much needed and appreciated."
For example, Amsden says, following the April workshop, representatives from Tanger Outlet Mall contacted the group looking for additional support.
"Bienvenue New Hampshire is everybody's program," Amsden explains. "It's a great example of people working together for the community good. The program supports both regional businesses and Québécois visitors — everyone wins."
Settlers Green Outlet Village in North Conway has experienced the benefits of catering to French Canadian tourists, says Dot Seybold, general manager of OVP Management, which manages the shopping mall.
"We've been reaching out to Canadian tourists through our website and various social media channels for some time now," says Seybold. "Canadians are very fashion-conscious and extremely savvy shoppers. They gather a lot of information from shopping blogs such as 'CrossBorderShopping.ca' and 'Better Value in Dollar.' We have an ad on the latter and it has directed a ton of traffic to our website."
The mall also strives to make Canadian visitors feel welcome once they arrive on-site. A facility-wide intercom system offers welcome announcements in both English and French; a French-speaking greeter is on hand during key Canadian shopping weekends in the summer and fall to assist Québécois visitors; and a number of shops employ bilingual clerks.
"It's basically just good customer service," Seybold observes. "Being friendly and welcoming — it's important for our business in any language."
Overcoming barriers
Another aspect of Bienvenue New Hampshire is economic development, a subject that is near and dear to the state's Department of Resources and Economic Development.
"Canadian business owners frequently tell me that it's nerve-wracking to speak business in English," Lamontagne explains, "so I'm hoping that, in the future, Bienvenue New Hampshire can offer them language support as well."
DRED is the umbrella agency for, among other things, the Division of Economic Development and the Division of Travel and Tourism Development. Michael Bergeron, business development manager at the Division of Economic Development, and Benoit "Beno" Lamontagne, the division's North Country regional resource specialist, are among the state's most vocal proponents of the benefits of New Hampshire for Québécois businesses.
Bergeron manages out-of-state business recruitment for New Hampshire, working with Canadian companies — particularly those located in Québec — that may have an interest in expanding into the U.S. Lamontagne — who was born in Granby, Qué., but grew up in Stewartstown, N.H. — is responsible for planning and implementing development strategies that build economic opportunity for North Country business communities in Carroll, Grafton, and Coos counties.
As a native French speaker, Lamontagne plays a critical role in the solicitation process.
"We're very sensitive to the language barrier," Bergeron explains. "It's important to be able to communicate clearly with Québécois business owners and understand their needs. Beno is a tremendous asset to our team — not only is he fluent in French, but he is also very familiar with the region."
Lamontagne also shares his expertise with Harrington and other members of the Bienvenue New Hampshire coalition, advising them on steps that New Hampshire businesses can take to become more French-Canadian friendly.
He says he's delighted with the initiatives the collaboration has sponsored to date and already has ideas for the next phase of the project.
"Canadian business owners frequently tell me that it's nerve-wracking to speak business in English," Lamontagne explains, "so I'm hoping that, in the future, Bienvenue New Hampshire can offer them language support as well."
In a letter delivered to the Mt. Washington Valley Chamber of Commerce's Business to Business Expo earlier this year, U.S. Sen. Jeanne Shaheen praised the chamber, Plymouth State and others in the business community for their outreach to French-Canadian visitors.
She noted that a host of factors — including a Canadian dollar near par, significantly lower gas prices in the U.S. and an increase in the duty-free exemption — were contributing to an influx of tourist traffic from Canada, particularly from Québec.
Accommodating visitors through sensitivity to potential language barriers can make a tremendous difference in their overall visitor experience, Shaheen observed.
As she noted, "a little 'bonjour' and 'bienvenue' goes a long way!"