New bus routes, on-demand public transit in the works for Monadnock Region
SWRPC looking at increased availability of fixed bus routes and microtransit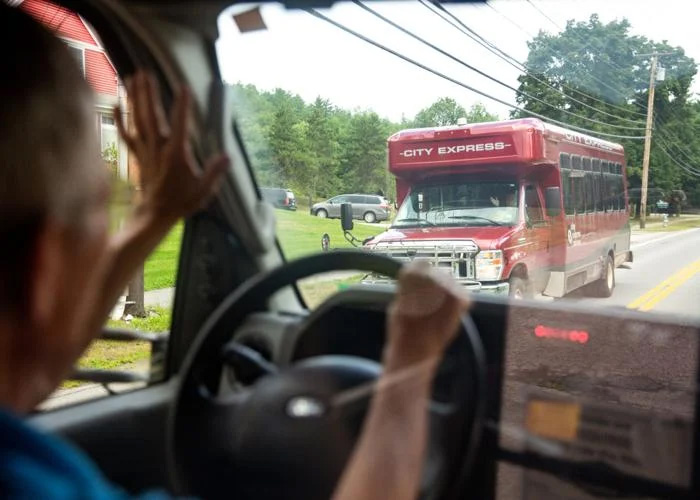 New bus routes and on-demand public transportation could arrive in the Monadnock Region as early as next year, as the Southwest Region Planning Commission eyes improvements to the area transit system. 
The SWRPC hosted a virtual meeting Monday evening to collect public input on its study to assess the feasibility of various new or adjusted public transportation services. The meeting, which drew about 20 people on Zoom, was the latest in a series of three public sessions, following in-person events in Keene and Peterborough last week. 
SWRPC — a Keene-based public planning agency serving 34 towns in sectors such as transportation, housing, labor force and watersheds — hosted the meeting with representatives from Via Transportation, the group's consultant on the transportation study. The New York City-based company helps public entities plan transit networks.
J.B. Mack, SWRPC's principal planner, said the study aims to outline improvements to public transportation in the region by looking at increased availability of fixed bus routes and microtransit.
The former, Mack explained, is essentially traditional bus travel, in which riders purchase tickets in advance, board buses at specified locations and get off at their designated bus stop along a linear route. The latter, Mack said, is similar to travel services like Uber and Lyft, Mack said.
For traditional bus service, SWRPC partners with Home Healthcare, Hospice and Community Services, which manages the City Express in Keene. Mack added that the organization is exploring the feasibility of "intercity" routes between Keene and Peterborough, and the Elm City and Brattleboro.
Several attendees at Monday's meeting expressed the need for a bus route connecting Keene to communities in the eastern Monadnock Region including Jaffrey and Rindge.
"There are a lot of people in this area who can't go to and from their job, or they can't get a new job because they don't have a ride to get to that new job, and that's a big hindrance not having that transportation," said Mandy Carter.
Dori Drachman said she thinks any form of mass public transportation would be beneficial to limiting greenhouse gas emissions.
"One of the things that is important to me is to make it convenient enough that folks who have cars would choose to use mass transit, so that they could be driving less," she said. "I think having multiple routes or buses between Peterborough and Keene would be helpful."
Through a microtransit network, riders would be able to request transportation through an app or by phone and have their route scheduled in less than 20 minutes. This transit option, generally provided through smaller vehicles, is designed for traveling short distances with other passengers going in a similar direction.
Cathal O'Gorman, a director at Via Transportation, said during the meeting microtransit takes two different forms. On-demand microtransit refers to a service in which passengers can request a ride instantaneously, and pre-booked microtransit service enables passengers to schedule transportation ahead of time.
The on-demand service is ideal for dense, urban communities where the desire for transportation is high, he explained, while pre-booked microtransit is designed to operate in rural areas. O'Gorman said Via is considering on-demand transportation options for Downtown Keene and pre-booked services in rural zones between Keene and Winchester and another zone including Peterborough, Jaffrey and Rindge. 
Mack said microtransit service providers implement an algorithm which builds dynamic routes based on demand and wait time for riders. 
"The basic rule of thumb is that you don't want it to be inconvenient," Mack said. "It shouldn't be twice as long as if you were to take your own vehicle. We want it to be as efficient as possible."
Microtransit drivers would operate within fixed zones, Mack said. The commission is looking at including a zone for the city of Keene and another for "Greater Keene," which includes parts of Swanzey and Marlborough.
Overall, Mack said the feedback from the series of public meetings makes it clear that the Monadnock Region needs more public transportation.
"There's parts of the population that are without access, like seniors and the youth and the disabled," he said in a phone interview before the meeting. "And others have climate or greenhouse gas emissions goals. They want to be a two-car or a one-car household, and they see that transit needs to be a part of that puzzle."
Mack said there will be a series of similar meetings in October. He added that SWRPC's study is expected to wrap up by the end of the year, and new bus routes could be implemented then, with microtransit services possibly coming later, after the organization has partnered with a microtransit provider.
In an email Tuesday morning, Mack said it is too early in the process to have a clear sense of how much the project will cost or how it will be funded. However, there are opportunities to receive federal funding, which would likely require a local match, he said.
Hunter Oberst can be reached at 355-8585, or hoberst@keenesentinel.com. 
This article is being shared by partners in The Granite State News Collaborative. For more information visit collaborativenh.org.