New Boston men create new type of winter recreation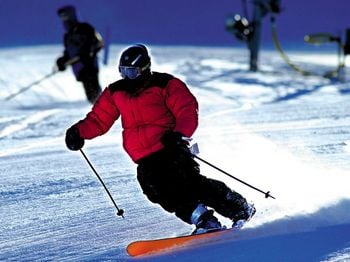 By his own admission, 38-year-old Erik Fey is a ski bum.
"Oh, yeah, definitely – just ask my wife," the New Boston resident said during a recent chat at Crotched Mountain Ski Area.
But unlike most people who regard the warm-weather months as an off-season to be suffered through, Fey and his Connecticut-based brother Martin have turned their downhill obsession into a business, and they hope their business will change their obsession.
The Feys invented a new way to go downhill on snow called "teleboard," and have been selling it online and in person for several years. It's a patented cross between snowboards and the mix of downhill and cross-country skiing known as telemark skiing.
Trying to get people to buy a new type of ski isn't as crazy an idea as it once was because technology has greatly expanded the ways of going down a snowy hill.
Straight, skinny pieces of wood were once the only things to strap on your feet, but now there are fat snowboards, tiny skate skis, curvy "shaped skis" (a few with piezoelectric polymers to combat vibration), skis with tips at both ends, ski scooters to ride on and even inflatable tubes for those who want the rush without the risk of falling.
Still, Fey says it isn't easy getting people to switch.
"Skiing for a lot of people is their religion, and it's hard to change a religion," he joked.
The boards come in three sizes, from the 191 ($320, not including bindings) down to the 168 ($295). Longer ones act more like skis to handle fast runs and the smaller ones act more like snowboards to handle half-pipes and other trick areas.
Since starting their company, Uniboard, in 1996, the Feys have sold "a couple hundred a year," which is about the limit that the pair can handle without expanding.
Fey lives in New Boston with his wife, Kathleen, who works for The Derryfield School in Manchester, and their two children, ages 4 and 1½. Like a good ski bum, he paints houses in the summer while he waits for teleboard season to start up again.
"This is a labor of love," he said.
The teleboard is like a snowboard in that both feet are attached to a single board rather than to two separate skies, but it's like telemark skiing in that the heels can be lifted while the toes remain strapped down. Telemark boots, rather than standard ski boots, must be worn, and poles are used.
In snowboarding, as in downhill skiing, the entire foot is held down by the bindings. But foot flexibility is important in telemark skiing, which is often used in backcountry settings where downhill runs are mixed with cross-country treks across flat terrain.
The bindings on a teleboard face forward like on a ski rather than on a snowboard – although they are angled slightly, at 75 degrees, to improve balance.
Fey says Martin stumbled on the idea for a teleboard after the two of them, both expert backcountry skiers, began making their own snowboards.
"One day he made a board that was too skinny to fit snowboard bindings, so he tried putting on telemark bindings," Fey said.
That simple idea is the key behind the brothers' 1998 U.S. patent, and Fey says it creates a whole new downhill experience.
"You can handle moguls, which boards aren't good at, but it can carve a beautiful turn," said Fey, who taught snowboarding at Killington in Vermont. "I have never been on anything that can carve a more perfect turn – except maybe racing snowboards, and they have no versatility."
The company's teleboards are manufactured in northern Quebec, and the brothers sell them online ("The Internet has made this possible," Fey said), and also through a few distributors, including one in Norway, where telemark skiing is huge. The brothers also sell traditional telemark gear online.
Fey also spreads the teleboard word at demonstrations every Wednesday at Mount Sunapee Ski Area and Thursday nights at Crotched Mountain, converting enthusiasts and selling equipment from a trailer.
Among those he has converted is Carson Henry of Lyndeborough, who saw Fey on a teleboard at Sunapee two years ago and now doesn't ride anything else.
"I saw it and had to try it," Henry said. "It took me three times to convince myself to spend the money."
Fey says teleboard customers have been a mix of skiers and snowboarders, although a boost in popularity of telemark skiing has been a help.
No matter the background, he said, experts can usually handle a teleboard right away, but those with less experience take longer to learn.
As an example, four runs on the Crotched "bunny slope" in last week's blistering cold
wasn't enough for an out-of-practice, intermediate-level-skiing reporter to master the teleboard – although Fey, like all instructors, remained encouraging.
"You were very close that time!" he said after the reporter's 10th fall.
David Brooks can be reached at 594-5831 or brooksd@telegraph-nh.com.