New biotech incubator sees Keene as a great spot for startups
BiO NeSTe draws upon the area's wealth of resources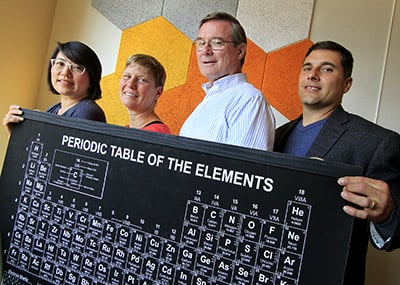 The cutting-edge biotech industry doesn't normally conjure up images of cow pastures, church suppers and village greens, but a new biotech incubator in Keene seeks to show that they can be an ideal setting for such fledgling companies to spread their wings and take flight.
Called BiO NeSTe (the writing of its name is a play on chemical symbols), the incubator is the brainchild of Gene Garcia and his wife Julie, both Keene State College graduates, who moved back to the area a few years ago.
Garcia has a doctorate in biological sciences and works as quality manager at W.S. Badger Co. Inc. in Gilsum. His wife, a scientist whose work involves shepherding ideas from R&D to commercial viability, began hearing about lost manufacturing jobs and hopes of economic revitalization.
She began talking about biotech to Mary Ann Kristiansen, founder and executive director of the Hannah Grimes Center in Keene, a business incubator that serves about 15 startup companies at a time and provides one-on-one coaching, workshops, mentors, a startup lab, low-rent office space and access to capital.
The Garcias started putting together what became the advisory board of BiO NeSTe — in addition to the Garcias, it includes Kristiansen; Roy D. Wallen, a Brookline-based consultant with expertise in the healthcare technology field; and Kate Hickey, the Hannah Grimes Center's program director.
Testing raw milk
BiO NeSTe's first company is Lash Laboratory Solutions, Garcia's side project. Its focus is the safe testing of untested agricultural products, starting with raw (unpasteurized) milk.
As it stands, federal regulations prohibit trade in unpasteurized dairy across state lines. And as of 2011, 33 states either banned the sale of raw milk or restricted it to the farms on which it's produced, according to a survey from the National Association of State Departments of Agriculture.
With ample space availability and affordability as well as educated biomedical students at colleges nearby, Keene may be the answer to the biotech industry's growth needs.
Lash Laboratory Solutions' first project is developing a better way to test raw milk for bacteria, yeast, mold and pathogens, which Garcia says could slash the waiting time for results from days to hours, with the hope regulators will ease restrictions and, in so doing, boost the dairy industry.
Keene's location may be rural, but it's central to the region's biotech hubs — it's two hours from Boston, one hour from the Manchester Millyard and one hour from Dartmouth College, opening up opportunities for collaboration.
Lower operating costs also make Keene attractive to the biotech industry. Developing companies will not only pay less for lab and office space (including shared space) in a rural location, grant funding will stretch further with lower costs. A rural biotech industry also provides a low-cost educated workforce from local colleges and universities, and the city has space for new companies to move in and expand.
"You can do it for 25 to 30 percent of the cost of what it would take in western Boston suburbs," said Wallen. "There's this opportunity to tap into an industry that has a need and apply it in a rural setting."
A common occurrence in the biotech industry is a company might create a viable product, but because it hasn't followed the proper regulatory steps over the years-long development process, that product can't go to market. An important role the incubator will serve is connecting entrepreneurs with the resources they need to navigate this complex terrain, and that's is an area of expertise of the Garcias.
"We want to use resources like W.S. Badger and Smiths Medical [in Keene] to help mentor these companies and help their products be the first to market," said Garcia. He added that the advisory board plans to meet quarterly to provide incubator companies with feedback.
Wallen also works with startup companies in the biotech and healthcare sectors as a volunteer mentor and adviser.
"There are tremendous resources in the Monadnock Region," he said. " All the things a startup company might need are all available in the Keene area."
Building a workforce
The final piece of the BiO NeSTe puzzle is Keene State College. Right now, students who study life sciences must leave the Monadnock Region to find internships and start their career.
"We have a wonderful bio department but nowhere for anyone to get real life skills in biotech," said Daniel Henderson, director of corporate partnerships and strategic initiatives at Keene State College.
In addition to life science programs, Keene State offers other related courses, including sustainable product design and innovation, whose students could benefit from a biotech incubator.
The college also conducts biomedical undergraduate research through programs such as the New Hampshire INBRE (Idea Network for Biomedical Research Excellence), a statewide program funded by the National Institutes of Health that has strong relationships with life science businesses.
Keene has another opportunity to benefit from specialized biotech business with the Advanced Regenerative Manufacturing Institute in Manchester, which has received nearly $300 million in federal, university and private funding to develop the engineering of tissues and organs on a commercial scale.
Those types of operations need other labs that do some of the more rote work, and they pay well to get that work done.
Keene State hosted an event in May with the NH High Tech Council to promote workforce development collaboration among higher education, businesses and government. Biotech business leaders from New Hampshire companies convened to learn about a range of programs that help prepare students to be employees in this growing business sector.
"It offered another opportunity for people to see how development of a biotech business center can happen in that kind of [rural] location and with access to faculty and students at Keene State College," said Wallen.
The BiO NeSTe team is still looking for potential projects the incubator could take on. The program would seek to support businesses that create products and technologies related to healthcare and agriculture — two areas that are complementary to the region's strengths and resources, according to Wallen, who said he sees the incubator reaching a critical mass of about four to five companies.
While renting a laboratory on a full-time basis for running experiments on a part-time basis is not effective, explained Wallen, it would be ideal for a handful of companies to share time and space. The same goes for equipment, patent lawyers and accountants.
Finding space for the incubator and securing funding are the next crucial steps for BiO NeSTe.
The hope is that at least some graduates of the incubator will set down roots in Keene, putting the city on the biotech map like Dartmouth, Manchester and Cambridge and attracting others.
"There's no reason we can't be one of those places," said Garcia.