New BIA chief wants to 'push the envelope'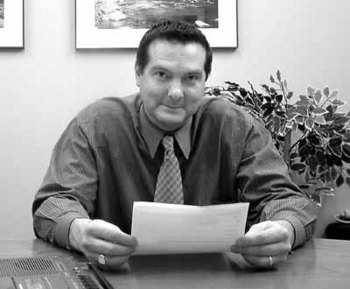 To get to New Hampshire from Minnesota, you don't have to go through Utica, N.Y. But Jim Roche believes that, in his case, it certainly helped.
"I knew for me to get a position like this, I would need to show my stuff," said the new president of the Business and Industry Association of New Hampshire. "I think I did — I tried to, anyway — at the Mohawk Valley Chamber of Commerce" in Utica.
Roche, 45, was president and CEO of the upstate New York chamber before he was hired by the BIA board of directors to succeed John Crosier, who retired in December. Born in Minnesota, Roche had a marketing career in the Gopher State, having worked for The Northspan Group, The Thomson Corporation and for Advantage Minnesota, a public/private marketing enterprise, before moving east in 2002. The move was prompted by his wife, Josee Dupont, who wanted to be closer to her native Quebec City. For Roche, it resulted in a career change as well.
"I looked back at my career and said, 'I have some pretty strong skill sets in marketing communications, and I've done some lobbying and public policy stuff. I've got a pretty strong track record in economic development.' It seemed to me a trade association or a chamber would be a nice fit for all of that."
The economic and political climate in Mohawk Valley presented a formidable challenge, he said.
"Upstate New York is in a world of hurt," said Roche. "The economy is struggling, manufacturers are dropping employees and outsourcing at an accelerated pace and the tax and regulatory burden on business is one of the worst in the country."
The chamber of commerce, meanwhile, was promoting networking and business workshops and forums, "but there was no organization there that had really taken up the mantle of public policy advocacy," said Roche. "The business community really didn't have any voice or standing in the Mohawk Valley."
Under Roche, the chamber created a public policy advocacy program and began taking positions on Medicaid, worker compensation, tort reform and other pocketbook issues. It sent out questionnaires to political candidates seeking their positions on issues and inviting them to meet with chamber directors for further probing. The board created a political action committee and began endorsing and making financial contributions to candidates.
Not all public servants were pleased with the chamber's heightened interest in public affairs, however, Roche said.
"There was a lot of grumbling and still is, but my colleagues on the board and I felt that was a good thing. We wanted our elected officials, who presided over one of the worst business climates in the country, to be uncomfortable."
The conditions here are quite different from those in Mohawk Valley, he said. "So when the BIA does public policy advocacy, are we going to be as aggressive as our chamber was? Probably not. I think you sort of have to adjust to the climate."
Still, he would like to see the BIA become more politically active.
"Most chambers and statewide organizations have a report card where they monitor key business issues and then they report to key business leaders and members: 'This is how your legislator voted on key business issues,'" he said. "It's something that I hope we'll discuss and consider."
So far, Roche, being new to both New Hampshire and the BIA, is careful to avoid making definitive statements on public policy issues, particularly those on which the organization has not taken a position. In his meetings with New Hampshire businesspeople, he said, he has heard comments about Senate bill 110, the law that eliminated community rating from health insurance premium calculations, allowing insurers to consider age, health status and tobacco use of the insured in establishing premiums.
"I don't think there is a consensus. I think some businesses are benefiting and some are not," Roche said. "I think we have members who have benefited and members who haven't, so it's a dicey situation."
So is HHS Commissioner John Stephen's proposed Granite Care plan to provide at-home services to the elderly as an alternative to residential care at nursing homes.
"I don't want to speak for the organization, because I'm still learning what positions we have on what issues — let alone the issues themselves," he said. "Personally, I think the high cost of long-term health care is definitely an issue. It is more expensive to put someone in a long-term health-care facility than it is to provide for living at home, so that is a big cost factor in Medicaid across the country. Most people, I think, do prefer to stay at home in their senior years, and if resources are there to help them do that instead of the more expensive alternative, it's probably something worth addressing."
Other issues, even more pressing, also will have consequences for New Hampshire businesses, he said.
"I think clearly the budget deficit is a key issue for the business community," Roche said. "How is that gap going to be closed? To what extent will the business community be shouldering that gap? Education funding — the business community certainly has an indirect, if not a direct stake, in seeing that quality education is provided to our children. They're our future, kids coming out of school and eventually making it into the workplace."
His time in New York has left him with mixed feelings about gambling as a revenue source for the state and whether expanded gambling might be a solution to New Hampshire's budget deficit.
"I've heard it's an option, and in years past it hasn't been a popular option. Whether it will be part of the solution remains to be seen," he said. "Are there problems associated with gambling? Yeah, absolutely. But one can argue that some of those gambling facilities in New York are huge employers in our neighborhood. In the Mohawk Valley, we lost Griffiss Air Force Base, the population declined by 10,000 and New York was losing 100 manufacturing jobs a day. I'm not suggesting the gaming industry is replacing those jobs at par, but it provides jobs, and in an area like upstate New York, which is struggling, they are an economic force."
Roche said he has been on a "listening tour," meeting with businesspeople at BIA-sponsored gatherings at seven different New Hampshire locations. He also has been meeting on a one-on-one basis with people on the BIA's 33-member board of directors. He believes he has an understanding with the board about the kind of leadership he will provide.
"What I told the board in the interview process and what I maintain today is that my job is to provide leadership and to push the envelope without, you know, allowing the envelope to burst open. And to even push the board to some extent, but to recognize when I'm at the edge and certainly not to go beyond that. That's what I did at the Mohawk Valley chamber. There was a lot of uncomfortableness with getting into the whole public policy arena and the endorsement process, and so we took it one step at a time. But I pushed them a little bit in that respect, and they appreciated that."