Navigating a nonprofit
The learning curve is daunting for those launching a nonprofit organization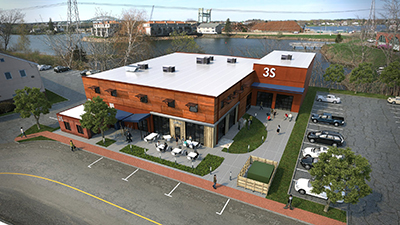 "My mom would tell you that I've been talking about 3S – in one iteration or another – since I was about 15 years old," says Chris Greiner, executive director of 3S Artspace, a performance space and gallery now under construction in Portsmouth. "I've always wanted to be a part of establishing a gathering space and cultural hub of some sort, whether it was an arts center for teens, a bookstore cafe, or the multidisciplinary arts space that I eventually landed on."
The idea started in 2005, and by 2009 Greiner had organized a group of friends and mentors to serve as a fledging board of directors, including an architect, an attorney and a local business owner. Greiner left his job to pursue 3S Artspace full-time, and by March 2011 it was incorporated as a New Hampshire nonprofit with federal 501(c)(3) status. This spring, 3S Artspace will complete construction and open its performance space, art gallery and restaurant in the city's rapidly changing Northern Tier.
Greiner says starting a nonprofit from scratch takes an incredible amount of time and effort. His board of directors and other advisers provided invaluable help, advice and services in the early years, but even still, the learning curve was huge.
"In the beginning, there are simply things you must learn because there's no one else there to do it, or because the buck stops with you so you'd better know what you're taking on," says Greiner. "For example, I'm dangerously conversant in the construction process, running a capital campaign, accounting, human resources, public speaking."
Unlike starting a for-profit business, where in some cases it's little more than hanging out a shingle and building a client base, there is a complicated set of oversight regulations, federal tax requirements, state filings and other requirements people looking to start a nonprofit must navigate.
In New Hampshire, nonprofits must form a board of directors of at least five voting members who are not of the same immediate family or related by blood or marriage; adopt bylaws to provide rules for structuring and operating the corporation; file articles of incorporation with the New Hampshire Secretary of State, which includes a $25 fee; register and report to the Attorney General's Charitable Trust Unit if seeking donations, which is another $25 filing fee; and receive a letter of determination from the IRS confirming the group's 501(c)(3) status.
Each year thereafter reports beyond standard tax forms are required to be filed.
Available resources
Those who want to launch a nonprofit may not always have the expertise needed to ensure long-term success. That's where the New Hampshire Center for Nonprofits comes in.
3S Artspace Executive Director Chris Greiner
Telling your story
Building networks, using connections and dedicating hours of time to a cause are essential ingredients to getting a nonprofit off the ground, but so is exposure.
If the public doesn't know about the work the organization is doing, it makes sustaining the nonprofit that much harder.
In the first days of 3S Artspace, Chris Greiner got some very important advice from a mentor: show the community what you're going to bring, how you're going to do it and why your organization is different from the rest.
"I was dead wrong to ignore him," says Greiner. "It took me about a year and a half to realize that this thing that was so clear in my mind wasn't necessarily obvious to the community we were trying to win over."
Being more explicit and working harder to share the vision changed everything, Greiner says, including fundraising and interest in the project. "It also gave us amazing opportunities to forge relationships with other organizations in the area, relationships that endure and I'm certain will result in lasting partnerships even once we launch our own space," he says.
The organization helps nonprofits achieve their mission by providing resources on its website, and through workshops and training. The group encourages collaboration between nonprofits, for-profit businesses and government. And in some cases, people seeking help starting a nonprofit will learn that their best course of action is not to form one at all.
"We also provide resources to people about achieving their goals in ways other than starting nonprofits," says Laurette Edelmann, assistant director at the center, who calls the process of starting a nonprofit "very complex."
She says in many cases "we provide links to resources and articles that give organizations and groups other areas they may want to look in."
For instance, is there a way for the startup to partner with an existing nonprofit? Will the organization be able to remain financially stable? Can it reasonably meet its mission based on these financials? These are all questions Edelmann says fledging nonprofits need to ask themselves. Not bothering to do so is one of the most common pitfalls of a nonprofit startup.
Once that threshold is met, the center has a wide range of resources, from webinars and videos to informational sessions that can help staff and boards better achieve the nonprofit's mission.
The New Hampshire Secretary of State's Corporation Division also has resources, and the New Hampshire Charitable Foundation has long served as a resource for grants and connecting donors with effective organizations.
The business sector
Because nonprofits don't operate under the traditional for-profit model, their impact on the state's economy is often overlooked.
According to 2012 data from the New Hampshire Center for Nonprofits, there are 8,400 registered nonprofits in New Hampshire that employ roughly 102,000 people, or about 15 percent of the state's workforce.
In 2012, nonprofits contributed $9.1 billion to the state's gross domestic product.
Edelmann says the state's nonprofit sector often hears claims that there are "too many nonprofits in New Hampshire." The sentiment partially stems from those who see the effects of high property taxes and how much more cash-strapped communities would generate if nonprofits didn't enjoy local tax breaks.
But, according to the IRS, the number of nonprofits in the Granite State is not out of line, per capita, when compared with other states.
There is one nonprofit for every 241 New Hampshire residents, the same number as Iowa and Oregon.
Nonprofits don't want to see animosity between the two business sectors, especially because it can discourage startups from doing work that's needed in the community.
Organizations like the Business and Industry Association of New Hampshire have endorsed the idea that investment in education, health care, the arts and protecting the environment improves the state's quality of life and attracts businesses and workers. Improving these areas is often a job done by nonprofits.
"If you look at the goals of for-profit businesses, they are directly connected to partnerships with nonprofits," says Edelmann.
Defining the mission
Concord attorney John Wilson, founder and presidents of the board of the Diversity Workforce Coalition, envisioned the nonprofit and for-profit world working together when he formed his organization, roughly two years ago.
The coalition hosts workshops and advises businesses on how to increase diversity in their offices, labs and other places of businesses. Whether it's hiring more women at a tech firm or increasing ethnic diversity at a law firm, Wilson says businesses benefit when there's greater diversity.
Before he filed to form as a nonprofit, Wilson put together focus groups of people involved in workplace diversity and human resources, trying to nail down the problem and ways to fight it. He spent 18 months and "lots of talking" getting the nonprofit up and running. In 2014, the Diversity Workforce Coalition had 30 members, it hosted three programs for members and has three to four slated for 2015.
Knowing how to utilize scarce resources, especially human resources, has been the key to keeping the nonprofit moving forward, Wilson says.
"I can't emphasize enough how much time it took and how dedicated the people had to be to the purpose," says Wilson. "You can't go in to a nonprofit half-cocked. You have to be all in."
Wilson dedicates about 20 hours a week to the project. He relies on pro bono work and volunteers to get other tasks done.
"We don't have enough money to hire somebody who works 20 hours a week every week to do what needs to get done," says Wilson. "Going out and promoting it and answering phones – a lot has fallen on the board members and me."
Money will forever be an issue for nonprofits, but across the state, organizations find different ways to pay their bills.
While the coalition relies on membership fees to keep its operation going, 3S Artspace received an initial grant from the NH Charitable Foundation and also received seed money from friends, family and donors. It continues to conduct fundraising. Although most assume that nonprofits rely on donations, data from Giving USA's annual reports show 67 percent of New Hampshire's nonprofit revenues come from program service fees, not traditional fundraising and donations.
Lessons learned
Now that he's a few years in, Greiner says 3S Artspace has hired two full-time staff members and shifted operational duties off of the board members. The organization pays for legal services and a bookkeeper as well.
"Ultimately you want your volunteer board to stay fresh and energized, focusing their limited time on fiscal oversight, strategic decisions and fundraising," says Greiner. "I can attest that heaping onto the board what would otherwise be staff work is a recipe for burnout."
Wilson agrees. Leaning on board members and other volunteers is essential, but always keep in mind they have their own lives.
"I really had to hold back asking volunteers to give time," says Wilson. "I wish we could have gone faster in some cases, but I think if we did, we might have missed out on some things."