National Grid proposes NH-Vt. high-power transmission line
Project would bring Canadian electricity to New England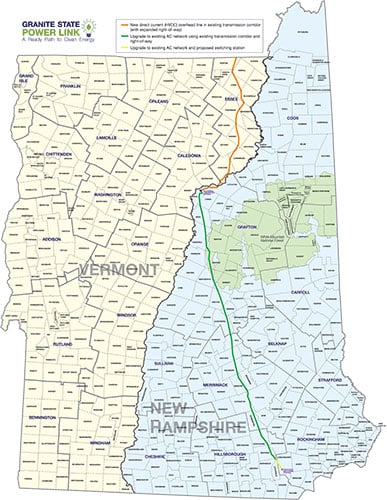 National Grid announced Tuesday morning that it too wants to build a high-power transmission line linking Canada to New England. This one would go though both Vermont and New Hampshire along existing transmission lines.
The project, called Granite State Power, will transmit 1,200 megawatts in two segments. The company claims it would save ratepayers $1.1 billion over a decade and create 2000 jobs.
"We believe this proposed project reflects the priorities we've heard from state and local communities on their need for lower-cost, energy-efficient and environmentally sound solutions," said John Flynn, National Grid senior vice president of business development.
The first segment of the project would be a new high-voltage direct current (HVDC) overhead line located in Vermont alongside an existing HVDC line in an expanded right-of-way corridor from the international border at Norton, Vt., to a proposed converter station on National Grid-owned property in Monroe, NH.
The second segment would be an upgrade of an existing National Grid overhead line in New Hampshire to accommodate the additional power flow from the new HVDC line. That 107-mile line would run from Monroe to southern New Hampshire, where a proposed switching station would be built at an undisclosed location.
Granite State Power would be a merchant project, meaning it would be funded by National Grid and investors but would not be added to the utility's rate base. (National Grid no longer operates as a utility in New Hampshire having sold its operations to Liberty Utilities. It has customers in New York, Massachusetts and Rhode Island).
One investor, Massachusetts-based Citizens Energy, has pledged to use 50 percent of its own profits from the project to fund energy assistance programs for local families living in New Hampshire and Vermont.
Northern Pass, an Eversource subsidiary, has proposed a similar line that would bring 1,090 megawatts, but it would run entirely in the Granite State. That project recently suffered a setback when the NH Public Utilities Commission Monday rejected a long-term contract that would have locked in a guaranteed amount of electricity for Eversource's New Hampshire ratepayers.
Another proposed transmission line, the New England Clean Power link, would bring down about 1,000 megawatts of Canadian power through Vermont.