Nation honors a generation's sacrifice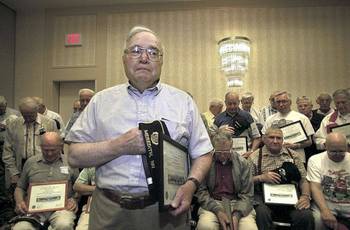 WASHINGTON – Admiration for the Greatest Generation ran about 140,000 times deep Saturday with the dedication of the National World War II Memorial. Amidst pageantry and fervent declarations of patriotism, people of all ages jammed the many open corridors of the National Mall to honor the sacrifices and accomplishments of the men and women behind the U.S. effort in World War II.
And those elderly men and women responded in kind with emotional
recollections and simple gestures of gratitude. They traveled far and
endured long lines, but those inconveniences did not surpass the rare opportunity to remember with their own.
"This is quite a day. It's been much too long in coming," said Jaffrey
resident Elliot 'Bud' Morrison, who served with the Army Air Corps in World War II, and later with the Air Force in the Korean and Vietnam wars. "There are many people who should be here, but they couldn't wait."
Seventeen years in the making and 59 years after the war's end, the memorial opens at a time when about 1,100 veterans die daily. Of the 16 million who served in the U.S. armed forces, fewer than 4 million remain.
Cognizant of these dwindling numbers, the many veterans who attended the weekend-long series of events tried to savor every word, acquaintance and embrace. They retold war stories that may or may not have needed retelling; they let tears fall when reminiscing of old friends lost.
They brought spouses, children and grandchildren. They wore the hats of their American Legion and Veterans of Foreign Wars posts, along with the many pins and decorations for valor and service – some even wore the full military uniforms of that time. Many needed the assistance of walkers, canes and wheelchairs.
Each of the four large seating areas saw numerous special moments: Marines in full salute handing a folded flag to veterans; two veterans signing autographs for current military personnel; men and women dancing to swing tunes; and two jovial vets reminding the crowd of the World War II-era slogan for Allied success, "Kilroy was here."
Hundreds of New Hampshire residents attended, including another Jaffrey resident Roland Morin, an Army Medical Corps veteran who tended to the war's wounded at Cushing General Hospital in Boston.
"I like to think I'm representing all the vets who are gone," Morin said. "I want to be here to represent them."
The monument's plaza was closed most of the day for security purposes and for the dedication itself, which organizers estimate more than 140,000 people attended. Many veterans visited the site days before the celebration, and would have to wait until Saturday night to access it again.
The Metro rail system hoped to accommodate the many attendees, but many veterans traveled in tour buses and those vehicles seemed to arrive at the same time, clogging entry lines. Security was also tight, considering the recent government announcement that terrorists are planning another attack on American soil.
A weather pattern that had slowed the Washington area with humidity broke just in time for the ceremony; only clear blue skies and a warm sun prevailed. Still, the mild heat seemed stifling to many people in their 70s and 80s. Medical assistants stood by, and Sam's Club provided thousands of free bottles of water.
President George W. Bush officially dedicated the memorial, and joined several dignitaries in marking the occasion, including former presidents George H.W. Bush and Bill Clinton, and former Sen. Bob Dole.
"When it mattered most, an entire generation of Americans showed the finest qualities of our nation and of humanity," the president said.
Actor Tom Hanks, who played a part in raising funds for the memorial, joined the tribute: "Every day, they asked themselves, 'What can I do?' And every day the provided their own answer."
And NBC News anchor Tom Brokaw, who coined the phrase "The Greatest Generation," remarked that, "No monument, no matter how well positioned and polished, can recognize the work of the men and women of World War II. Indeed, the memorial's bold design will long identify the cause of those who served, the more than 400,000 who died in combat, and the many Americans who supported the war from home. But the structure would probably not have
reflected the personal significance of each solider, nurse, chaplain and citizen without their presence at this ceremony."
Morrison appeared overwhelmed by the festivities.
"It's just tremendous, this outpouring of humanity," he said. "To see this many people come here to honor us."
Morrison sat next to William Rehm, whose father and grandfather were killed in the Normandy invasion on D-Day. Rehm, a Weare resident, served two tours of duty as an Army medic in Vietnam.
"In truth, World War II covered a large generation," Rehm said. "Everyone sacrificed, even me as a kid."
Rehm, as with many back on the home front, rationed goods and tolerated nightly blackouts. The loss of his father and grandfather prompted him to serve years later.
"I learned in their case, you don't volunteer for nothing."
Albert McKeon can be reached at 594-5832 or mckeona@telegraph-nh.com.