Nashua Olympian ready to take her shot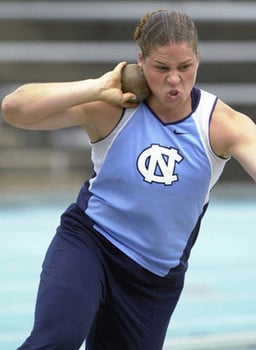 It might be the most frequently asked question of young athletes in certain sports.
Friends, grandparents, fellow competitors and, perhaps, even the occasional sports writer ask it. The query may be posed in different ways, but ultimately it comes down to: "So, is your goal to compete in the Olympics some day?''
Skiers get asked. So do swimmers. Has there ever been a young figure skater who hasn't been asked? In certain sports, the Olympics is the pinnacle, the ultimate achievement.
And perhaps no sport revolves around the two-week event, held every four years, more than gymnastics.
It started with Olga Korbut at Munich in 1972, the television screen turning the young Russian into a worldwide celebrity seemingly overnight. Four years later, in Montreal, the camera, and then the world, fell in love with a 14-year-old Romanian gymnast named Nadia Comaneci.
Nashua's Laura Gerraughty wasn't born until 1983, but as a young and talented gymnast, she no doubt harbored the same aspirations.
Dedicated and diligent, she trained for a decade and at 16 had become a level 10 gymnast, which is the highest level in Junior Olympic competition.
But Gerraughty didn't look like the prototypical gymnast. Comaneci did her best work as a 4-foot-11, 86-pounder, with incredible flexibility. Gerraughty was big and getting bigger.
At meets, she was sometimes mistaken for a coach. Her own coach was a foot shorter. At a national competition in Las Vegas, Gerraughty took one bounce off the vaulting board and retired the apparatus for the night.
She was too big for most coaches to spot safely, and some of the apparatus weren't strong enough to support her. Meanwhile, her injuries were mounting.
Gerraughty had simply outgrown her sport. Her coach suggested she try something else.
A little over five years later, Gerraughty, who turned 21 last week, is in Athens to compete for the United States in the Olympics – as a shot putter.
A Nashua High School sophomore at the time, Gerraughty went out for track in the spring of 1999. A little over two months after picking up the shot put for the first time, she won the Class L title and the state's Meet of Champions. At the latter meet, she came within two inches of the state record, records she proceeded to re-write – and maybe retire – over the next two years.
That summer, she was at the Olympic Training Center in San Diego, already the top seed in her age group.
By December 1999, Gerraughty was beating college and post-graduate throwers at the Dartmouth Relays. At the state indoor meet, she didn't break the state record – she obliterated it. Her throw of 49 feet, six inches was over seven feet farther than a mark that had stood for 18 years.
Gerraughty was 5-foot-8, 180 pounds, and out-lifting many of the school's football players. As a high school junior, she could bench press 250 pounds and did 300 in the squat. She was looking less and less like a gymnast, but knew the training helped her become an outstanding shot putter.
"The way I look at it, I've been training for track and field for nine years,'' Gerraughty said in the winter of 2000. "But for eight years, it was called gymnastics.''
The combination of balance, quickness and agility from gymnastics with natural strength were the building blocks for a great high school athlete, but Gerraughty had one other huge advantage. She had a high school coaching staff willing to advance along with her.
Bill Stumpf was a solid high school throws coach before Gerraughty, but she challenged him to become one of the top high school throws coaches in the country.
Stumpf went to San Diego with Gerraughty in 1999. They both met U.S. record holder and longtime national champion Ramona Pagel.
By Gerraughty's senior year in Nashua – after breaking all the state records – she was setting her sights on national ones. She was also attracting crowds, single-handedly turning the girls shot into a spectator sport. They watched her set a national high school record with a toss of 53-11.
Not surprisingly, college coaches from coast to coast were enthralled with Gerraughty, who had the academic background to go anywhere. Several Ivy League schools were in the running. Gerraughty studied each school carefully, then decided on North Carolina and throws coach Brian Blutreich, knowing he'd transform her from the glide technique to the spin.
At 5-9, 205 pounds, Gerraughty is smaller than most of the world's top shot puters, who average around 6-0, 250 pounds. But the spin, a more difficult technique to master, also allows her to compete with larger athletes.
Last winter, she set a national collegiate indoor record. In the spring, she set the outdoor mark (62-10). A winning throw of 60-8.5 won the Olympic Trials.
In an interview at the Olympic Trials in Sacramento last month, Stumpf recalled a conversation she had with Gerraughty four years earlier.
"She said, 'Coach, I'm going to make the next Olympic team,' " Stumpf said. "I believed her. I totally, totally believed her, and her focus was there from that day on. She knew she was going to make it.'' At meets, she was sometimes mistaken for a coach. Her own coach was a foot shorter. At a national competition in Las Vegas, Gerraughty took one bounce off the vaulting board and retired the apparatus for the night.