Nashua Community College's high-tech manufacturing students are changing lives through their work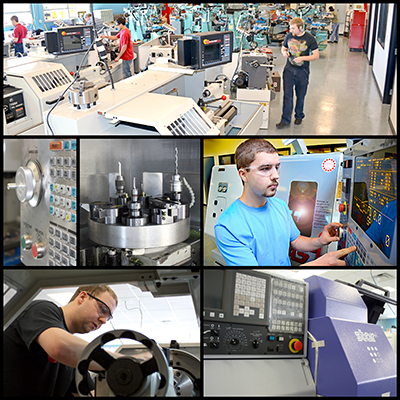 It's called a Star Swiss machine, and it is a star for many reasons — not the least of which is that the screws it turns out are likely stabilizing bones inside someone you know. If you've overcome a serious orthopedic injury, you may even have one inside you — and it may have been made by a Nashua Community College graduate.
NCC has been graduating highly skilled metalworkers for years, but the college amped up its training capabilities with a full overhaul of its lab and curricula over the last two.
The cutting-edge Swiss lathe, added to the lineup last year, is the only one of its kind in any higher-education facility in New England, according to Jon Mason, NCC's project coordinator for NH's Advanced Manufacturing Partnerships in Education. Its star power lies in its ultra-precise machining capabilities, which make it a standout for the medical, aerospace and even defense industries. For those reasons, the technology, as well as employees capable of programming, setting up and running the machine, are in high demand.
NCC has made it its mission to fill that demand.
"We have a fully functioning machine lab that translates easily into a job shop," Mason said. "Students leave NCC and walk right into high-pay positions. We start students with the basics and then teach them high-end CNC techniques. Students learn fundamentals to make them better machinists, not 'button pushers.'"
According to Mason, a healthy majority of NCC manufacturing students are hired before they even complete their programs of study.
"Demand for trained machinists is so high that many manufacturers are working directly with us to allow students to work while completing their education," he said. "Students have joined the program with entry-level experience to expand their knowledge and move up in the industry."
NCC offers certificates in computer numerical control programming, advanced machine tool technology and CNC programming, in addition to associate degrees in electronic engineering technology, mechanical design technology and advanced machine tool technology. Training on professional-grade equipment allows for seamless transition from classroom to career, and dramatically cuts on-the-job training time.
In addition to the Star Swiss machine, the lab contains 3-D printers; Solidworks, Creo, Pro E, Mastercam and Gibbs software; HAAS vertical machining and turning centers; manual and CNC lathes and knee mills; engine lathes with digital readouts; surface grinders; an EDM machine; and Micro-Vu and other precision measuring devices.
Education pathways
In order to ensure workforce skills keep up with a rapidly advancing technological environment, NCC makes it easy for students to stack credentials. For example, it partners with Granite State College to allow transfer of student credits toward managerial bachelor's degrees. The college also works directly with employers to ensure delivery of relevant skills. In addition to helping to shape curricula, companies such as DEKA and GE Aviation have partnered with NCC for internship and apprenticeship programs.
"NCC has close relationships with many New Hampshire entrepreneurs who recognize the value of our programs," Mason said. "Companies work around students' class schedules, and a number of our industry partners reimburse for tuition. The manufacturing community has our back, and that is what makes the program so successful."
WorkReadyNH
NCC recognizes the need for strong foundational and "soft" skills in any successful workplace. To this end, the tuition-free intensive WorkReadyNH program is available to eligible students at all NH community colleges. WRNH helps job-seekers and career builders improve math, reading, information-gathering, communication, team-building and problem-solving skills. Its assessment and training services enable students to earn two nationally recognized certificates, while helping employers identify qualified career candidates.
AMPed NH
NCC and its six sister colleges are part of NH's Advanced Manufacturing Partnerships in Education, a statewide initiative that unites the colleges with more than 200 industry, state- and federal- agency partners to offer flexible, industry approved education and training. Under a $20 million USDOLETA TAACCCT grant, advanced manufacturing labs at each of the colleges were opened or overhauled with state-of-the-art equipment.
Five ways NH community colleges serve employers:
1.Their diverse selection of more than 30 advanced manufacturing certificate and degree programs was designed in partnership with industry, ensuring delivery of relevant skills across myriad disciplines.
2. Programs customized to meet specific employer needs can be offered online, on campus or on the worksite.
3.In-class visits, industry tours and the AMPed NH Student Online Suite (offering an online networking community, ePortfolios and more) put employers in touch with potential employees.
4.Career-focused training at the colleges reduces on-the-job training time once students are hired.
5. Staff can connect eligible students and employers with resources for traditional financial aid and funding from the Workforce Investment Act and NH Job Training fund.