Nanocomp aids Juno's Jupiter mission
Merrimack firm's Miralon material used to protect spacecraft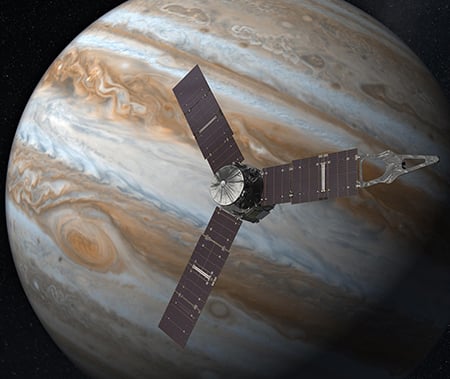 As NASA's Juno mission makes its way to the planet Jupiter, it will do so with the help of Merrimack-based Nanocomp Technologies.
Juno – which recently broke the record to become humanity's most distant solar-powered emissary – was developed using Nanocomp's Miralon sheet material to provide protection against electrostatic discharge, or ESD, as the spacecraft makes its way to Jupiter.
Miralon acts as a surface layer on several components of the flight system's attitude control motor struts and the main engine housing.
Nanocomp worked with Lockheed Martin, the prime contractor on the project, to integrate Miralon into the spacecraft during its development and construction.
"Lockheed was interested in implementing an alternative ESD solution to traditional aluminum foil that is typically bonded to the surface of composites," said Nanocomp's president, Peter Antoinette, adding that by using Miralon sheet layers, Lockheed was able to put electrostatic discharge protection directly into the composite, making the composite a more integral part of the spacecraft.
NASA says the objective of the Juno mission "is to significantly improve our understanding of the formation, evolution and structure of Jupiter."
By later this year, it's expected that the solar-powered spacecraft will reach Jupiter and enter into a highly elliptical polar orbit that skims 5,000 kilometers above the planet's atmosphere. The Juno spacecraft will be traveling through strong radiation belts en route to Jupiter, thus the need for stronger than usual ESD protection.