N.H. Senate takes yet another look at RGGI requirements
Should two natural gas-fired electric generating plants get a special break, and should commercial ratepayers get a bigger rebate under the latest changes to the Regional Greenhouse Gas Initiative?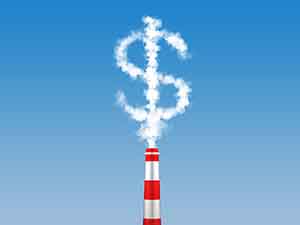 The Regional Greenhouse Gas Initiative went under the microscope yet again in the New Hampshire Senate on Wednesday, this time looking at whether two natural gas-fired electric generating plants should get a special break and whether commercial ratepayers should receive a bigger rebate under state law.
Members of the Senate Energy and Natural Resources Committee also are being asked to consider whether RGGI standards should be drastically ratcheted downward, perhaps doubling the prices of the allowances that generators need to produce electricity.
It was only the latest proposal to alter RGGI — an agreement signed by nine Northeastern states to set a cap on greenhouse gas emissions by auctioning off a certain amount of allowances to produce a ton of carbon or equivalent, and use the proceeds to fund energy efficiency. The program, which was signed in 2005 and implemented three years later, had aimed to cut emissions to 165 million tons of carbon at this point. But that goal was passed long ago. In fact, it was so easy to meet that the allowances have been selling for less than $2 a ton — a much lower cost than anyone expected.
So it was agreed to lower that cap to 91 million tons, and House Bill 306 would go along with that, with a few tweaks.
Since the cap is regional, it wouldn't affect the amount emitted by any one particular plant, though it would affect New Hampshire's 5.2 percent share of allowances, reducing it from about 8 million to 4 million.
The big change would be to drive up the cost of the allowances. Already, the mere announcement of that goal drove up the price at the last quarterly auction to $2.80, and allowances are now selling for $3.50 on the spot market.
New Hampshire ratepayers are insulated from the increases. Last session, as a compromise to prevent repealing RGGI outright, all proceeds from the RGGI sale are rebated to the ratepayer.
In actuality, the proceeds would be rebated to the default ratepayers, those still buying their electricity from the main utility, which for most of the state is Public Service of New Hampshire. That's primarily residential customers, since most large industrial commercial and institutional users buy their power through an alternative supplier.
So one of the tweaks of HB 306 would be to spread that rebate among all customers, a proposal supported by the Business and Industry Association of New Hampshire.
PSNH lobbyist Donna Gamache backed the idea as well, though she cautioned that it might be difficult to enforce, since the Public Utilities Commission doesn't regulate those providers in the same way it does a public utility such as PSNH.
The two major gas-fired power plants in the state — located in Newington and Londonderry, which also had to buy RGGI allowances — would like a break as well. They argued that they had already locked in energy contracts several years ahead of time, without factoring in this sudden increase in the cost of allowances. They said they were hoping lawmakers could either delay implementation of the allowance requirement or grant them an allowance cushion over the next few years.
"PSNH can recover though their rates, but we need to ease into the program until we can absorb the RGGI costs," said M.Q. Riding, director of public affairs for Essential Power, which owns and operates the Newington plant.
Other RGGI bills were heard yesterday as well. One would set aside 20 percent of RGGI proceeds received by the state for the low-income energy program. Advocates for the poor argued that renters, and those in manufactured or low-income housing, not only can't afford to take out loans — even with subsidies — to weatherize their houses, but that such housing is so inefficient that it's much easier to achieve substantial energy savings.
And over in the House, the Science, Technology and Energy Committee held a hearing on Wednesday on a bill that would set aside RGGI money for municipal energy programs.