N.H.'s health coverage evolution
As ACA penalties become a reality, more offerings and coverage options await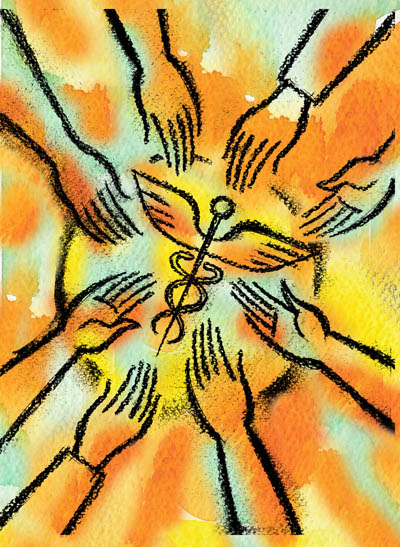 Welcome to "Year 2" of the Affordable Care Act in New Hampshire, as businesses and their workers try to come to grips with a law that just keeps changing.
Here is what's in store for 2015:
• There will be many more coverage options to choose from in New Hampshire – five insurers offering more than 60 plans, more than four times the number available last time, with a third of them for small businesses. No hospitals will be left out.
• Penalties will kick in for the first time for businesses with 100 or more employees. New reporting requirements for businesses with 50 to 99 employees also begin, with penalties to start in 2016. There will be more subsidized group plans available on the exchange for businesses with fewer than 25 employees.
• Penalties for individuals (which includes the self-employed) will more than triple the minimum fine and double most others. Subsidized premiums for regular group policies will be offered to low-wage workers through an expanded Medicaid option.
By far the biggest change, as far as New Hampshire is concerned, is increased competition and choice.
Last year, there was one insurer, Anthem, offered to those on the health insurance marketplace, or exchange. The Anthem offerings didn't include hospitals in some major regions in the state, including Concord, Rochester, Portsmouth and Claremont. This year, according to the New Hampshire Insurance Department, there will be at least 61 plans, 21 of them group plans and 40 individual plans.
The plans will come in the familiar three levels, with the most expensive (Gold) having the lower deductibles and co-pays, while the cheapest (Bronze) will have the highest. The most popular (Silver) is in the middle. (Some carriers will also offer a catastrophic plan.)
All this is done so consumers and employers can roughly compare coverage options, yet the law allows leeway so that plans can vary at each level. Indeed, several insurers are offering several plans for each level, all with different premiums, deductibles and fees, with each company presenting a different network.
More insurers, plans
Last time out, there was a six-month window – partly due to website issues – for individuals to sign up for exchange coverage. In 2015, however, individuals and groups won't be able to sign up for an exchange plan until Nov. 15 and will have to make a choice by Dec. 15 if they want a plan in effect by Jan. 1. They will have until Feb. 15 to sign up for a plan effective March 1.
The carriers won't have to reveal rates and conditions until Nov. 15, though some will be rolling out details before then. As for the Insurance Department, by law it can't reveal what's offered in plans until they go into effect in January. Consumers will have to figure it out at healthcare.gov or seek out help from a broker or navigator.
True, most of the website issues seem resolved, but in New Hampshire there will be five times as many choices offered for people to choose in half the time, meaning the pressure's on.
"You better have things working right for day one," said Ray White, owner of Cornerstone Benefits and Retirement Group, a Bedford broker.
Aaron Holman, director of the federally funded Marketplace Assister Program run by Public Consulting Group, hopes he can help.
Last year, the program was funded only days before the healthcare.gov was launched, so PCG and navigator agencies scrambled to hire, train and deploy a number of people – many new to the insurance and health care field – to explain a new program against a backdrop of a failing website and changing rules.
Now the group has a relatively healthy start and has started meeting with nonprofit groups and businesses over the summer so assisters can give presentations in November. They'll need all the time they can get, Holman said.
"Last time, we got the low-hanging fruit, the people who really wanted the program," he said.
The exchange did sign up some 35,000 paid members before May (that includes Medicaid before expansion).
Medicaid expansion
According to a recent state Insurance Department study, some 35,000 people were signed up through the exchange, with 22,000 of them previously uninsured, making a sizable dent in the estimated 158,000 uninsured population. As for those who were previously insured but joined through the exchange, some 7,000 of them had been covered by group plans, but their employers dropped coverage.
That's a trend that has been happening for quite some time, but several observers said that employers might be more willing to drop coverage and get out of the health care business now that the healthcare.gov website seems to be in order and the networks are more robust.
"That shift is going to accelerate," said White. "You can take that to the bank."
Then there is the effect of expanding Medicaid eligibility to people whose income is at 133 percent of poverty level (about $33,000 for a family of four). That change has thus far cut another 14,000 from the uninsured ranks, according to the state Department of Health and Human Services.
There are an estimated 40,000 to 50,000 people now eligible for Medicaid, but even if all of them signed up that would still leave tens of thousands of people uninsured. And they are the ones who will need a more compelling argument to purchase insurance, Holman said.
"They are younger. Eighty percent work in small businesses. Seventy-five percent have more than one job," said Holman.
Holman said he has built a database of some 600 businesses – mostly non profits like YMCAs and Boys and Girls Clubs – to host events or post materials to reach these people. "We want to leverage a trusted name, where parents might drop off their kids for an after-school program. We didn't have a chance to set that up last year."
While Holman reaches out to nonprofits, Karen Hicks, project manager for Covering New Hampshire, will be launching a media campaign as well as going directly to businesses where uninsured people are likely to work, in the hospitality, retail, tourism and construction industries. Her group has identified 9,000 such businesses, and they hope to contact at least two-thirds of them with a small business kit: break room posters, PowerPoint presentations and perhaps even a presenter.
That's the public outreach. Then there is what is going on privately.
Assisters and navigators can explain the differences between plans, but they can't recommend one. That's the job of brokers, some 276 of whom have been certified by the Insurance Department to work through the exchange. And they also will be marketed by the carriers that will be rolling out their plans.
The coverage dilemma for employers

"Either way it will be an economic blow… Obamacare will drive us out of business"

Greg Gorski, an owner of the Shop 'n Save supermarket in Bristol, last year dropped his company's insurance coverage and told his employees to find a plan on the federal health exchange. Now he has to juggle their hours so he can avoid penalties in the future.

Dick Anagnost, a Manchester businessman, thinks the only way he can avoid paying the piper is to spin off some of his trucking company.

Tom Boucher, owner of Bedford-based Great NH Restaurants Inc., does offers health coverage, but a good portion of his workers decline it. That seems to be changing as stiffer individual penalties go into effect, and he has no idea how much it will eventually cost him.

Three different businesses. Three different responses to the federal Affordable Care Act.

Gorski said he dropped his group plan and sent his workers to the exchange because "the Obamacare tax credit was a better deal than my subsidies."

Most of his employees were eligible for the credit, but a few – those making $45,000 – had to pay more. "I tried to soften the blow by offering a bonus," he said.

Now Shop 'n Save has to deal with future penalties. His headcount is somewhere from 50 to 100 under Affordable Care Act rules, so his penalty – about $2000 for each full-time employee minus the first 30 – won't start until 2016. That may amount to as much as $100,000. Still, margins are thin, and "that could add dramatically to my cost."

If he manages his hours right in 2015, he might be able to avoid the penalty, or at least lower it. But he needs to keep the place properly staffed too.

"I run a grocery store," he said. "I don't have a human resources department. For us small guys, it's hard trying to manage all that stuff while still selling peas."

Then again, the individual penalty might push some employees toward workplace coverage. That's what happened last year to Tom Boucher.

The Great NH Restaurants chain (T-Bones, Cactus Jack and The Copper Door) offered coverage and contributions that met the affordability requirements of the new law, and it was offered to his 250 workers.

"Do I like the mandate? No," he said. "Am I going to follow it? Of course."

In the past, about 100 workers took their chances and declined the insurance, but last year, either the hoopla about the ACA or the individual coverage caused about 30 more to join the chain's health plan. Since Boucher kicks in 60 percent, that cost his business about $50,000 a year.

How many more will join the company's plan to avoid the stiffer penalties that go into effect in 2015 is anybody's guess. Boucher doesn't even know how many of his employees are uninsured, since some may be covered by their spouse's insurance. And some part-timers might be eligible for Medicaid expansion.

"It's unsettling, not knowing," he said. "The government keeps on throwing us things, and we have to figure out a way to comply."

Finally, there is Dick Anagnost's trucking company, which employs 155 people, who currently do not have insurance. If Anagnost doesn't provide coverage, he'll be paying about $150,000 in penalties in 2015 and $250,000 in 2016. But if he provides affordable coverage required under ACA, it could cost him close to $500,000.

"We looked at this six ways from Sunday, and either way it will be an economic blow," he said. "I can't raise my prices. I can't lay off people. Obamacare will drive us out of business," he said.

At this point, he said, the best option is to split the company and sell off part of it, so both halves will be under 100 employees.

But despite Anagnost's distaste for the law, he does see a silver lining if the ACA does eventually shift the nation away from workplace-based health insurance.

"I'd love to be out of the health care business. It would make our lives so much easier," he said.