N.H.'s forest industry is standing tall
Demand for wood products remains strong in the face of economic challenges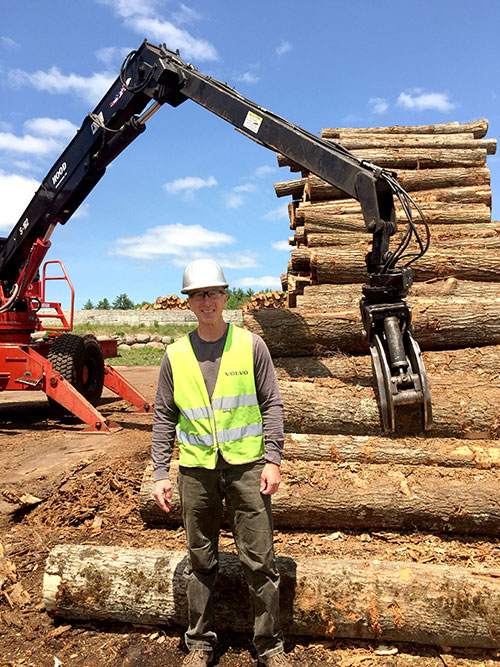 Many people think of New Hampshire's forest industry as a North Country phenomenon. After all, that's where the trees are, right?
It is true that the forest cover in Coos County, New Hampshire's northernmost and most forested county, is 94 percent, but statewide, the figure is 81 percent, making New Hampshire the second most forested state in the country. (Maine is number one at 89 percent.)
Trees, and the forest industry, are big business in New Hampshire, contributing $1.4 billion to the state's economy. Adding in forest-based recreation, the figure doubles to $2.8 billion. Data from the NH Division of Forests and Lands tells us that timber harvests, or logging, associated with forest management (not land development) occur throughout the state, in every county. In 2013, for example, 3,500 timber harvests occurred in New Hampshire.
"We are lucky in New Hampshire that our forests renew themselves with vigor," said Karen Bennett, UNH Cooperative Extension forester. "It's hard to keep trees from growing. When we cut larger trees, young seedlings replace them. Our challenge is to harvest in such a way that we grow the kind of forests we want. We do this by using good forest management practices."
The forest industry's sectors include logging, chipping, trucking and sawmilling. There are more commercial sawmills below the White Mountains than above. Of the state's 45 commercial sawmills, only four are in Coos County.
The southwestern New Hampshire town of Henniker alone has three sawmills and many other forest-based businesses, including HHP Inc., the state's largest hardwood sawmill.
Why make such a large investment in Henniker? According to HHP owner Ross D'Elia, "This part of the state grows some of the best red oak in the world. The oak is concentrated in the southern part of the state. If we were a spruce and fir mill, we'd be in Coos County."
D'Elia added that "Henniker is also a good location for transportation for both logs coming into the mill and our products shipping out. We are also able to take advantage of trucking backhauls to reduce costs. That is an advantage."
International markets
The number of sawmills in New Hampshire has decreased over the decades, but those remaining are larger, more specialized, and highly technical, with scanners and other computer-controlled equipment. Most process either white pine, spruce/fir or hardwoods like oak and maple.
Milan Lumber in Milan is the state's largest sawmill, producing about 30,000 board feet (about 130 logs) per hour of spruce/fir lumber destined for the construction industry.
Wood harvested in New Hampshire may find its way to a local sawmill or to one in Quebec or in China. Trees, depending on their size and quality, may become lumber, wood chips for energy production, pulpwood for papermaking, or veneer for fine furniture. The end result may be a new hardwood floor in your living room, a two-by-four in your remodeled bathroom wall, white pine paneling on your porch, or any number of other wood products.
Three state departments oversee timber harvests — Revenue Administration, Environmental Services and Resources and Economic Development. Each has enforcement authority under the state's timber harvesting laws. In addition, licensed professional foresters (those who manage forests) and certified loggers (those who cut trees down) work together to provide a sustainable supply of wood products for our needs.
Timber supply depends on the forest base which, in New Hampshire, is primarily owned by private citizens – 76 percent of it. The rest is owned and managed by federal, state and local governments.
According to Brad Simpkins, state forester and director of the NH Division of Forests and Lands, "keeping New Hampshire's forests as forests is largely in the hands of more than 100,000 landowners. An important incentive for these landowners to maintain their land as forest is to ensure a healthy forest products industry."
Remaining vital
Research tells us that private forest landowners — those who have invested in owning forestland — can be somewhat fickle in their objectives and motivations for owning and managing their forest land. At the top of the list are aesthetics (people like to look at their forests), wildlife habitat (people like to look at and care for wildlife), and privacy (people don't like others looking at them). Timber harvesting is actually at the very bottom of the list as motivators.
Yet, for those who choose to harvest timber, the markets for wood products are robust and very competitive within the state, in the region, and around the world.
The economic downturn of the early 2000s hit the forest-based industries particularly hard, due to the collapse of the building industry. And challenges remain, including financial uncertainties in the U.S. and abroad despite an economy that is firming up, as well as notable increases in operating costs in energy and insurance.
Still, demand for wood products remains strong. New Hampshire's purveyors of wood cite an increased demand for products from China, a spark in domestic construction, and new markets for timber mats (used for power line construction and oil/gas exploration) as indicators that the state's centuries-old wood economy remains vital — an industry that runs on smart responses to change, self-sustaining practices, reliable quality, and an enduring respect for a natural resource that has blessed New Hampshire from north to south and east to west.
Sarah Smith, a forest industry specialist with UNH Cooperative Extension since 1989, works with the state's sawmills, loggers and the greater forest-based business community. This article is part of a collaboration between UNH Cooperative Extension and NH Business Review.