N.H.'s Changing Workforce: Web-based tool helps firms assess future labor needs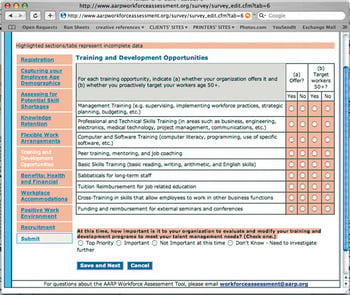 Concerns over an aging New Hampshire workforce are not new. The findings of a 2005 AARP New Hampshire Workforce Study indicated more than 60 percent of New Hampshire employers believed they would be faced with a shortage of qualified workers within five years. But that same survey indicated only 12 percent of Granite State businesses had steps in place to address the potential difficulties posed both by the pending retirement of the first wave of baby boomers and the inadequate number of qualified younger workers entering New Hampshire's job market.
"This is not just about people aging out of the workforce, it's also about the fact that there are less young people entering our workforce," said Kelly Clark, state director of AARP NH. "We are on a collision course here. As a result companies are potentially facing issues with loss of expertise and knowledge, loss of productivity, loss of income and the inability to grow. Ultimately, what is at stake here is the New Hampshire economy at its core."
But, Clark said, economic pressures are relegating concerns over tomorrow's workforce to a lower position on the daily to-do list of many business owners.
"Businesses have so much to worry about right now and to many of them this issue will not get the attention it needs until the company finds itself in crisis mode," said Clark. "This is not at your front door everyday."
In an effort to take the lead and aid businesses in pursuing a proactive approach to this looming concern, AARP has introduced a Workforce Assessment Tool as part of its national "50+ Worker Campaign."
"This tool is the most hands-on piece of our campaign," said Jamie Bulen, AARP NH's associate state director of communications. "It's an 80-question, Web-based survey designed to help businesses assess and address their current and future workforce needs."
Free and confidential, the Workforce Assessment Tool takes about 30 minutes to complete and can be found at aarp.org/employerresourcecenter.
'So many resources'
Included in the survey are questions regarding employee demographics and projected hiring needs, workplace environment, recruitment, training and development, knowledge retention and other workplace practices.
Once the survey is completed and submitted, the company receives within 24 to 48 hours a comprehensive report that includes an assessment of the potential impact posed by the number of older workers currently employed by the firm, an overview of current employer practices, a list of areas where improvements can be made, recommendations on how to address pending changes brought on by the current workforce, suggestions on how best to maximize the experience of the company's older workforce and an inventory of workplace strengths and how these strengths can be used to enhance the employer's brand.
"The report maps out the company's employee demographics and serves as a compass to point the company in the directions they may want to consider to ensure their workforce needs will continue to be met," said Clark.
Also included with the report is a list of resources available to assist the business in further addressing issues related to older workers.
Both Clark and Bulen look forward to seeing an increasing number of New Hampshire's economic and business-related organizations come together to provide support for the state's business owners.
"Ultimately, our goal is to bring other resource organizations into the fold to address this issue," Bulen said. "Let's look at what can we do collectively."
While the AARP Workforce Assessment Tool is still new and has yet to provide Bulen and Clark with the comprehensive data they hope will enable them to better understand the ways AARP can assist businesses and New Hampshire's 50+ workers, the two said they believe the list of resources will grow in correlation with the number of businesses who choose to take advantage of the new tool.
In addition to the organizations that can offer assistance to New Hampshire's businesses, Clark and Bulen also are hoping individual volunteers — especially those who have owned businesses, worked in human resources or served in executive capacities – will step forward, take advantage of AARP's support and training and volunteer to go out into the business community and share their knowledge about the issue.
While Clark and Bulen said they believe the AARP Workforce Assessment Tool is an important step toward taking a needed first look at the aging of New Hampshire's workforce, they said it is up to New Hampshire employers to take advantage of the tool and in so doing take a proactive approach to the issues surrounding an aging workforce.
"Businesses need to know this issue is out there but the tools they need to address it are all sitting right here waiting to help them address it," Clark said. "We want companies to know this Workforce Assessment Tool and the other resources available to them are available and are so rich."
For more information about AARP visit www.aarp.org. To complete the AARP Workforce Assessment Tool visit www.aarp.org/employerresourcecenter.
N.H.'s Changing Workforce series is a partnership between NHBR and AARP New Hampshire