N.H.'s Changing Workforce: Managing the multigenerational workforce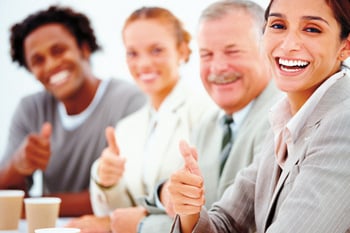 Financial needs, health-care concerns and an overall desire to remain mentally and physically active are keeping people in the workplace well beyond what was once considered retirement age. The result is that the face of today's workforce is changing, with individuals with vivid memories of World War II often working side by side with Baby Boomers, Gen Xers and members of the Millennial Generation.
For today's businesses, developing a better understanding of each generation can mean the difference between surviving and thriving.
"Most employers are aware this demographic shift is on the way," said Deborah Russell, director of workforce issues for AARP. "As far as how many are aware that this is something that needs to be addressed is not as prevalent right now as it will be going forward."
According to the U.S. Bureau of Labor Statistics, nearly a third of the workforce will be age 50 or older by 2014. By 2011, Baby Boomers – those born between 1946 and 1964 – will make up 38 percent of the country's workforce. Generation Xers – those born between 1965 and 1980 – will comprise 32 percent, and members of the Millennial Generation – those born between 1980 and 2000 will make up 25 percent. Nearly 7 million members of the World War II generation – born in or before 1945 – will still be working in 2014, accounting for 5 percent of the nation's workforce.
Employers are facing challenges posed by integrating not only the skills and talents of this diverse group of workers, but the different values, philosophies and needs represented by all four generations.
In its publication, "Leading a Multigenerational Workforce," AARP identifies the defining events and philosophy of each generation, what it means to the workforce and how best to use this new understanding.
"This publication is not just for employers or HR people," said Jamie Bulen, associate state director of communications for AARP New Hampshire. "It's about every worker understanding the generational characteristics of their colleagues."
"Managing a multigenerational workforce encompasses everything from the value systems different generations have to the different benefits that each generation looks for in a job and how someone in their mid-20s goes about effectively managing someone in their 60s," Russell said. "It also means how best to utilize the strengths of different generations and understanding that different generations are motivated by different things. Assuming they all come from the same place is dangerous."
Companies that fail to address the concerns posed by a multigenerational workforce run the risk of unnecessary turnover, ongoing discourse and even legal issues, Russell said. On the other hand, companies that choose to embrace what the multigenerational workforce has to offer will reap the rewards.
To that end, concerned companies are now adding the topic of age to their diversity training in an effort to avoid issues with discrimination and unnecessary discourse between workers. Many have instituted mentoring programs pairing younger workers with more seasoned professionals. And others have created marketing and recruitment material that highlights their company's commitment to the multigenerational workforce.
"We found employers that capitalize on a multigenerational workforce really benefit. Younger workers may bring new and fresh ideas and can introduce older workers to new technologies like Facebook while older workers bring years of experience," Russell said. "This new workforce presents a rich opportunity for generations to learn from each other. There is no longer one homogenous workforce. Now the critical piece is how you choose to manage all that."
For a copy of "Leading a Multigenerational Workforce," visit www.aarp.org/employerresourcecenter.