N.H. residential sales hit a high note in 2013
Most home sales since 2005 recorded for the year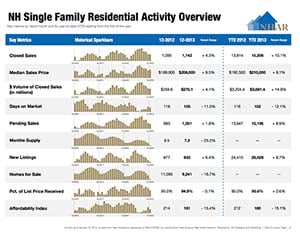 Anyone keeping track of home sales in New Hampshire last year won't be surprised to learn that the residential market picked up substantially in 2013.
According to the New Hampshire Association of Realtors, there were 15,206 home sales in the Granite State last year – a 10.1 percent increase from 2012 and the most since 2005, when the housing market hit its peak.
Meanwhile, the median sale price rose by 9.1 percent, to $210,000.
In December, the Realtors reported, 1,142 homes were sold — a 4.3 percent increase from December 2012 — a 9.5 percent rise in median price, to $208,000.
Sales volume for 2013 totaled $3.68 billion, a substantial healthy 14.9 percent increase from 2012. In December, $270.1 million changed hands, a 4.1 percent increase from a year earlier.
There were similar trends when it came to condo sales: a 17.4 percent increase for the year, to 3,529; and a 14.1 percent increase in December, to 243.
Median condo sales price rose to $160,000 in December (an 8.8 percent increase) and $160,950 for the year (up 7.3 percent).
Sales volume of $44.6 million was up a very healthy 29.8 percent in December; for the year, condo sales volume rose 26 percent, to $650.9 million.
Nine of New Hampshire's 10 counties recorded residential unit sales increases in 2013, with only Coos seeing a drop, of 1.8 percent. Similarly, Coos was the only county to see a median price decline for the year, down 6.1 percent.
On the flip side, the county seeing the largest increase in sales was Sullivan, where sales rose 20.5 percent for the year, although the median price only increased by 2.5 percent. The biggest yearly increase in median price – 8.3 percent — was recorded in Hillsborough County.
NHAR President Alan DeStefano, owner of Bristol-based Granite Group Realty Services, noted that the relatively affordable prices have helped bolster a market that less than a decade ago had priced many would-be homeowners out. "For anyone who is lamenting that prices aren't jumping through the roof, I'm sure I can find more than a few first-time buyers who would disagree," he said.
Average days on the market dropped 12.1 percent in 2013 (11 percent in December), to an average of 102 days, while pending sales rose by 8.9 percent for the year and 1.8 percent in December.
Months of supply, which measures the number of months it would take to sell off the current inventory of homes at the current pace of sales, decreased by 23.2 percent in December, from 9.5 months in 2012 to 7.3 months in 2013.
Typically, months of supply between 6 and 8 percent is considered a balanced market, said DeStefano.
Condominium sales in New Hampshire followed a similar track, with average days on market declining to 111 for the year (a 10.5 percent drop), with pending sales ahead 17.1 percent for the year and months of supply down to 6.2 in December, a 33.3 percent drop from a year earlier.
"We still have a long way to go in terms of the prices we were seeing seven and eight years ago," said DeStefano. "But what we've seen in the last two years strikes me as slow, steady and consistent improvement. I'll take that as a good sign."