N.H. residential housing sales, prices gain in March, quarter
But adequate inventory is a concern for Realtors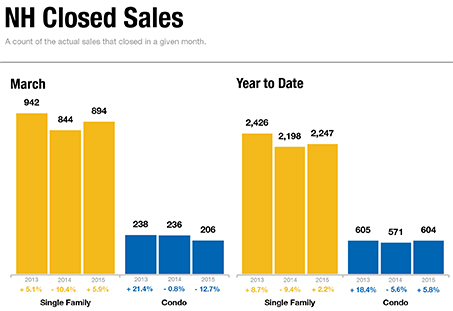 March sales numbers, along with quarterly results, are making New Hampshire Realtors optimistic about the state's residential real estate market.
But they do remain concerned about the lack of residential housing inventory.
According to numbers from the New Hampshire Association of Realtors, sales rose 6 percent in March from a year earlier, and median price was ahead by nearly 8 percent. In addition, the $226,000 median price for residential sales was the highest in any March since 2008, the association said.
For the first quarter, residential sales were up by 2 percent over 2014, and the first-quarter median price of $225,000 was up 6 percent over last year.
Maxine Goodhue, the Realtor's president and a broker with Bean Group in Bedford, said the market is "definitely heating up again. More and more, we're hearing the stories of multiple offers, five or six showings the day after a property is listed – all those anecdotal indicators of an increasingly busy real estate market."
For March, residential home sales increased in six of the state's 10 counties, with the biggest percentage gain (61 percent) in Coos County, where 29 homes were sold as opposed to 18 in March 2014. The largest percentage loss (15 percent) was seen in Belknap County.
First-quarter residential unit sales increased in seven of the state's 10 counties, while eight of 10 saw an increased median sales price. Once again, Coos had the biggest increase and Belknap a reduction in sales.
Meanwhile, Goodhue warned of the continued falloff in homes and condos for sale. There was another decrease in inventory in March – nearly 12 percent.
According to the Realtors, the number of months it would take to sell off the current inventory at the average pace of sales for the previous year reached 7.5 months in March, nearly a 13 percent drop from March 2014.
Condominiums are even more scarce, at 6.4 months' supply in March, a 16 percent decline from a year ago.
But Goodhue was upbeat about the future.
"Even after a normal winter, this is typically the time of year when the inventory starts to replenish," Goodhue said. "I'd expect that to be even more so this spring, considering the winter we just had and also what's happening with prices. I think prospective sellers probably see opportunity in the market right now."
Meanwhile, the RE/MAX Integra New England housing report for March reported that home transactions in New Hampshire increased by 3.4 percent year-over-year, and median price increased 10.3 percent. Pending sales were up 5.2% year-over-year, according to the report.