N.H. Republican Bosa sizes up Bush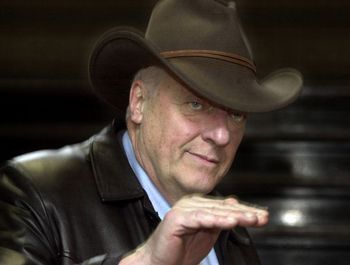 NASHUA – Dick Bosa keeps a torn, state map in his jacket pocket, marked up in fluorescent yellow with the communities he intends to visit to unseat the president.
In his well-worn loafers, by his count, Bosa intends to visit more than 200 general stores, coffee shops and veterans halls in 110 cities and towns to win the Republican primary.
"These people want a real person. They don't want a plastic person," he said over coffee Tuesday morning after dropping off his business card at Joanne's Kitchen & Coffee Shoppe.
Bosa repeatedly tells people he is running against President Bush and that his is the first name on the ballot.
Along Main Street, Bosa ran into state Rep. Peter Burling of Cornish, the Democratic leader in the state House of Representatives. Burling was there to meet with another presidential contender, U.S. Rep. Dick Gephardt of Missouri.
Burling wished him well after hearing Bosa's stump speech about beating Bush.
"I'm going to carry the Notch," Bosa told Burling about Dixville Notch, the small community in the North Country that traditionally casts the first ballots in the primary.
Bosa, 61, paid his $1,000 to get his name on the primary ballot on the final day. He said he held off "hoping somebody legitimate like (U.S. Sen. John) McCain would run."
So early in December, like he did in his 1992 and 1996 quests for thedency, Bosa finds himself crisscrossing the state. He is one of 13 Republican candidates challenging the president in New Hampshire.
The cornerstone of his campaign is stopping the loss of manufacturing jobs.
"If you are without a job, who cares?" he replied when asked about health care.
A work-related tour to China showed him how companies are setting up factories there.
"They are not Quonset huts" but filled with state-of-the-art equipment, he said. "The construction crane is the national flower of China."
Bosa has a five-point plan to deal with the issue. He wants to shake up a system that he believes is grounded in out-of-date policies.
First, he said, is enforcing anti-trust laws to ensure competition.
"We don't have capitalism anymore," he said. "We have cartels and monopolies."
Bosa wants to renegotiate trade treaties, change accounting practices, make corporate governance accountable and promote worker-owned cooperatives.
Manufacturing jobs are like the "skeleton of the body," he said. Without it, everything else falls apart, he said.
Bosa said he talked to Democratic presidential candidates about trade issues. While he said they acknowledge he is right on the issue, Bosa said nothing has been done.
Bosa, who served in the Army along the demilitarized zone in Korea, also feels that war in Iraq was unnecessary, led by "chicken hawks" in the current administration.
As a lifelong member of the GOP, Bosa does not pull any punches about the country's top Republican. He calls Bush "King George." He said he is out of favor with state Republicans for his stances.
And Bosa believes he is being blacklisted by the New Hampshire media in its hope for a matchup between former Vermont Gov. Howard Dean and Bush.
"This primary is a fix. It is supposed to be our issues and our candidates," said the Portsmouth resident, adding that primary voters are "being force fed by Washington, D.C."
But at the same time, Bosa said he might be doing Bush a favor.
"If he beats me, he'll be a stronger candidate," he said.
Bosa wore a primary-themed tie decorated during his visit to Nashua. The candidate, 6 feet and 5 inches of him, wore a wool cowboy hat. He thinks it would go well if he took his campaign to Texas.
From a family of six children, Bosa grew up in Berlin. His home was in shadow of the paper mills in the North Country city.
The son of a mill worker who also worked as a mason, Bosa is a sales representative for an Italian company that specializes in the manufacture of bottle caps.
A self-described activist, Bosa has been a leader in a judicial reform group, Victims of Corrupt American Legal System, or VOCALS. He is now president of Save American Manufacturing.
Despite his long-shot campaign, Bosa believes he is a more legitimate candidate than the Rev. Al Sharpton or Gen. Wesley Clark.
"They've never been elected to anything," said Bosa, a former one-term mayor of Berlin.