N.H. rental costs back on the rise
Average for a two-bedroom apartment tops $1,100 for the first time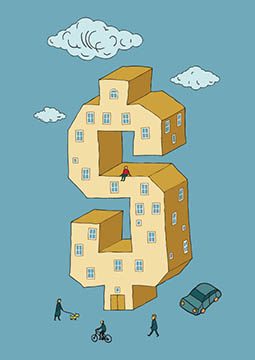 After leveling off, rental prices ticked up in 2014, rising an average of 3.3 percent, while the vacancy rate declined, according to the latest statistics from the New Hampshire Housing Financing Authority.
Apartments are scarce. The vacancy rate is 2.5 percent, a little more than half of what it was back in 2009. And that has helped drive up prices.
The average rental for a two-bedroom apartment climbed above $1,100 for the first time, to $1,108, compared to $1,076 in 2013, when rent actually declined by 0.8 percent. Average rents have increased by about 13 percent over the last decade. Rents for all apartments averaged $1,037.
Rents were higher in Rockingham County ($1,229 for a two-bedroom apartment), followed by Hillsborough ($1,156) and Merrimack ($1,079). About 60 percent of the state's rental units are located in those three counties.
A two-bedroom averages $710 in Coos County, which accounts for 3 percent of the state's rental housing stock.
However, in any county, rents are out of the reach of most residents, according to the NHHFA report. Less than 15 percent of New Hampshire's rental housing units are affordable to those earning the state median income of $36,593. In Merrimack County, where the median income is $32,368, about 3 percent of the apartments are affordable, according to the report.
The price to buy a home also has gone up 3.4 percent, according to the NHHFA Housing Price Index, though multiple listing services show a 14 percent increase in the median price, to $219,500 in August. The median price of a home surpassed the price to rent one in 2014, after dipping below it in 2013. But if you count utility and maintenance costs, homeownership is over $400 a month more expensive, says the report.