N.H. prices climb, but home sales fall in January
'Everything seems to be coming back into balance'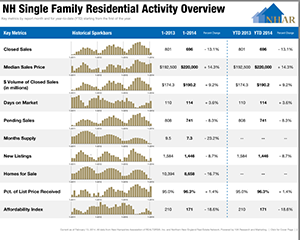 While New Hampshire residential sales were down 13 percent in January 2014 from a strong January a year ago, New Hampshire Realtors seem happy with the numbers emerging after the first month of the new year.
First, according to data from the New Hampshire Association of Realtors, even though the 696 closed sales in January were substantial lower from the 801 of a year ago, it was still the second-best opening month since 2006.
Second, prices continued their upward trend – rising 14 percent from last January, with a $220,000 median price that is the highest seen in a New Hampshire January since 2009.
Third, January sales volume of $190.2 million was over 9 percent higher than last year.
"Everything seems to be coming back into balance," said 2014 NHAR President Alan DeStefano, owner of Bristol-based Granite Group Realty Services. "We've had a strong couple of years of increased sales activity, and in a healthy market you would expect that to put upward pressure on prices while the inventory comes down. That's what we're seeing."
According to DeStefano, housing inventory has dropped to the point of being a statistically balanced market. Six to nine months' supply is the range typically cited as being a balanced market, he said, while a larger number indicates a buyers' market and lower numbers a sellers' market. In recent years, the number has consistently been in the high teens, and as much as 20 in 2009.
January ended with 7.3 months' supply of inventory, with new listings in January falling by nearly 9 percent from the same period a year ago.
Condominium sales in New Hampshire, meanwhile, saw a similar trend in terms of sales and price, with unit sales down 5 percent but median price ahead by 17 percent, to $165,000, in January. Sales volume saw a 4 percent increase.
Locally, only Grafton and Rockingham counties saw increased residential unit sales in January – up 4.3 percent and 6.8 percent, respectively. The biggest drop-offs were seen in Cheshire and Stafford counties, down by 37.8 percent and 34.6 percent, respectively.
As for median prices, all but Cheshire, Coos and Strafford counties saw median price increases. Belknap County saw the most significant increase in median price — from $146,000 in January 2013 to $215,000 in 2014.