N.H. launches hazard mitigation initiative
Governor announces plan to inventory locations most at risk to natural disasters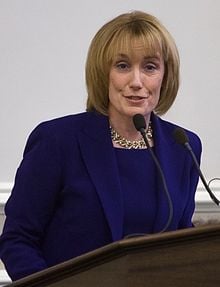 A new initiative aimed at protecting critical infrastructure and strengthening the state's response to natural disasters has been announced by Gov. Maggie Hassan.
The imitative is being led by the state's homeland security and emergency management operations and is funded by the Federal Emergency Management Agency.
The first phase of the effort will include an inventory of the locations that have experienced the most frequent and expensive problems from natural disasters. Phase two is a partnership with the Governors' Institute on Community Design to develop a statewide master plan that will help ensure that mitigation resources are used in the most effective and cost-efficient manner possible, the governor said.
"We are dealing with the aftermath of major storms with increasing frequency, with many of the same locations hit repeatedly," said Hassan. "As we see more natural disasters across the world damaging economies and threatening people and their way of life, emergency preparedness is an economic imperative, and this initiative will help make our response to natural disasters more efficient and strengthen the resiliency of our infrastructure in the long term."
Perry Plummer, director of homeland security and emergency management operations is coordinating efforts with the state Division of Emergency Services and Communications, Department of Environmental Services, Department of Transportation and the Office of Energy and Planning as well as FEMA and local municipalities to create a unified database of geographically based natural hazard data.
The database will enable the state to analyze past naturally caused damages, facilitating the reduction of risk by strategically placing hazard mitigation investments and projects, said Plummer.
The purpose of these actions is to help reduce the frequency of repetitive loss and develop data-driven hazard mitigation strategies for the future.
Once the database is complete, the state, with technical support from the Governors' Institute on Community Design, will work with local stakeholders to develop short- and long-term strategies that will guide and prioritize statewide mitigation efforts.