N.H. is near-perfect in new small business survey
You can't get a grade higher than A+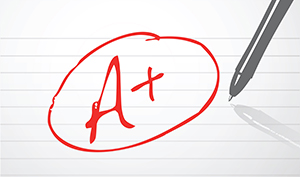 New Hampshire is a very friendly place to do business – in fact, it gets an A+, according to a small business survey conducted by Thumbtack.com in partnership with the Ewing Marion Kauffman Foundation.
The state was given an A grade in last year's Thumbtack.com survey, but this year it has a near-perfect record, ranking third overall and tops as the best state for business (those are two separate categories). It also is ranked second for ease of starting a new business.
Other grades were a string of A+'s for ease of hiring, regulations, health and safety, tax code and licensing. It was given mere As for employment, labor and hiring, environment and zoning. New Hampshire's lowest mark, a B, was in the training and networking category.
In contrast, no other state in the entire Northeast received an overall grade higher than C. Maine got an F, as did Rhode Island. The latter ranked last in the country. Massachusetts got a C+, up from a D last year. The closest state geographically with an A is Virginia, and the closest one with an A+ is Alabama.
"The Granite State has a reputation for doing things its own way, and that approach seems to be just fine with small businesses," summed up Sander Daniels, co-founder of Thumbtack.com.
This is the second annual such survey for Thumbtack.com, a San Francisco Internet firm that matches individual and business customers with a whole range of businesses, from catering to painting contractors.
The firm said it surveyed 7,766 small businesses across the United States, but did not disclose the sample size in New Hampshire. It did offer quotes from seven companies, though — all from businesspeople in southern New Hampshire.
"It has been very easy doing business in New Hampshire. I feel like it's up to me whether I succeed," said a consultant from Sandown.
"New Hampshire has fewer regulations than Massachusetts, and that makes a big difference for us," added a builder from Exeter.