N.H. House panel hears debate over anti-'package store' law
Requirement for food sales at stores offering beer and wine goes under the microscope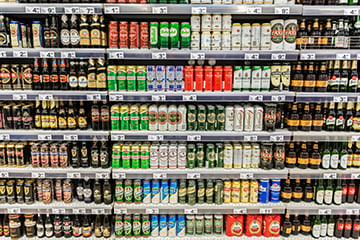 Rep. Keith Murphy, R-Bedford, wanted to know: "What is the public purpose of carrying Spam and evaporated milk in a beer store?"
John Dumais, president of the New Hampshire Grocers Association, had one answer: "Alcohol should be served at the dinner table, with a full meal. It's not there just to get drunk."
The exchange between the Bedford Republican and the trade association executive occurred last week at a House Commerce Committee hearing on Murphy's bill, which would eliminate the food sale requirement.
It was yet the latest installment in the decade-old debate over the requirement that convenience stores have some food for sale – $3,000 wholesale to be exact. And not just any food. State Liquor Commission regulations require such items like dairy and meat – thus the proliferation of Spam and evaporated milk.
"I promise you, no one will ever buy this stuff," said Murphy. "When you blow on the Spam, dust comes off."
Murphy's bill is virtually identical to one the House voted down last year, by a 163-142 margin.
Supporters say the law, which was enacted decades ago to discourage "package stores" from popping up near college campuses and poor neighborhoods, is outdated. What the law does is force specialty beer stores to devote valuable shelf space to products that people don't want to buy.
"You can force someone to sell spam," said Kevin Bloom, political director of the New Hampshire Liberty Alliance and the owner of several small breweries. "But you can't force it down someone's throat.
"Nobody is buying Fruit Loops with their beer," added Bert Bingel, co-owner of Bert's Better Beers in Hooksett.
But the Liquor Commission argued that the law has slowed the proliferation of such stores.
"We are trying to preclude package stores on every other corner," said Craig Bulkley, the commission's director of operations. "The system is working well."
If the law is outdated, Bulkley said, it's that the minimum requirement hasn't changed in years. "When it was established, $3,000 was a substantial investment. You might consider raising that amount."
For the perspective of the 1,400 grocers in the state, it wasn't just the idea that the alcohol should be sold with food, but the effect of competition large chain package stores might have on struggling convenience stores.
"People come into our stores for certain products – milk, bread and alcohol," said Dumais. "You start segregating that into independent stores that just sell alcohol products, you will start losing family businesses. They will be weakened, losing beer sales to those package stores."