N.H. health cost website remains inoperative for months
Old data, switch in vendors blamed for shutdown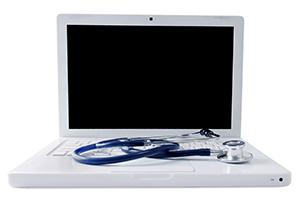 New Hampshire got high marks last year in a national report that measured how transparent states are in reporting health care costs, but it got an "F" in this year's report because the state's price transparency website has been shut down for two months — and is not likely to be up and running for several more months.
The New Hampshire HealthCost website – nhhealthcost.org – has been down for a couple of months because the data that had been on the site was from 2011 and was therefore too old to be reliably accurate, said Tyler Brannen, health policy analyst at the New Hampshire Insurance Department.
It currently reads on the website: "The New Hampshire Insurance Department is dedicated to improving the price transparency of health care services and the HealthCost website is our primary tool for providing this service. Unfortunately, a failure in the data reporting process has made updating price estimates at the moment impossible."
The reason: In June 2012, the state Department of Health and Human Services switched vendors for the collection of claims data from Onpoint Health Data to Milliman.
To keep the rates on the website accurate, the state relies on a third-party administrator – in this case, Milliman – to capture raw claims data from hospitals and other health care providers in New Hampshire and consolidate that information into one database.
That data is provided to the state, which runs it through an algorithm to calculate the rates that providers charge for various medical services.
Milliman "underestimated the complexity of dealing with the data," said Brannen. "At this point we're still waiting for a clean data file."
Neutral source
When it is working properly, users of the NH HealthCost website can use the site to estimate the cost of about 42 procedures at different hospitals and health care providers around the state. Those with health insurance can also find information specific to their health plan. The site serves as a valuable tool for employers and health care consumers in the state to have access to a neutral source of information that allows them to make informed, cost-effective choices in selecting where to seek care.
"We thought we'd have delays of about six months, but it's been much longer than we expected and than Milliman expected," said Brannen.
The report, released earlier this week by Catalyst for Payment Reform and the Health Care Incentives Improvement Institute, examined how readily consumers could find health care prices in all 50 states.
"Unfortunately, New Hampshire – a state that received an A in last year's Report Card – dropped to an F this year, because its website is inoperative and may remain so for an extended period," reads the report. Last year, New Hampshire and Massachusetts were the only two states in the nation to land an "A" grade.
The website has served as a model for other states trying to improve their own health care price transparency.
"The website was used as an example of what states can do when they capture claims data," said Brannen.
"Now a lot of states are trying to understand health care costs and utilization," he said, which was the objective of the site when it was launched in New Hampshire.
Although the state is by state law required to collect claims data, the transparency website is not itself mandated by state law. "It's really just been a project of the Insurance Department," said Brannen.
The data should come from Milliman in the next few weeks, and it will take about another six to eight weeks beyond that to go through the data and determine the updated rates, so Brannen said the site should be back up and running by June.
Brannen said that the updated site should be better than the old site, with estimated prices for more procedures; data on not just health care cost, but quality as well; and more information for consumers on navigating the health care system – for example, by explaining the difference between seeing a nurse practitioner instead of a physician, or whether using a hospital site instead of a campus matters.
"We are hoping in the end we'll be in a better place."