N.H. firms benefit from favorable world market conditions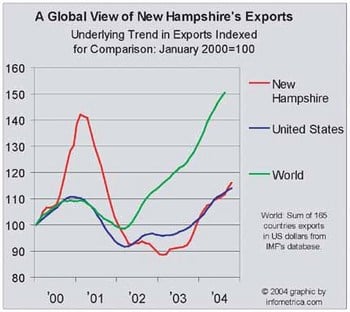 While technological improvements and quality enhancements provide an advantage in selling goods abroad, export success is still determined by how much money foreign buyers have and how weak the dollar is against the buyers' national currency.
New Hampshire exporters have found the dollar's decline a welcome help against foreign competitors and are pleased with its recent lows as a boost to foreign demand for their products.
However, in addition to better competitive international prices, foreign demand for domestic goods is chiefly determined by the ability of the consumers to buy them, particularly the growth in foreigners' income. For instance, if Europe is in recession with high levels of unemployment, European consumers will be unable to buy as many goods — foreign or domestic — as before, despite a decline in prices.
In its recent report, the Organization for Economic Cooperation and Development (OECD) estimated that economic growth in the industrial countries accelerated by an annual rate of 3.6 percent in 2004, up from 2.2 percent in 2003 and 1.6 percent in 2002. The Paris-based global economic think tank also announced that global trade is estimated to have advanced by an annual rate of 9.5 percent in 2004, about twice the rate of 2003.
As exporting companies sell most of their goods to consumers and companies in the industrial countries, the strengthening of economic activity abroad has made them feel a climb in global demand for their products. Consequently, in the first 10 months of this year, national exports of goods, adjusted for seasonal variation, increased 13.6 percent from the same period in 2003, which is nearly 4 percent higher than the growth in the world's trade volume.
The favorable foreign conditions have spread across the nation's exporters and have reached New Hampshire. During the January-October period, exports of goods from the Granite State increased by an annual rate of 20.5 percent from the same period in 2003, which is nearly 4 percentage points higher than the national average. New Hampshire ranked 11th in export growth among the 50 states so far this year.
According to recent international trade statistics, exports from New Hampshire's companies pulled back by 5.2 percent in October, following a surge of 12.2 percent in September. At their October mark, foreign sales registered at $200.8 million, seasonally adjusted, which is the second-highest level in about three years.
It also is important to note that on an annual basis, state companies last October shipped abroad $27.7 million, or 16 percent, more goods than in October of 2003.
October's export performance mostly reflected trends in manufactured goods trade, which accounted for 83 percent of all sales abroad. Foreign shipments from New Hampshire's factories increased in October by 0.9 percent from the previous month, to $167.3 million, adjusted for seasonal variation.
Exports of non-manufactured goods, also adjusted for seasonal variation, went down 27.2 percent in October to $33.5 million, dragging down overall exports. This group of shipments abroad consists of agricultural goods, mining products and re-exports, which are foreign goods that entered the state as imports and are exported in substantially the same condition as when imported.
2005 prospects
For the country as a whole, U.S. exports of goods, seasonally adjusted, rose 0.3 percent in October to $69.4 billion — an all-time record. The latest increase in national exports was driven by record sales in industrial supplies and materials. Exports of capital goods also increased, while consumer goods sales remained virtually unchanged.
What are the prospects for global economic growth next year, which will ultimately determine the demand for New Hampshire's foreign sales and export-related jobs? In its twice-yearly outlook, OECD predicts solid growth for its members, the club of the 30 richest nations.
The research organization forecasts 2.9 percent economic growth in 2005 and 3.1 percent in 2006. Most important, OECD predicts world trade to grow by 9 percent in 2005 and 9.5 percent in 2006. These growth rates are nearly three times faster than the rate of overall economic growth, implying good export opportunities for American companies doing business abroad.
These projections on global growth and trade suggest an increase in export orders for New Hampshire companies. Driven by foreign demand, production activity at the state level is expected to rise and, as a result, more export-related jobs will be generated over the next two years.
Evangelos Simos, chief economist of the consulting and research firm Infometrica Inc., is editor for International Affairs in the Journal of Business Forecasting and professor at the University of New Hampshire. Simos may be reached at eosimos@infometrica.com. Distributed by Infometrica Inc.