N.H. entrepreneur puts his faith in a Ghost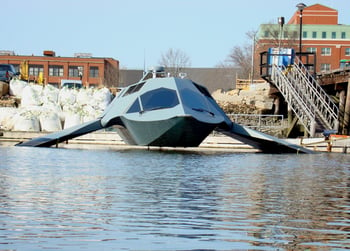 When entrepreneur Greg Sancoff takes his watercraft out for a test drive on the Piscataqua River, the 75-foot long vessel draws quizzical looks from people who see it. There are good reasons for the double-take stares.
The sleekly angled, supercavitating Ghost looks like it just arrived from the set of a Hollywood science fiction movie. In reality, the Ghost has the potential to play a vital role in protecting American Navy vessels in volatile regions of the world, such as the current, headline-making tensions in the Persian Gulf.
Ghost is a high-speed attack craft — Sancoff calls it a modern version of the PT Boat — specifically designed to protect vital waterways like the Straits of Hormuz and to counter threats to commercial shipping, such as piracy, which is increasing in many areas of the world.
Sancoff says the Ghost has been compared to an attack helicopter on the water. "Ghost would be a very important and cost-effective security tool to exert a constant presence in this troubled region," he said.
For almost three decades as a successful entrepreneur in the medical devices industry, Sancoff was accustomed to taking risks. He has founded and sold four companies totaling more than $100 million. But his latest venture, Portsmouth-based Juliet Marine Systems, required a combination investment of patriotism, personal finances and innovative research and development far beyond anything he had done before.
"By far this is the most fulfilling thing I have ever done," Sancoff said.
Fast, fuel-efficient
What makes the Ghost unique is that it was developed entirely on spec in less than four years, unprecedented for a potential "game-changing" defense technology, he said.
While other weapons and defense industry programs get government approval and research funding and then embark on lengthy development and deployment process, Juliet Marine Systems bypassed all of that.
"It was the fastest way to get it done. We didn't get involved with government research institutions because it would have slowed us down," Sancoff said of his personal multimillion-dollar backing of the Ghost. "Look at Silicon Valley and the most efficient way to develop new technology. We did this in a think-tank environment just as companies like Apple do."
Juliet Marine Systems created and built the Ghost prototypes in secrecy at the Portsmouth Naval Shipyard with only 10 full-time engineers and scientists.
The Ghost could have been deployed already if the federal government had not put a secrecy order in place for more than 18 months on some of Juliet Marine's patents. Sancoff said this prevented extensive testing during that time because the craft couldn't be seen in public.
Despite the delay, Sancoff has built it and the Navy and maritime industry have come to see it.
What they are seeing is a very fast, fuel-efficient craft that can barely be detected by radar and can stay on patrol for a very long time (because it's now classified material, Sancoff can't say exactly how fast the craft can go and how long it can go between refueling its gas turbine jet engines).
It's fast because it has been designed to fly through an artificial underwater gaseous environment that creates 900 times less hull friction than water. Sancoff also said the Ghost has 22 special systems that give the craft stability.
Juliet Marine is currently in discussions with defense companies to implement an off-the-shelf weapons solution. In keeping with his entrepreneurial roots, Sancoff will not make it a overthought process.
"We do not have to reinvent the wheel," he said. "There are several systems today that would provide ample power and fit the mission characteristics."
'Call to action'
During a recent visit to the Pentagon, a high-ranking naval research officer asked Sancoff, "Why did you do this?"
For Sancoff, it was a decades-long journey of finding a solution and "giving something back to my country."
The genesis, Sancoff explained, came in October 2000 when the naval destroyer USS Cole was attacked and 17 sailors killed by an explosive-laden small craft guided by al-Qaeda terrorists in Yemen. He became focused on a solution for fleet security from attacks that are akin to land-based IEDs, or improvised explosive devices.
The terrorist attacks of Sept. 11, 2001, provided another burst of motivation. Finally, there was a major naval fleet exercise in 2002 to determine security from small boat attacks. The exercise was code-named Juliet, which provided the name for Sancoff's company, and the result showed too many vulnerabilities.
"This was my call to action," he said.
He said he began to do voluminous research, and when he sold his Hampton-based company, Onux Medical, in 2004, it became his full-time quest to create a new type of company to work at rapid deployment speed.
"My wife Jennifer talked about this extensively. The idea was so strong that we decided to go forward and develop these ideas," Sancoff said about the decision to finance the multimillion-dollar startup with their money. "I have been very successful and wanted to give something back to my country."
The company was officially started in late 2007, and major research and development began in 2008 after the space at Portsmouth Naval Shipyard was secured. "We have a very small team of people, and they are very smart at what they do. This has allowed us to have such a rapid turnaround time," Sancoff said.
The company's board members include two retired U.S. Navy admirals and former U.S. Sen. John E. Sununu of New Hampshire. Sancoff said construction of the Ghost was enhanced by the work of many regional machine shops, and he believes the Seacoast region should become the site for manufacture of the Ghost and other marine-related systems.
In fact, the company has begun to add its engineering and scientific staff in anticipation of both commercial and military contracts for the Ghost.
"It's up to them (users) just how fast they want to adapt this new technology," Sancoff said. "We have been in discussions about making a 150-foot version. There are so many applications, even down to pleasure craft size. We plan to build a major company here."