N.H. employers and employees reap the benefits of state job fund grants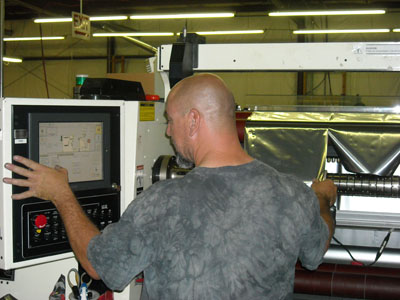 Michael Burr didn't remember much from the math he learned in high school. After all, that was nearly 30 years ago, and, besides, "I liked sports better."
But after working his way up to be a lead person on the second shift at New Hampshire Ball Bearing Inc.'s Astro Division in Laconia — where he's worked for 15 years — Burr found that he needed to learn trigonometry to troubleshoot the computerized equipment used to make parts for the aerospace industries. There were angles that needed to be shifted on double axis. There were formulas involving cosigns and radius.
"I wanted a refresher course for what I'm doing here to better educate myself, so I can pass it on to fellow employees," said the 48-year-old Burr.
So in 2010, Burr and other workers took a total of 80 online modular courses — math as well as leadership — at Tool University, paid for with about $12,000 from the state Job Training Fund (which is paid for through unemployment compensation taxes) and matched by his employer.
Burr discovered that not only did he need the math course, he actually liked it.
"It was fun," he said.So this year, when New Hampshire Ball Bearings matched a $31,000 Job Training Fund grant to offer a six-week math course at Lakes Region Community College, Burr jumped at the chance — and got a 100 on his evaluation.
Simple process
Once upon a time, workers didn't need the kinds of skills Burr had to master to work and succeed on the factory floor. But those days are gone, and so are many high school graduates. They've either moved out of state or are not even thinking about going into manufacturing.
So manufacturers are increasingly turning to training programs "so we can manufacture our own employees," in the words of Gary Groleau, New Hampshire Ball Bearings' manager of labor relations and organizational development.
New Hampshire Ball Bearings — which employs about 1,000 people at its plants in Peterborough and Laconia — is one of the Job Training Fund's longtime customers.
The firm dipped into it in 2002 and 2006, before the program fell victim to budget woes. Then in 2007, the state revived the program again. It got permission to use a fifth of a percent of unemployment compensation taxes raised to administer the compensation program to fund $1 million a year in job training grants.
In the last five years, the program, run out of the Office of Workforce Opportunity (which is now a part of the state Department of Resources and Economic Development), gave out nearly $5 million to train almost 14,000 workers at over 200 New Hampshire companies.
(One of those grant recipients is McLean Communications, parent company of NHBR, which has used it to help pay for sales training.)
Thus far, "almost everybody who applies is successful," said Michael Powers, who heads up the program at the Workforce Opportunity Council. "It's a pretty simple program. The easiest application process of any state that we know."
That could be changing, not because the requirements have gotten any tougher, but because word is getting around, and the number of applications is increasing even though the program's annual budget remains the same.
"As the economy picks up, we are seeing more applications. In the last few years, people were holding back. You saw one or two (applications) a month sometimes. Now it's three a month, nine a month and climbing," said Powers.
'Not a giveaway'
In 2009, for instance, 36 companies shared $483,000 from the fund. In 2010, it was $1 million split among 52 companies. Last year, $1.2 million went to 64 companies, and in the first seven months of 2012, the fund has already given out $788,000 to 44 companies.
One key to the program's popularity has been its simplicity. The application is only four pages, and there are very few requirements. The company and the workers must be in New Hampshire. It can't be used to replace training required anyway. The maximum grant is $100,000 a year, and you have to see if the training can be accomplished through the Community College System first.
And the money has to be matched by the employer.
"It's not just a giveaway program," Powers said.
Indeed, some larger employers have put in more than the government grant, because the cost of the total training exceeds $200,000.
Goss International in Durham, for instance, put in $1.3 million after receiving a $100,000 grant for wind turbine technology training. Hypertherm in Hanover put in $800,000 in 2007 and 2008 to receive $200,000, and Stonyfield Farm in Londonderry put in nearly $250,000 to get its $100,000 in 2010.
Stonyfield used the grant to fund training in everything from industrial maintenance to English as a second language to contract law and "change management."
Indeed, one of the criteria for the grants is that workers should be able to use these skills to advance their own careers, not just the company's bottom line. That's one of the major questions that a committee poses before approving the grant.
That's right. In addition to the four-page application, a company application is reviewed by a volunteer committee that meets the first Friday of every month."They want to know, 'How does this training really benefit the employee?'" said Muriel Robinette, CEO of New England EnviroStrategies Inc. in Concord.
Robinette found out about the program like most people — by word of mouth, through a real estate investment group meeting at which a representative from DRED explained it.
"It was really just happenstance," she said.
The firm, which provides environmental consulting for small and mid-sized companies (as well as some charity work in Africa to help remote villages access clean water), has been growing so fast it found it needed more robust software to keep track of all the work.
While buying the software is one thing, training employees on it is another. The state grant of $5,162 cut that cost in half, said Robinette.
The training — a series of webinars that took place over eight months — was used by all employees, she said.
New England EnviroStrategies had to pay the software company up front for the training, and then seek reimbursement from the state, "but it was very easy."
The only downside of the program is that you need to get your application approved ahead of time, said Robinette. You can't get a retroactive grant to take advantage of this training program that you just found out about at the last minute.
Competitive employees
Karen Beals, a manager and former president of Laminated Films and Packaging — a medical packaging company in Portsmouth with 32 employees — also found out about it serendipitously, at an upper-level management forum for women.
Laminated Films used the money to pay for better training on the company's Deacro slitter, a computerized machine used to make packing material for shipping medical supplies — the niche that Laminated for been filling some 42 years. It isn't that the slitter was new. The problem was that it was old, and how to work it was passed down by "Tom telling Sam telling Marcia — a lot gets lost in the translation," said Beals.
One of the things that was lost — if it was ever there in the first place — was that the computerized machine actually remembered the "recipes" used in the past. But employees didn't know that. They kept the recipes on paper and re-entered them each time they were used.
While it is difficult to quantify all the time and money the training saved, one of her employees told Beals, "It was the best money this company has ever spent."
The two-day training of four employees cost $5,600, and Laminated paid half of that. Since then, Beals applied for another grant, this time to send a supervisor to Great Bay Community College for 18 months to be certified by Association for Operations Management (formerly the American Production and Inventory Control Society).
While the training involves everything from management skills to production and inventory techniques, the main advantage to Laminated would be greater skills in working with suppliers.
About 85 percent of the grants go to manufacturers, Powers said, and — despite the requirement that companies go through the technical community college system first — about three-quarters of the money went to trainers other than the colleges in 2011.
The largest amount, about $300,000, went to the New Hampshire Manufacturing Extension Partnership, which specializes in lean manufacturing.
Otherwise, the training money is spread around pretty evenly, both among the community colleges and among some 150 private training programs. Tool University (or toolu.com) – a Cleveland company that was acquired two years ago by the Society of Manufacturing Engineers (SME) — collected the most grants over five years, for a total of about $113,000.
New Hampshire Ball Bearings found Tool University particularly useful because it is all online, so the employer can easily pull up different skill sets. That helps the company meet increasingly tough criteria from its customers, which include defense contractors and commercial aircraft manufacturers.
"It's essential that you have competitive employees. This is a life-or-death industry. Rejects and mistakes are not something that is tolerated," he said.
Further training also helps NHBB win contracts because it can show the auditors statistics on exactly what skills their workers have and the levels they achieved, he said."This really helps us close the skills gap," Groleau said.