N.H. economy brings good, and not-so-good, news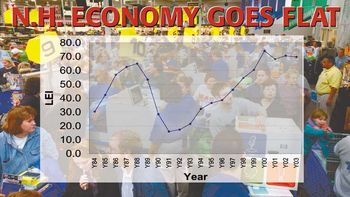 Tyson Foods Inc. has announced plans to shut down its Manchester facility, eliminating another 550 jobs from New Hampshire's manufacturing base.
Who cares? Unemployment is going down.
Of course, the state's economy can absorb the job loss, but it is increasingly a service economy, and the former Tyson workers would receive even less money than the $8.50 an hour they were receiving at the Tyson plant.
When Comcast Cable Communication opens its Manchester call center this year, it will hire 650 workers. Great news — except it will open in a building that once housed a Raytheon plant, which paid its workers considerably more than the Comcast workers will receive.
That's been the main story of the economy of 2003 — a mixed bag. New Hampshire Business Review's annual Index of Leading Economic Indicators gives the state's economy a score of 69.7, less than a point below last year, which was only slightly above the year of the economic crash of 2001.
Indeed, the economy has only sputtered along on its supposed road to recovery.
"We're just languishing here," said Russ Thibeault of Applied Economic Research in Laconia. "We are kind of dead in the water. It's better than crashing into the rocks, but it's not as good as zooming along in full power. It has been a flat year."
Yes, unemployment has gone down. So has personal income (if adjusted for inflation) for the first time since the early 1990s.
Of course, the state has spent a decade climbing out of the ditch it found itself in in the early '90s, and it is considerably better off for it.
For one thing, there are sections of the economy that have never felt this latest recession, especially the real estate sector. Average home prices climbed to $230,000 last year, a 9 percent increase, according to the New Hampshire Association of Realtors.
While that doesn't equal the double-digit growth of the past few years, it is pretty darn close. And, thanks to low interest rates, more people have been able to buy homes and others can extract cash through refinancing. This has pumped more cash into the economy than any deficit-spending tax cut could ever aspire to.
Speaking of deficit spending, work being done by the state's military contractors has taken the edge off of the last downturn as well. The state's largest manufacturer, BAE Systems, for one, can point to one lucrative deal after another.
Yet the state has lost more than 4,000 manufacturing jobs in the last year, not as many as the year before, but that figure brings the total number of lost manufacturing jobs over the last few years to 20,000. Jobs are being created to replace them, but they have been reincarnated as service-oriented jobs.
Job generators
Retail is another sector that has refused to act like there was a recession to recover from. True, consumer confidence did take a considerable dip last summer, but it has bounced back, rising for four consecutive months. Before Thanksgiving, most retailers reported an increase from 2003, and initial reports indicated that the increased spending has continued through the holiday season.
Similarly, the hospitality industry continues to thrive, despite, or perhaps because of, September 11th, as New England benefits from the trend toward regional travel. Rooms and meals tax revenue is evidence of that. It goes up year after year.
Still, said Thibeault, all of this could collapse if interest rates should climb and housing prices falter.
"It's going to hurt big," said Thibeault. "A lot of recent buyers are leveraged to the hilt. They are carrying deep loads of debt and they can't stand a big shock."
Already, there is a near record number of bankruptcies
"Housing has done a great job of boosting this economy," added Dennis Delay, a Manchester economist, "but housing is not going to be as strong in the next three years. Unless we start to create more jobs in the coming months or years, we are going to be in serious trouble."
So what will it take for us to grow those jobs, and not just any jobs, but good-paying jobs with benefits? What will it take to get out of the recession, not just technically but for real?
Small business might have come to the rescue again, as it did during the software comeback of the '90s. Nearly 15,000 small business are expected to be launched this year in New Hampshire, which would top last year's record number of start-ups. Yet it is unclear how many of those businesses will mean new jobs.
Jim Cook, a high-tech lawyer who keeps track of software start-ups, said many of those new businesses are started by "consultants," doing part-time contract labor for what some of them used to do with full salary and benefits.
This is a pool of labor that benefits some expanding high-tech companies, like Cellular Microwave Technology, which has more than $10 million in annual sales and nearly 50 employees. The eight-year-old Manchester company, which builds and services cell phone boosters in large building complexes, doubled its growth last year.
"You can hire very good people for not that much money," said CEO Fred Goodrich.
But as Cellular Microwave expands its manufacturing operations, don't look for that to offset the decline of the manufacturing sector as a whole. Goodrich plans to farm out much of his work to China, where an affiliated company (which Goodrich chairs) peddles the same technology.
Start-ups that aim to be more than consultants are struggling. Take Ars Cognita, a Manchester start-up that makes software that enables call centers to share information more easily.
The software could save big companies millions of dollars, said President Rich Tango-Lowy, "but companies are not looking to save money. They are looking not to spend money. The problem with this economy is big business still doesn't have confidence in themselves. They have to stop being desperate to cut costs at all costs."
Indeed right now, most of the firm's sales come from outside the country, where the technology is several years behind that of the United States, which means customers there "are seeing a need to spend," said Tango-Lowy.
Construction and real estate
Such sluggishness doesn't just affect the high-tech sector. It has even made a dent in construction, which is slightly off compared to last year.
While the big retail boxes still continue to march across the state, commercial and office space continues to stagnate.
A quarter of the office space in Nashua, for instance, is vacant, according to Michael Monks, a commercial real estate broker.
"The market for lease properties, other than warehouse, is very soft," he said.
The problem is that office space is becoming so cheap in Massachusetts that companies no longer see New Hampshire as a bargain, he said.
But in the residential real estate market, sales of most existing homes are still pretty strong.
"There is not a lot of inventory out there," said Jay McGillicuddy, a Hampstead broker affiliated with the Realtors association. "I don't see a weakening anywhere."
But builders are putting up fewer of those million-dollar homes by the lake.
"The high end has slowed down," said Bob LaMontagne of LaMontagne Builders.
While there is still quite a demand at the middle and lower ends of the market, the amount of land to build such homes is lacking, said LaMontagne, primarily because of increased zoning restrictions enacted by municipalities.
"It's just getting harder and harder to get a subdivision approved," he said. "The supply of land for a lot of builders has dried up."
A substantial slowdown in the housing industry could not just affect homebuyers, and the retailers they buy from. It could ricochet all over the economy.
For instance, it could spell disaster for the sawmills up north, which are already feeling quite a squeeze. Lumber prices have been going down as it is, primarily because of foreign competition. At the same time, timber prices are still pretty high, thanks to the earlier shutdown of the Berlin paper mill. The mill is up and running again, but many loggers went on to do other things.
"There is plenty of wood to be had in the forest," said Jasen Stock, executive director of the New Hampshire Timberland Owners Association. "Finding someone to cut your wood is the challenge we are seeing."
Travel and tourism
The trend toward more regional travel might benefit New Hampshire because it is in the backyard of some major metropolitan areas. Indeed the state Division of Travel and Tourism has been advertising in those areas, resulting in a sharp increase in inquiries.
Sometimes the weather cooperates, like this winter.
"We just did a winter insert of 400,000 in The New York Times, The Boston Globe and the Providence Journal, and it dropped the day the snow was falling," said Lauri Klefos, the division's director. "What more can we ask for?"
But in the summer, the rain fell on the weekends. And while those distant travelers, who made their reservations weeks in advance, spent their money on shopping rather than Storyland, others just didn't come.
There were 2.8 percent fewer visitors last summer than the previous one, according to the division's seasonal "travel barometer."
But the North Country isn't just made up of woods and tourists. It too is affected by the same forces that are hurting manufacturing in the southern part of the state.
Tillotson Health Care, for example, shut down its Dixville Notch facility earlier this year, partly due to liability litigation and partly due to international competition. It reopened under the corporate name Healthco a few weeks later, still struggling, with a quarter of the workers it employed a few years ago.
Where will the former Tillotson workers go? Perhaps some may find work at a new shopping center in Littleton, which is expected to create jobs for 875 people.
"It's a model for this country," said Tom Tillotson, a Healthco principal. "Shut down manufacturing and open up retail to buy things that are manufactured someplace else."