N.H. Distributors delivers with a legacy of commitment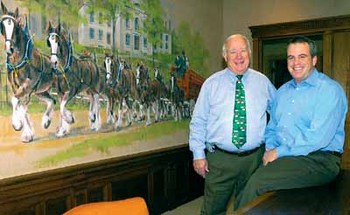 Nearly 60 percent of restaurants, nightclubs and stores with liquor licenses in New Hampshire get their beer delivered by one Concord company that has spent the last six decades building a reputation for customer service.
New Hampshire Distributors, a wholesaler of malt beverages, including Anheuser-Busch products, Heineken, Labatt and a number of local microbrews, has been delivering spirits in the Granite State since 1946. The company's dedication to addressing the needs of its customers is well known among New Hampshire storeowners and restaurant managers – and that reputation contributed to New Hampshire Distributors' recognition by Citizens Bank as this month's Not Your Typical Business Award recipient.
"New Hampshire Distributors' management style is comprised of perfection and excellence in all facets of the organization," said Citizens Bank Vice President Craig Newcombe. "This is integrated with a sincerity in caring for their customers and their colleagues."
The company is one of five Anheuser-Busch distributors in the state and one of only eight New Hampshire wholesalers of malt beverages in general.
The firm's workforce of 120 handles 1,500 accounts a week, said company President Tom Brown, and "we treat everybody like family. There is a genuine caring for people. We try to address everyone's needs and concerns. We know it's collectively what we can accomplish, and we keep that in mind."
Employee longevity speaks to the management style of a company that is dedicated to providing competitive compensation and employee benefits. Many employees remain for decades, with recent retirees saying "good-bye" after 36, 37 and 39 years.
"Forty percent of our workforce has been here for 20 years or more," said Brown, himself a 37-year veteran of the company. "That certainly says that when people join us they stay."
"I'm one of the longtime employees proud to be associated with this great company and its long history," said Tom Painchaud, who joined New Hampshire Distributors 26 years ago. "It's well-recognized for its community service as well as for its outstanding products and service. It's just a great place to work."
Longtime relationships
The loyalty and dedication of employees is the chief reason for level of customer service that the firm's customers have come to expect.
"The majority of our workforce have been located in the towns they're responsible for a long time. They are able to develop relationships not just through deliveries, but because these are the places they buy their groceries," said Brown. "Our retention rate has a lot to do with this relationship between our delivery people and the retailers."
This has proven true for Tony Heath, owner of Quality Cash Market in East Concord. A customer of New Hampshire Distributors for 26 years, Heath credits his long-standing relationship to the company's responsiveness and the attention he's received over the years, regardless of the size of his operation.
"It was a small store for 19 years, but I still got the service. They try to help the little guy," Heath said. "Now that I am bigger I get the same service. They've just always been there, and they've always been well-organized and responded whenever I needed anything."
The same appears true for the numerous community organizations touched by the generosity of New Hampshire Distributors and its people.
Brown credits company founder Jim Hayes with making that involvement part of the firm's legacy.
"Our mission is to be a responsible business and to give back to the community," Brown said. "He set an example, and we've tried to continue it."
Because of the company's locale, the city of Concord is the primary benefactor of New Hampshire Distributors' philanthropic nature.
"Our core is in Concord, and that's where we concentrate a lot of our community service," said Brown, who sits on various boards, including those of Concord Hospital, the Capital Region Development Council and the Greater Concord Chamber of Commerce.
Brown and other company employees also are involved with the Main Street Project, the Concord 20/20 initiative, the Boys and Girls Club, the Highland Games and the New Hampshire Lodging and Restaurant Association. In addition, the firm has made significant donations to the Payson Center for Cancer Care at Concord Hospital, Hospice House, the Concord Red Cross and the University of New Hampshire.
In-house support for community service also is extended to the dozens of employees who work outside the Concord market.
"Many of our people are involved in similar organizations in their own towns, and we're proud of their involvement and give them the time and resources to stay involved," Brown said.
Admittedly, the nature of the business lends itself to being active in the community, Brown said. "We sell beer. We get involved in lots of activities, from sponsorships to other things, like music venues and the racetrack."
Because of this, New Hampshire Distributors works to do its part to promote responsible drinking, bringing programs to area schools and promoting the use of designated drivers.
"We try to be responsible in the way that our products are treated and consumed. We have zero tolerance for underage drinking," Brown said. "It's a fun business but it has a very serious side too."