N.H. company's motorcycles enlisted in Ebola fight
Five specially equipped Rokon cycles to be deployed in West Africa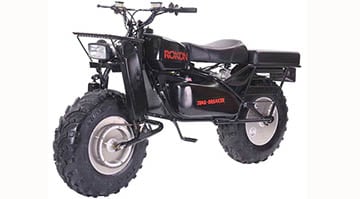 Aid workers soon will literally be riding to the rescue of West African Ebola patients astride some rugged motorcycles manufactured in Rochester, N.H.
Foundation Mérieux USA, a nonprofit founded by a student of Louis Pasteur, purchased five $7,000 all-terrain motorcycles from Rokon International Inc. The Rochester firm, which employs 10 people and sells roughly 500 cycles a year, has developed a customized bracket in place of the motorcycle's rear seat to allow it to carry coolers that will protect blood samples from deterioration. The company also has donated some "brush beaters" to protect the rider's hands from vegetation, and spare parts for trail maintenance.
The cycles will be used by deployed by incident management teams at U.S. embassies in Monrovia, Liberia, and Freetown, Sierra Leone.
"We didn't seek out this sale," said Brad Blais, Rokon's project manager. "But when they told us their needs, we thought it would make an excellent match. We are proud that our products can help serve these people in the midst of this crisis."