N.H. CEOs tout benefits of being family-friendly
Workplace policies enable employees to thrive, they say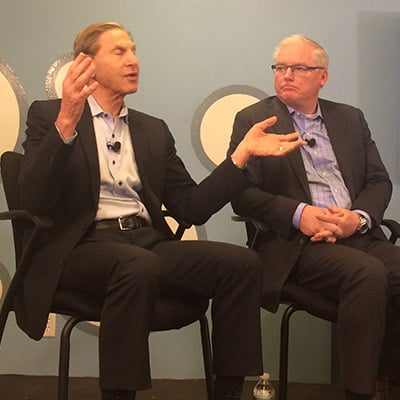 What if a forum were held about family-friendly workplace policies featuring New Hampshire executives, and all of the panelists were men?
A group of organizations did exactly that a week before Christmas by presenting a panel discussion entitled, "Making Cents: CEOs on Building a Family Friendly Economy."
The forum was to include one woman, who couldn't make it, but "we do we do think it's critical that men speak to these issues," said Karen Hicks of the NH Campaign for a Family Friendly Economy, one of the organizers of the event. "There was a deliberate effort to bring those voices to the fore. Most CEOs are men, so this is reflective of leadership in corporate America."
The panelists extolled the policies that enable not just women, but all employees, to thrive in the workplace. There was Gary Hirshberg, who discussed Londonderry-based Stonyfield Farm's policy of paying for six months of family leave; Bill Whyte, who talked about Gilsum-based WS Badger Company's day care center; Joe Keefe of Pax World Management in Portsmouth, which has created a fund that specifically invests in companies owned or led by women; and Howard Brodsky of CCA Global Partners in Manchester, who discussed how the company is helping to organize a national cooperative of day care centers.
The panel was moderated by Neera Tanden, president of the Center for American Progress, who laid out the problem: Only 12 percent of Americans have access to paid family leave. The average cost of child care in the Granite State is now up to $21,000.
Retention is key
It was up to the CEOs to talk about solutions.
Hirshberg said that when Stonyfield joined more than a dozen large international companies – including Dannon, Nestle and Barclays – in offering more generous family-friendly benefits, it wasn't just to be noble.
"These are sound business practices. It's great for retention. It's great for attracting talent as well as fostering equity in the workplace."
In fact, retention is the key to such policies, said Hirshberg. "Its always better to keep an employee you invested in than losing them," he said. "We make superior products because of the people. It's not the recipe, not the machinery, not some secret sauce here, it's people who are happy on the job."
The yogurt maker once offered paid two-month sabbaticals to all employees, one of its most popular benefits, but too many employees took their leave at the same time, and that "caused a huge disruption," said Hirshberg. He expects the family leave benefit will be taken in a more balanced way.
WS Badger, a producer of environmentally friendly skin care products, has a "baby-at-work" policy. The company invests in quality child care employees. In addition, said White, "we pay a living wage, especially for child care – $13.90 an hour," said Whyte.
Keefe said Pax World offers paid family leave at its Portsmouth office, and it has been used 18 times, 14 by men, underscoring that this is more than a women's issue.
He said investing in such policies pays dividend, citing research showing that family-friendly workplace practices result in "higher productivity, higher morale, lower turnover, better teamwork, more innovation – and on and on."
They also attract more women to leadership roles, which also leads to a better return on investment, said Keefe. That's why Pax World invests in such companies through its Pax Ellevate Global Women's Index Fund.
"It's not just the nice thing to do. It's the smart thing to do," Keefe said.
The Dec. 18 forum was hosted by the Center for American Progress and its WithinReach campaign, the NH Campaign for a Family Friendly Economy, the NH Women's Foundation and the American Sustainable Business Council.
Bob Sanders can be reached at bsanders@nhbr.com.